Cannabis Industry Deals Show Aggregation And Development Of Non-Recreational Brands: 'It's A More Synergistic Approach'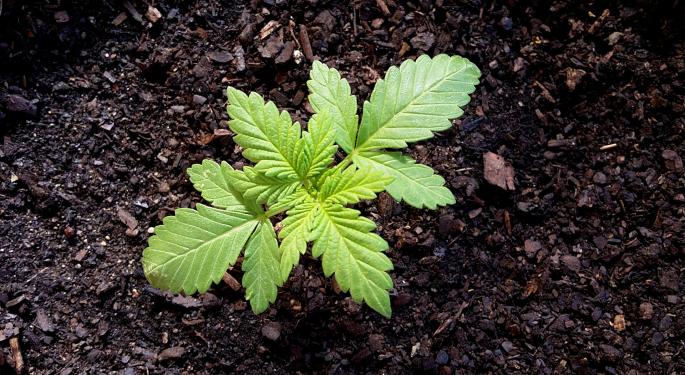 Last week, ended February 10, the cannabis industry saw the highest amount of investment and M&A activity announcements year-to-date, lending support to the hypothesis of increasing capital markets support in the cannabis industry.
The period witnessed a total of 30 announcements, including 14 capital raises, 11 M&A transactions and two stock listings, among others, Viridian Capital Advisors' weekly report revealed.
To provide our readers with a better look at what's been going on in the marijuana space, Benzinga reached out to Viridian analyst Harrison Phillips, who walked us through the most interesting transactions.
Deal Flow
"This week was the highest number of announcements year-to-date. It's kind of a caveat, though, because it really depends on what these companies are announcing," he began.
Having said this, Phillips pointed out that the fact that there's continued announcements lends support to the hypothesis of increasing capital markets support in the cannabis industry.
Also supporting this idea was the number of dollars raised last week. While the amount of capital raises for the sixth week of 2017 was quite similar to the number of 2016, the total dollars raised and the average of these raises was considerably higher.
For the sixth week of 2017, the six capital raises completed totaled $29.2 million, boasting a $4.9 million average. This compares to seven raises completed for a total of $6.1 million ($0.9 million average) in the same week last year.
Acquisitions And Expansion
Phillips then moved on to specific deals. "We are starting to see some continued trends here. Namely, acquisitions and expansion," he pointed out.
Note: All quotes are from Harrison Phillips, and related to the Viridian Cannabis Deal Tracker for the week ended February 10.
Emerald Health Therapeutics Inc (OTC: TBQBF) raised C$13.8 million ($10.5 million) under a bought deal financing.
"The money will be primarily used for facility expansion."
The Green Solution received a $7.5 million loan facility from iAnthus Capital Holdings Inc (OTC: ITHUF).
"This was also to accelerate expansion within Colorado and going into other states nation-wide."
Valens Groworks Corp (CNSX: VGW), a Canadian post-inspection applicant for cannabis cultivation and processing, raised C$500,000 ($381,431) under a convertible note to meet acquisition and expansion obligations.
"Here, again, we are seeing additional companies raising money for acquisition and expansion."
Kalytera Therapeutics Inc (OTC: QUEZF) closed a C$13.4 million ($10.2 million) tranche of a private placement for the acquisition of Talent Biotechs Ltd.
Laguna Blends Inc (OTC: LAGBF) closed the C$345,850 ($263,836) second tranche of a non-brokered private placement.
"Both these companies raised money in relation to an acquisition. Even though Laguna did not state it explicitly, I believe this closed tranche is related to a pending investment they have in a CBD water technology company. They did not announce it specifically, but the raise and the equity investment — the timing is very close."
First Harvest Corp (OTC: HVST), acquired Cannavoices, Inc., a developer of cannabis-focused mobile games and social media platforms.
"A trend we've seen developing slowly but steadily [is one] wherenew channels are being developed to reach cannabis consumers, primarily due to limits in advertising. There is so much regulation in the space that, in such an entrepreneurial environment where there are really no incumbent leaders, people are trying to be creative and figuring out ways to reach the cannabis consumer, both as an undeserved demographic and, just one that has still got that taboo around it, [leading] to larger players not necessarily getting involved yet."
"Basically, they are trying to figure out ways to reach the consumer without direct TV advertising and stuff like that."
Related Link: Marijuana Stocks Go On Reversal Mode After 8 Weeks Of Gains: Cannabis Index Down From 52-Week High
Tokyo Smoke, a Canadian premium cannabis-oriented lifestyle brand, acquired Van der Pop, a similar cannabis product and experience brand based out of Seattle, Washington.
"This announcement also falls in the kind of brand awareness side [...] They are trying to reach consumers in another kind of creative way — We are not only seeing the development of new channels to reach cannabis consumers but the continued proliferation of non-stoner, new, modern, sophisticated brands around the cannabis industry."
"You think of High Times, you think of Cheech and Chong... Those are the pioneers of this industry. But, when you look toward the future, you are seeing... When you look at wine, for example, they don't have grapes all over their labeling. It's typically a name; it's not Purple Grape Vineyard, it's Robert Mondavi... And, now, the cannabis industry is moving that way."
Grow Solutions Holdings Inc (OTC: GRSO) acquired Keys Organic and Hydroponic Supply.
"What we are starting to see here is aggregation in the highly-fragmented hydroponic and grow supply industry. Most of these stores, including Keys Organic and Hydroponic Supply, are typically local or regional — This results in a very fragmented market."
"We saw this [aggregation] happen with grocery stores, the finance industry, auto dealerships — Bigger names come in. So, instead of Bob's Ford Motor Company (NYSE: F) Dealership or Fred'sGeneral Motors Company (NYSE: GM) outlet, you'll get companies likeAutoNation, Inc. (NYSE: AN) come in, put them under a single brand, consolidate HR and other expenses to develop economies of scale and really help additional bottom line."
"Another way to look at it is, there's coffee shops all around the world, but there's also Starbucks Corporation (NASDAQ: SBUX), which started locally [...] and developed really organically. But, they could just buy the local coffee shop, redesign it to the Starbucks brand, put their name on it... Now they have the distribution network, the backing of Starbucks, Starbucks will take care of their HR, their payroll — It's a more synergistic approach and a really value-add if they can consolidate any level of scale."
Elev8 Brands Inc (OTC: VATE) acquired O2 Breathe, LLC, a company supplying portable oxygen bars and aromatherapy inhalers.
CaliPharms Inc. (OTC: KGET), a company targeting acquisitions in the cannabis industry, acquired a majority interest in Country Junction Farms, a medical marijuana cultivator in Northern California.
Check out Part 2 of this article, where Phillips shares a look at some other notable transactions announced last week, featuring Zynerba Pharmaceuticals Inc (NASDAQ: ZYNE), Aphria Inc (OTC: APHQF), Invictus MD (OTC: IVITF) and more.
Posted-In: Cannabis Long Ideas M&A News Emerging Markets Financing Offerings Topics Best of Benzinga
View Comments and Join the Discussion!