Fiat Chrysler And Donald Trump Seem To Be On The Same Page
Talking in the Detroit auto show, Fiat Chrysler Automobiles NV (NYSE: FCAU)'s CEO Sergio Marchionne said that the company might have to close its factories in Mexico if President-elect Donald Trump imposed the import tariffs he promised. Anything produced in Mexico would be "uneconomical," he explained.
Meanwhile, the giant automaker has decided to invest $1 billion to modernize two of its plants in the United States — one in Michigan and one in Ohio, ultimately creating 2,000 jobs. However, sources familiar with the issue have assured this decision had nothing to do with Trump's declarations regarding the auto-industry, but rather with realigning its operations to better fit the higher demand for trucks and SUVs and with expanding its Jeep and Ram brands.
Despite this statement, Trump seemed very happy with Fiat Chrysler's decision. "It's finally happening — Fiat Chrysler just announced plans to invest $1 billion [emphasis omitted] in Michigan and Ohio plants, adding 2000 jobs. This after Ford said last week that it will expand in Michigan and U.S. instead of building a billion [emphasis omitted] dollar plant in Mexico. Thank you Ford & Fiat C!," he said in a couple of tweets on Monday.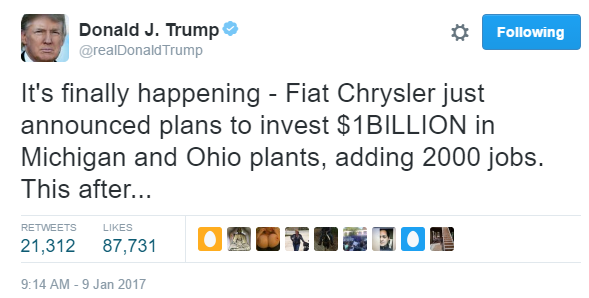 During the Detroit auto show presentation, Marchionne also went into a potential merger with General Motors Company (NYSE: GM). "From what I understand, I believe that Trump should like a GM-Chrysler tie-up," he voiced in Italian. However, he added, there has been no direct contact with the president-elect — and GM remains reluctant to the aforementioned merger.
What actually happens remains to be seen, but many analysts believe Trump's policy could favor one or a few large American automakers — especially if he delivers on his promises to roll back environmental regulations and trim corporate taxes. Could Fiat Chrysler be the big winner here?
© 2020 Benzinga.com. Benzinga does not provide investment advice. All rights reserved.
---