A Sampling Of Citron's Most Influential Tweets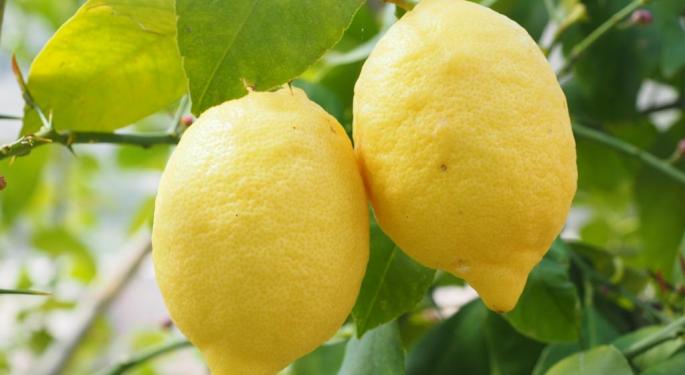 Citron Research activist short seller and newsletter author Andrew Left has earned a reputation for accusing companies of fraud and deception and profiting off of their downfall.
This week, Left turned his attention to 2016 market leader NVIDIA Corporation (NASDAQ: NVDA), tweeting that he believes the market "is disregarding headwinds" for the company and predicting shares would return to the $90 level in 2017. NVIDIA stock plunged 6.8 percent on the day of Citron's tweet and were down 3 percent on the final trading session of the year.

Here's a look at several other times Citron has moved the market with a tweet.
In December 2015, Citron tweeted that Express Scripts Holding Company (NASDAQ: ESRX) was the "Philidor of the pharma industry." The stock tanked 6.7 percent.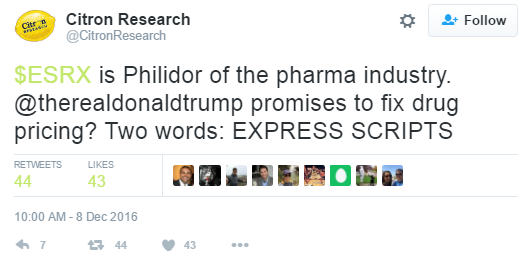 In November 2015, Citron tweeted that Mallinckrodt PLC (NYSE: MNK) was a "far worse offender" of the drug reimbursement system than Valeant. Mallinckrodt stock plummeted 14 percent.
In March 2016, Citron targeted Tesla Motors Inc (NASDAQ: TSLA) on Twitter, calling for the stock to dip "to $100 by year's end." The $100 prediction didn't come true, but Tesla's shares fell 3.1 percent following the tweet.

In June 2016, Left delivered a cryptic tweet about Facebook Inc (NASDAQ: FB), saying that he would not be commenting on Facebook and that the focus should "be on the Orlando tragedy and not mkt valuations." Facebook shares dipped 2.2 percent.
In December 2015, Left tweeted that Mobileye NV (NYSE: MBLY) was "short of the year" for 2016. Shares tanked nearly 7 percent.

In August 2016, Left tweeted that Japanese stock Cyberdyne was the "most ridiculous priced stock in the WORLD." Shares plummeted 10 percent.
In September 2014, Left tweeted that Wall Street analyst were focused on "stock movement and not fundamentals" when it came to GoPro Inc (NASDAQ: GPRO). After Left disclosed Citron's new short position, the stock fell 3.1 percent.

In June 2015, Left pointed out the "ridiculousness" of the fact that Ambarella Inc (NASDAQ: AMBA)'s revenue was up 100 percent since its IPO, but the stock's enterprise value had skyrocketed 6,000 percent. Shares nosedived 5.8 percent.

It wasn't necessarily Left's tweet in October 2015 that tanked Valeant Pharmaceuticals Intl Inc (NYSE: VRX)'s stock nearly 40 percent, it was the famous damning Citron report the tweet referenced. Left made sure all of Citron's Twitter followers knew they had found a "smoking gun" of deception in Valeant's dealings with Philidor RX.
View Comments and Join the Discussion!
Posted-In: Andrew Left Citron ResearchLong Ideas Short Sellers Short Ideas Media Trading Ideas Best of Benzinga