Keep An Eye On These Canadian Marijuana Stocks In 2017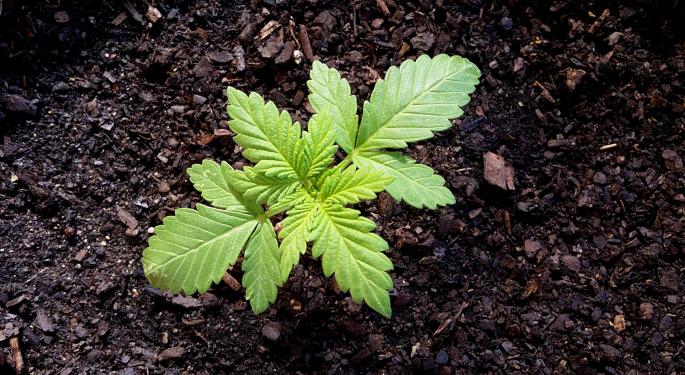 Alan Brochstein, founding partner at New Cannabis Ventures and founder at 420 Investor was a guest in Benzinga's PreMarket Prep show this week and shared some insight into the cannabis industry going into 2017. Check out part one of this interview here.
Canadian Stocks To Watch
Going into individual stocks, Benzinga asked about AURORA CANNABIS IN COM NPV (OTC: ACBFF), which has the second-largest market cap, only trailing CANOPY GROWTH CORP COM NPV (OTC: TWMJF).
"The one thing I would really point to about that company [is that] they have added patients like crazy," Brochstein voiced.
The Canadian system now boasts more than 100,000 patients. "But there's actually a real shortage of capacity right now for the country as it goes fully legal," he explicated. "That's probably not going to happen until –like- April of 2018, so there's some time. These companies have been raising capital hand over fist, but it's all to be deployed into adding to their capacity."
When asked if the Canadian state would hand out more licenses once cannabis went fully legal, Brochstein responded, "In the middle of that, I think, there will be more licenses. One very interesting license will be Shoppers. They will be selling cannabis, and so I think everybody needs to understand what it's going be like that pharmacies will be selling cannabis, and they'll be some other new licenses as well. At the same time, I don't think that it's going be like Colorado where there's 500 licenses — and Colorado a lot smaller than Canada. So, it will be very controlled."
"I used to think that there wasn't much of an advantage to having an early license, but I corrected that thinking after I realized they weren't going to have a gazillion licenses," he added. "So, the companies that are going at it right now and scaling up now, I think are going to have a competitive advantage for a while in terms of understanding how to scale into to being a low-cost producer."
Finally, the expert went into APHRIA INC COM NPV (OTC: APHQF), which is a flower grower. "[They] know what they're doing," he commented.
"The original business model was to be a hybrid [...] a low-cost producer, because they're using the greenhouse we cannot get a lower cost of production, and they wanted to supply both patients directly as well as other providers, to be a wholesaler. And so, they were so successful with their patient business that they kind of decided that they weren't going to do the wholesale business. But then, with the move towards legalization and with what's going on— I think they'll be a supplier to Shoppers."
Posted-In: Cannabis Long Ideas News Topics Legal Trading Ideas Interview General Best of Benzinga
View Comments and Join the Discussion!