What Would Rex Tillerson Becoming Secretary Of State Mean?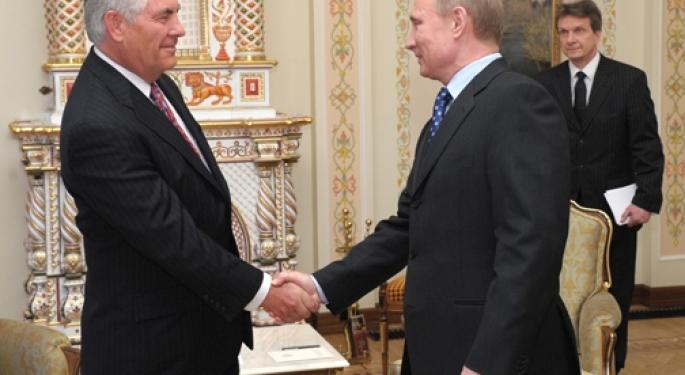 Exxon Mobil Corporation (NYSE: XOM) shares were up 2.4 percent on Monday on news that CEO Rex Tillerson is President-elect Donald Trump's choice for Secretary of State. Coincidentally, news also broke Monday that a group of non-OPEC oil producers led by Russia has agreed to join OPEC and cut production by more than half a million barrels per day.
Tillerson's critics are concerned about his ties with Russian leader Vladimir Putin. Tillerson has met with Putin on several occasions and has even received the Order of Friendship medal from Putin in 2013.
Skepticism, Tillerson And Trump
Even some Senate Republicans are skeptical of the choice, especially after Trump's many ties to Putin were repeatedly a topic of discussion during the campaign season.
"It's a matter of concern to me that he has such a close personal relationship with Vladimir Putin," Arizona Sen. John McCain said "That would color his approach to Vladimir Putin and the Russian threat."
Outside of his ties to Russia, Tillerson would also be the first modern-day Secretary of State with no public-sector experience. All recent appointees have had political and/or military experience and/or backgrounds in law. Tillerson has none of the above.
Oil In The Era Of Trump
If Tillerson is ultimately approved by the Senate, it could be great news for Exxon and other U.S. oil companies. A major part of Trump's platform involves lowering taxes on U.S. corporations and eliminating regulations on businesses. The recent nomination of Tillerson for Secretary of State and climate change skeptic Scott Pruitt as head of the Environmental Protection Agency suggests the U.S. oil & gas industry could soon be free of a host of clean energy mandates. Fewer regulations would certainly help the margins of oil companies like Exxon, which theoretically means more profits for its shareholders.
Image Credit: premier.gov.ru [CC BY 4.0 or CC BY 3.0], via Wikimedia Commons
Posted-In: Long Ideas News Education Commodities Politics Global Markets Trading Ideas Best of Benzinga
View Comments and Join the Discussion!