Argentina Is Awesome: The ETF, Not Lionel Messi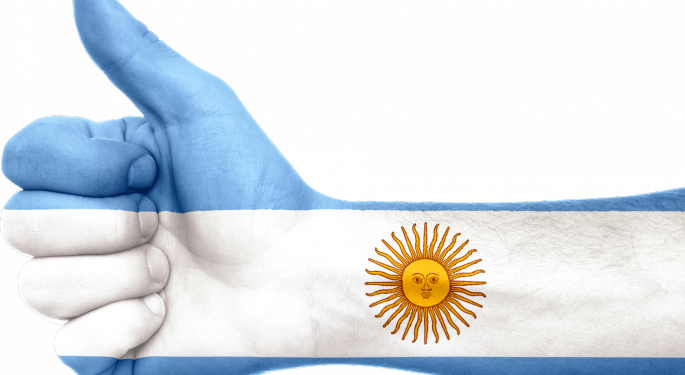 Alright, alright. Argentine footballer Lionel Messi is awesome, too. Awards and statistics and mind-blowing goals confirm as much, but let's focus on the Global X MSCI Argentina ETF (Global X Funds (NYSE: ARGT)).
ARGT, the lone exchange traded fund dedicated to Argentine equities, is up 19.6 percent year-to-date. That is good for the second-best showing among Latin America single-country ETFs, trailing only the iShares MSCI Capped Peru Index Fund (NYSE: EPU).
Related Link: Loving Latin America ETFs
ARGT got an extra boost earlier this week when index provider Msci Inc (NYSE: MSCI) revealed it is considering adding South America's third-largest economy to the widely followed MSCI Emerging Markets Index next year. That is quite the turn of events for the South American nation, which not long ago, was on MSCI's list for potential loss of its frontier status.
A Yellow Card
In recent years, periods of bullishness for ARGT were usually marked by news that the country was either staving off a sovereign debt default, something it ultimately proved unsuccessful in doing, or was close to reaching some sort of settlement with U.S. hedge funds that became creditors during a sovereign default in the 1990s.
The election of President Mauricio Macri seems to be legitimizing ARGT rallies while encouraging foreign investors to revisit a country that, under the various Kirchner administrations, was hostile to foreign investment.
Related Link: Right After MSCI Snub, A New A-Shares ETF Debuts
"Since Argentina's President Mauricio Macri's election in late-2015, South America's second largest economy has undergone substantial reforms in an effort to return to sustainable growth. Macri has quickly sought to tackle issues such as high inflation, unsustainable fiscal policies, and isolation from global capital markets," said Global X in a note.
Right In The Net
ARGT serves as a case study regarding investors' confidence in political leadership, particularly in emerging and frontier markets. He is just one man, but Macri is a big reason why ARGT has more than doubled in size over the past year.
"He has done so by abolishing protective tariffs and quotas, removing capital controls to allow the currency to float freely, and worked with international creditors to settle outstanding debts. The Global X MSCI Argentina ETF (ARGT) is the only US-listed ETF to provide targeted exposure to Argentinian equities. ARGT has seen nearly $50 million in net inflows over the past year as sentiment and investment interest in Argentina continues to rise," added Global X.
View Comments and Join the Discussion!
Posted-In: Long Ideas Emerging Markets Emerging Market ETFs Sports Top Stories Markets Trading Ideas ETFs Best of Benzinga