Strong TV Debut Of The CW's 'DC's Legends of Tomorrow' Could Be Positive Sign For Time Warner, CBS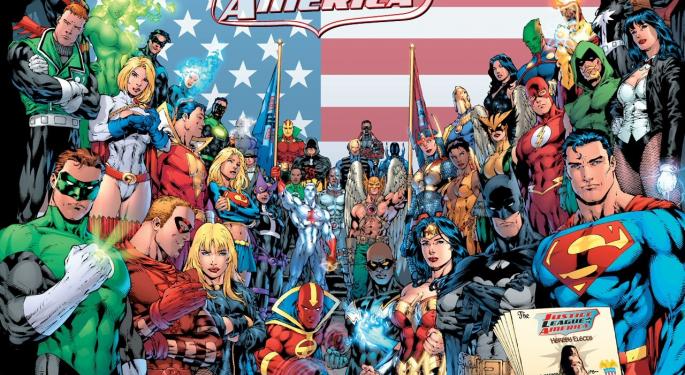 Time Warner Inc (NYSE: TWX)'s DC brand has done a great job at bringing its iconic cast of comic book characters to the small screen, but that big screen success held by its rivals has remained elusive.
While analysts wait to see if 2016 is the year the company can finally make strides at catching up to Marvel, there is little doubt the TV side is still firing on all cylinders.
'DC's Legends Of Tomorrow'
Thursday night. The CW debuted "DC's Legends of Tomorrow," the third series on the network from uber-producer Greg Berlanti that focuses on DC's vast roster of heroes and villains. Unlike previous series "Arrow" and "The Flash," this is an ensemble series that focuses on characters that aren't as well known, which at least on paper presented a challenge.
The general feeling, though, has been that because the cast was being assembled from the supporting ranks of "Arrow" and "Flash," audiences wouldn't have a problem getting hooked. The CW and DC also took things a step further and added "DC" to the title to further solidify the connection.
Related Link: The Force Is Strong With Abu Dhabi's Giant Replica Of "Starkiller Base" And Disneyland's Star Wars Land
'With Our Powers Combined...'
The combined synergy aspect worked, and as a result, the CW had its most-watched and highest-rated Thursday night in years. While not the record-breaking 4.54 million viewers and a 1.8 demo rating pulled by "The Flash's" 2014 debut, "Legends" drew 3.1 million viewers and a 1.4 demo rating. Again, for a series centered on supporting players, this is exactly what the executive team at the CW had to have been hoping for.
"Legends" not only doubled the season-to-date average of previous timeslot inhabitant "The Vampire Diaries," but topped the long-running network staple's year-to-year numbers as well. The last time the CW saw that type of success in that slot was when "Vampire Diaries" turned 100 back January 2014. Combined with lead-out "The 100," which returned Thursday night to its second-highest rated episode in the 18–49 demo since its second episode, the CW had a very good night.
While for now, that news mainly benefits network parent CBS Corporation (NYSE: CBS), it could be a very encouraging sign for co-parent Time Warner as it gears up for its DC Connected Universe kick off this March with "Batman V. Superman: Dawn of Justice."
After a few years of up and down results for Warner Bros., the DC films could finally see them start turning the corner.
Image Credit: "Justice League Group" by DC Comics - http://dc.wikia.com/wiki/Justice_League_of_America_Vol_2_1. Licensed under CC BY-SA 4.0 via Wikimedia Commons..
View Comments and Join the Discussion!
Posted-In: ARROW comic books DCLong Ideas Topics Tech Trading Ideas General Best of Benzinga