9 Healthcare Picks For 2016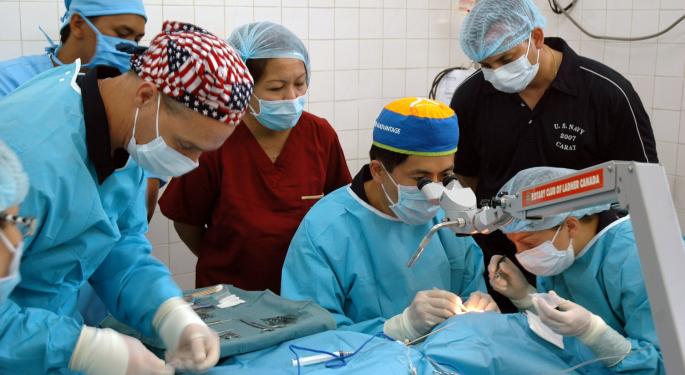 The holiday season tends to make December feel like it's gone by in an instant, so many traders are already starting to gear up for the New Year. Since the Federal Reserve's upcoming policy meeting has the potential to upset markets in the coming week, many have already begun to craft their wish-lists for bargain priced stocks in hopes that panic will bring prices down and create a buying opportunity.
This is especially true for the healthcare sector, a space that has made massive gains so far this year, making it difficult to find a cheap entry point. Many see the healthcare sector as a relatively safe play that typically continues to prosper even when the chips are down. At the moment, worries about drug pricing schemes have caused some volatility, but most expect to see the space settle down in the longer term.
For those interested in adding healthcare to their portfolio, here are nine picks that highlight next year's trends in the industry.
Related Link: Healthcare ETFs Check Up Ahead Of Higher Interest Rates
1. Bristol-Myers Squibb Co (NYSE: BMY)
One of the most watched trends in healthcare right now is personalized medicine, or treatments that target a smaller portion of the population with a specialized condition.
Bristol-Myers Squibb has emerged as a leader in this field, as the firm has been working to develop cancer immunotherapies that work together with the patient's own immune system to identify and destroy cancer cells. The firm's drug Opdivo has proven to be an effective treatment, and the firm has committed to uncovering new types of personalized treatments in order to further precision medicine in the coming years.
2. Pfizer Inc. (NYSE: PFE)
Pfizer is another firm that has entered into the precision medicine space, and many investors see the pharmaceutical company as one to watch in the coming year.
Pfizer recently joined forces with Merk in order to develop an immunotherapy drug that fights a rare and aggressive type of skin cancer called merkel cell carcinoma. So far, the drug has received positive feedback, and many believe it could become a major moneymaker for the firm. Because treatments for this type of cancer are few and far between, the space is much more lucrative as it is less crowded.
Not only that, but Pfizer is about to merge with Allergen in a deal that will likely cut down on the firm's tax burden and increase its product pipeline substantially. However, it is important to note that Pfizer is currently embroiled in a hot debate regarding pricing issues with its latest breast-cancer drug Ibrance, and its merger with Allergen has been placed under the microscope by U.S. politicians who have vowed to put an end to corporate inversions.
3. Centene Corp (NYSE: CNC)
In 2016, the Affordable Care Act is set to continue as a staple in the U.S. healthcare system; therefore, it will be important to consider the impact that the program has on firms within the space.
While companies like UnitedHealth have spoken out against Obamacare saying that it has hurt their business, others appear to be profiting from the scheme. One such firm is Centene, a company that helps manage Medicaid plans for state organizations. One outcome of Obamacare has been the expansion of Medicaid programs throughout the United States, and Centene is expected to continue benefitting from this change in the coming year.
Related Link: Attn. Investors: Watch Healthcare Stocks, Yuan Devaluation Speculation
4. McKesson Corporation (NYSE: MCK)
The Affordable Care Act has also led to the expansion of technology in the healthcare space, a positive for McKesson Corporation, a firm that manages electronic medical records.
In order to make the healthcare space more streamlined, Obamacare has pushed forward the use of electronic databases to share patient information between healthcare providers and insurers. This practice is meant to make reimbursement faster and cut down on extra administrative costs.
This has been a boost for McKesson, as the firm is one of the leading electronic medical record keepers in the country.
5. Veeva Systems Inc (NYSE: VEEV)
The merge between technology and healthcare is set to be a huge part of the industry in 2016, a good sign for Veeva Systems, a company that specializes in cloud-based software designed for life sciences.
The company offers customer relationship management solutions as well as collaboration and data management programs designed to help healthcare firms keep up with increasing automation.
As cloud-computing and electronic databases become the norm in the healthcare space, Veeva has the potential to cash in.
6. Aetna Inc (NYSE: AET)
Another firm that appears to have a leg up when it comes to joining healthcare and technology is Aetna. The insurance firm has already made major investments into information technology in order to cut back on administrative costs and streamline its operations by eliminating unnecessary paperwork.
The firm's database allows healthcare providers to access electronic patient charts and receive a more complete view of the patient's records, something that will gain increasing importance as the sector shifts to a paper-less model.
Not only that, but Aetna is set to merge with Humana in the coming year, a move that will bring in a host of new customers, which in turn will cut down insurance costs and drive up revenue.
7. Roche Holding Ltd. (ADR) (OTC: RHHBY)
For investors interested in incorporating international exposure into their portfolios, Roche could be a good play. The company is a research-based healthcare firm with headquarters in Switzerland and offers a wide range of treatments across several international markets.
Recently, Jefferies investment research firm pointed to Roche as one of its top picks for 2016 in the pharmaceutical space, saying that the firm has the "strongest overall and immune-oncology R&D pipeline in the world" and that its latest trials of breast cancer drug Affinity are expected to pan out positively in the coming year.
Related Link: 13 Stocks To Watch In The Healthcare Space
8. 3D Systems Corporation (NYSE: DDD)
Record-keeping isn't the only part of the healthcare space that is set to be reformed by technology in the future; everything from patient consults to doctor training and surgery could all see major changes in the coming year, as technology makes its way further into the healthcare space.
Virtual Reality is one specific new method that many firms are betting on as a way to train doctors and make surgeries safer. 3D systems, best known for its 3D printers, recently unveiled the world's first virtual reality robotic prostatectomy simulation training, which included printed soft tissue models. The technology could be a major step forward in training doctors and fighting against prostate cancer.
9. Celgene Corporation (NASDAQ: CELG)
Celgene is a biopharmaceutical company engaged with the discovery and development of cancer and other inflammatory disease treatments.
In the past, the firm has been an expensive stock to buy into as the firm has historically maintained 20 percent or more revenue growth each year. However, the company's shares recently tumbled amid worries that new entrants in the cancer treatment space will take away from the firm's most lucrative drug sales. Additionally, concerns rose about how a value-based care model could potentially dilute Celgene's revenue.
However, many analysts believe with Celgene shares down 8.36 percent over the past three months, now could be a buying opportunity. The firm is expected to report another year of 20 percent revenue growth, and it has a strong portfolio that will likely help support further growth in the New Year.
Image Credit: Public Domain
Posted-In: AFFINITYLong Ideas Short Ideas Health Care Top Stories Markets Trading Ideas General Best of Benzinga
View Comments and Join the Discussion!