Stick Another 'Pin' Into San Francisco's Red-Hot Office Development Map
Land owners in San Francisco are once again striking it rich, but this time it's developers with entitled land who are sitting on the gold mines.
How hot is the office development market in San Francisco?
Hot enough that Alexandria Real Estate Equities, Inc. (NYSE: ARE) — one of only two dedicated life science REITs — just announced that they have signed a 150,000 square foot long-term lease with Pinterest.
Pinterest will occupy the entire 505 Brannan Street building which is part of Alexandria's Mission Bay campus. Construction of the facility is slated to begin by 2016, with completion slated for early in 2017.


"We welcome Pinterest to its new home in our SoMa/Mission Bay innovation cluster. 505 Brannan Street represents another meaningful extension and integration of Alexandria's Mission Bay campus into the SoMa technology district, reinforcing the intersection of two extremely innovative locations," said Joel Marcus, chairman, chief executive officer and founder of Alexandria Real Estate.
Alexandria – San Francisco Innovation Clusters
Most of Alexandria's tenants are recognizable academic, research and pharmaceutical names, such as: Bayer AG, Celgene, National Multiple Sclerosis Society and UCSF.


"Mission Bay is a hotbed of innovation in the U.S. and key to our decision to co-locate our researchers in this life sciences community. We expect this new focus on U.S. research collaboration to enhance Bayer's pipeline which features a successful combination of internal excellence with highly partnered approaches in research and development and commercialization." — Dr. Andreas Busch, Head of Global Drug Discovery of Bayer's Bayer HealthCare Pharmaceuticals
A Previous SF Lifesciences Exception


Alexandria has previously announced a much larger build-to-suit for Uber Technologies, Inc., known for its popular ride hailing application.
SF – Constrained Supply
It is difficult for fast growing technology companies to locate anywhere in the Bay Area and Silicon Valley; but it's especially difficult to put a "pin in the map" with a San Francisco address.


Source: ARE Investor Day Presentation – 2014
Proposition M allows for only 875,000 SF of large office space to be added within the city limits each year.


Source: ARE Investor Day Presentation – 2014
Alexandria's guidance contained in its 2014 Investors Presentation is turning out to be quite prescient.
Who Else Is Cashing In?
The majority of the Bay Area office developments and build-to-suit projects that are underway have been embarked upon by more traditional office REITs and developers.
Notably, Boston Properties, Inc. (NYSE: BXP) is investing over $1 billion to construct its new Salesforce Tower, while both Kilroy Realty Corp. (NYSE: KRC) and Hudson Pacific Properties (NYSE: HPP) have significant office developments and property holdings in the Bay Area as well.
Turnabout Is Fair Play
Alexandria compiled a list of companies who are attracted by the gold to be found in its core life sciences business.


BioMed Realty Trust (NYSE: BMR) is the other publicly traded REIT which is a dedicated life science property operator.
However, the majority of the other names on this list are companies which have much broader real estate investments. This list underscores the fact that there is investor demand for the more expensive and technically sophisticated properties that comprise the majority of the ARE portfolio.
Investor Takeaway
The ability for Alexandria Real Estate having the flexibility to cash in on the hot San Francisco office development market makes this company even more attractive for investors.
However, the real gold in the ARE portfolio is in the high-barrier to entry life sciences campus developments and the relationships that Alexandria has forged with its top tenants.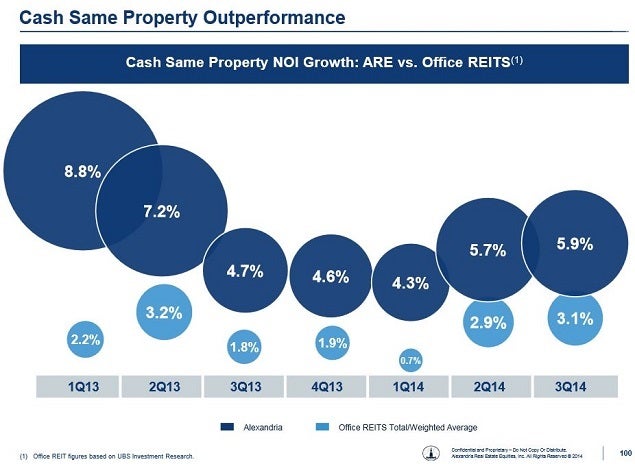 The names below are the main reason for the ARE outperformance vs the office REIT sector depicted above.


Over 50 percent of Alexandria's base rents are generated from investment grade tenants.
© 2020 Benzinga.com. Benzinga does not provide investment advice. All rights reserved.
---