Ventas Shares Are Sharply Lower: Why Shareholders Should Be Pleased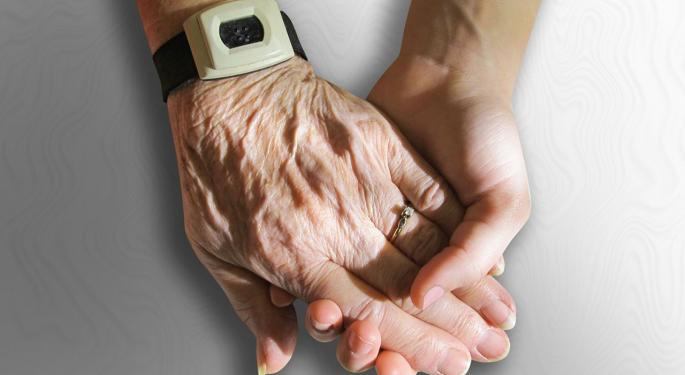 Many long-term investors who own shares of blue-chip healthcare REIT Ventas, Inc. (NYSE: VTR) may not follow events on a daily basis; Ventas has been a "set-it and forget-it" holding, delivering returns of approximately 320 percent over the past 10 years.
Notably, the Ventas dividend has also increased at a 9 percent CAGR during the same period.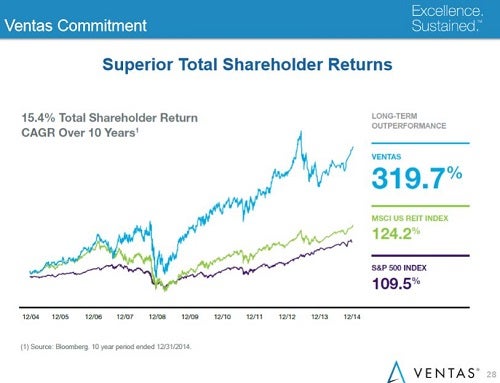 However, on Tuesday, Ventas shares appeared to be down about 12.8 percent as of this writing.
Related Link: 7 Slides That Explain Why Healthcare REIT Ventas Spiked
Care Capital REIT Spin
The good news is that Ventas shareholders now also own shares of Care Capital Properties Inc (NYSE: CCP*) a pure-play skilled nursing facility focused REIT, which now owns most of the former Ventas portfolio of skilled nursing facility assets.
Transaction Details And Dividends
On Tuesday, Ventas shareholders received one Care Capital share for every four Ventas shares, a 1:4 ratio.
This could be a source of confusion for shareholders, because at first glance, it might appear that there was a dividend cut. However, just the opposite is occurring according to the release:
"Ventas expects to declare a dividend of at least $0.73 per share and Care Capital expects to declare a dividend of $0.57 per share ($0.1425 per share on a pre 1:4 adjustment basis). This is consistent with Ventas' previous expectation that the companies' combined dividend would increase at least 10 percent from its current level of $0.79 on an aggregate basis following the Spin-Off."
Ventas paid shareholders a $0.79 per share regular dividend on June 30. The company expects to pay a combined dividend equivalent to at least $0.8725 on a pro rata basis, which equates to a ~10.4 percent dividend increase.
What About The Yield?
According to the Ventas website, the close on Monday was adjusted to $60.00 per share from a pre-spin $68.52 close.
A quick back-of-the-envelope calculation:
Taking the 1:4 ratio into consideration, this implies that the Care Capital shares were valued at approximately $34.08 per share.
The initial $0.57 Care Capital dividend on a forward basis would be equate to annual dividend of $2.28 per share, for an annual yield of approximately 6.7 percent.
In a similar fashion, based upon the $60 per share adjusted closing price, the anticipated $0.73 dividend for Ventas, would equate to an approximately 4.87 forward yield.
How Does Care Capital Compare?
Care Capital's portfolio of 335 skilled nursing homes located in 37 states. They are managed by 42 different operators under long-term triple-net leases, which contain rent escalations averaging 2.3 percent annually.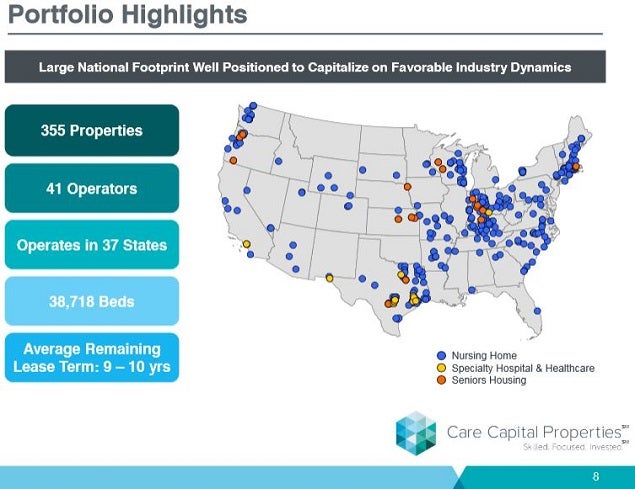 Care Capital has about 84 million fully diluted shares outstanding, for a market cap of approximately $2.86 billion.
Care Capital is most similar to Omega Healthcare Investors Inc (NYSE: OHI), a larger skilled nursing pure-play REIT with a portfolio containing over 900 properties located in 41 states and the United Kingdom, managed by 84 different operators.
Omega has a $6.8 billion market cap and currently pays a dividend yield of just under 6 percent.
The Skilled Nursing Facility Opportunity
"CCP is poised for growth and success as a pure-play skilled nursing focused REIT," said Care Capital CEO Raymond J. Lewis. "CCP has strong operator relationships, an excellent balance sheet and access to capital and is uniquely positioned to capitalize on the significant opportunities within the fragmented skilled nursing market."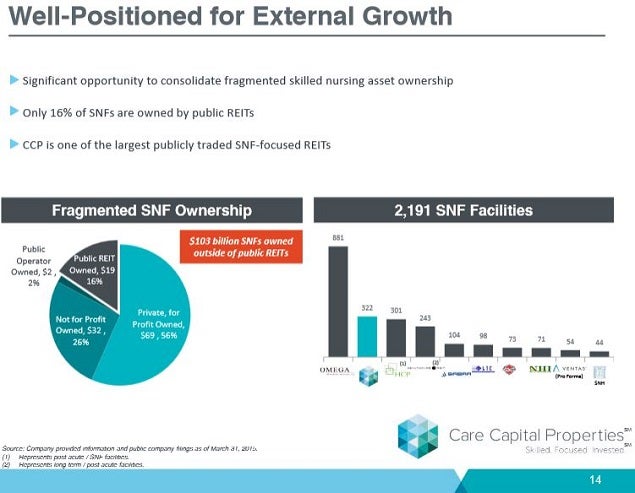 Care Capital Properties on day one is the second largest pure-play skilled nursing facility REIT behind Omega.
This sector has a demographic tailwind, as an estimated 20 percent of the U.S. population will be seniors in 2030 versus only 12 percent in 2000.
Government Reimbursements
Something investors will need to keep an eye on is the pressure to reduce healthcare costs.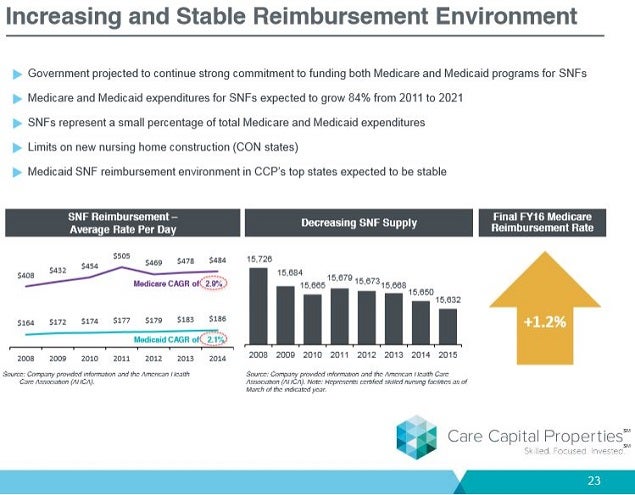 However, the reduced supply of nursing homes combined with an aging population appears to provide an opportunity for large healthcare REITs with access to capital and lower cost structures to continue to consolidate a fragmented industry.
Image Credit: Public Domain
Posted-In: Long Ideas REIT Dividends Health Care Top Stories Trading Ideas General Real Estate Best of Benzinga
View Comments and Join the Discussion!