Equinix Just Stole The Spotlight, Impressed At NASDAQ Presentation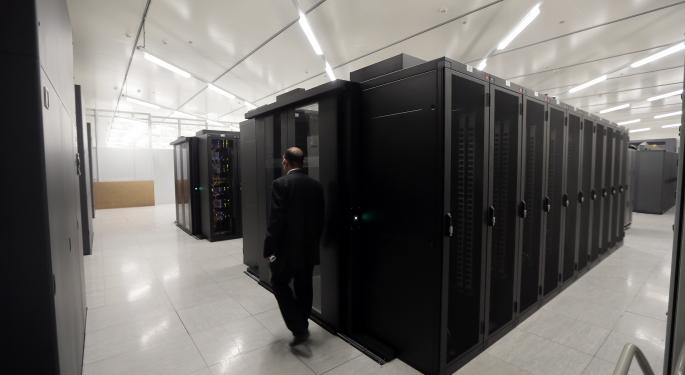 On June 30, global interconnection giant Equinix Inc (NASDAQ: EQIX) President EMEA Eric Schwartz presented at the NASDAQ Investor Program in London, which was hosted by Jefferies.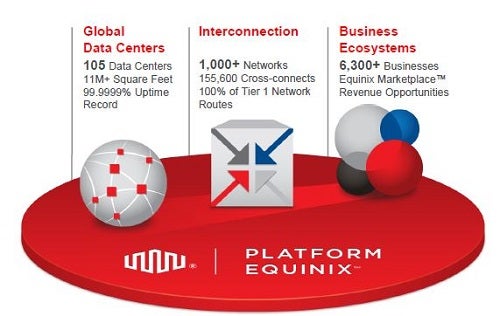 Earlier this year, $14.7 billion cap Equinix received its formal IRS REIT approval, eclipsing $9.4 billion Digital Realty Trust, Inc. (NYSE: DLR) as the largest publicly traded data center REIT, calculated by market cap.
Digital Realty operates 130 data centers totaling over 26.4 million square feet, including 2.5 million SF under development or held for future development. The company also boasts serving over 650 customers, including Equinix at several key locations.
Historically, Digital Realty has been a "wholesale" data center operator with a real estate focus, while Equinix has more technology DNA, as well as $7.5 billion of capital invested thus far to build out its interconnection focused "Platform Equinix."
Digital Realty has been one of the top performing REITs over the past 10 years, with a history of dividend growth; Equinix, being new to the REIT and dividend scene, is not as familiar to many dedicated REIT investors.
Related Link: REITWeek Data Centers: Stifel Reports On Rumored Digital Realty M&A Deal
Equinix Presentation Highlights
All data center REITs have the potential to benefit from the secular growth of big data, cloud computing and wireless data traffic growth.
However, the main theme driven home by Schwartz's presentation was that Equinix has built a substantial moat due to its unique assets, size of its interconnection and customer ecosystem, as well as hundreds of technical, design and business support personnel.
1. Unique Global Footprint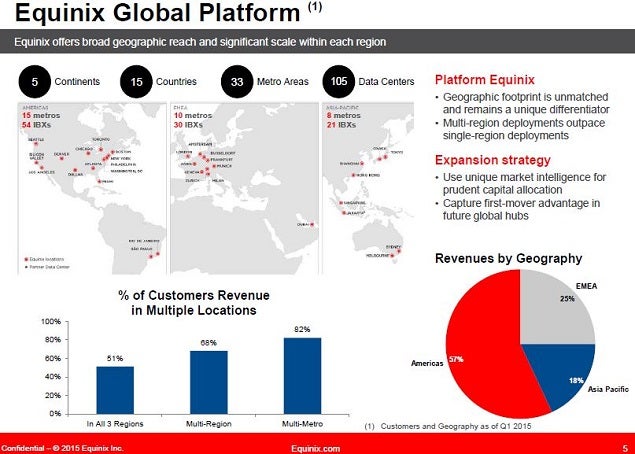 2. Customer Ecosystems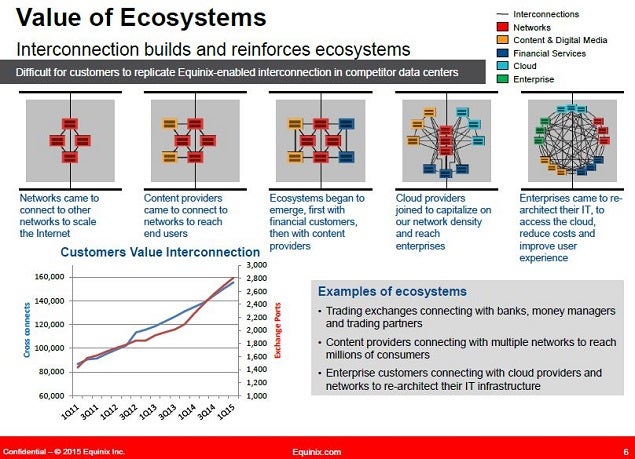 The vast scale of the Equinix customer ecosystem creates a unique value proposition.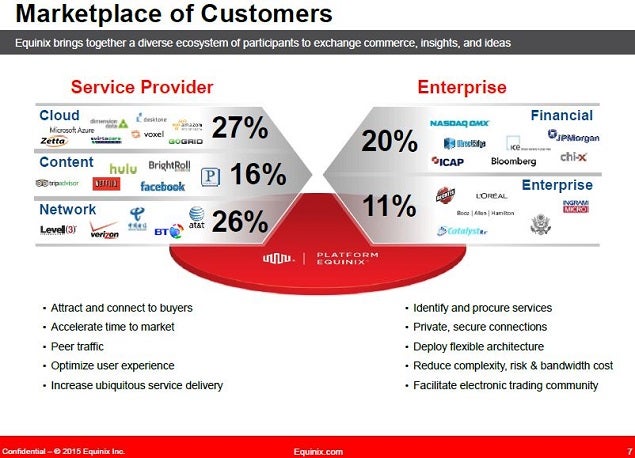 Historically, the general enterprise vertical market has been the smallest for Equinix and represent a huge opportunity on a go forward basis.
3. The Hidden Asset: Team Equinix
In a very real sense, the Equinix global data center network is just the tip of the proverbial iceberg; it is both the first thing that customers and analysts consider and fairly easy to comprehend.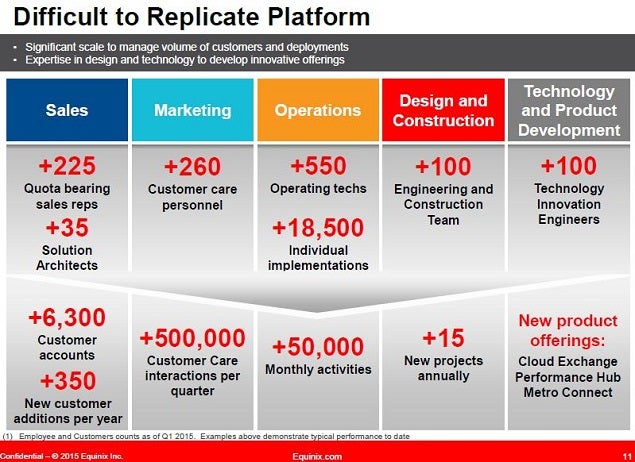 However, this supporting cast of sales and marketing, operations, design and construction, technology and product development – often working behind the scenes – is arguably one of the largest components of the Equinix moat.
4. History Of Accretive Growth
Of note: In 2007, Equinix acquired IX Europe, which is absent on the slide below.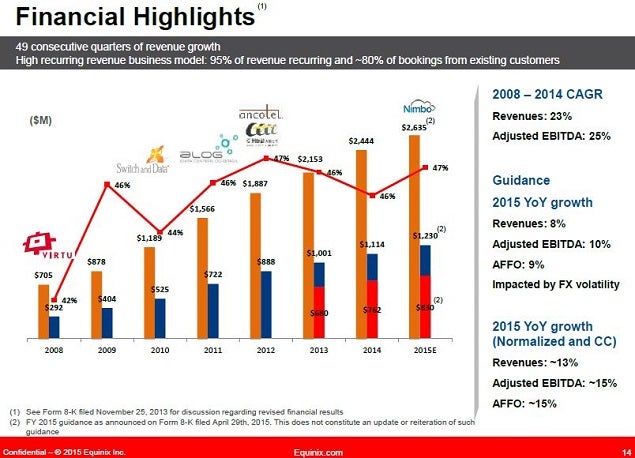 Growth: Given the scale of the Equinix business, the normalized growth rates for revenues, adjusted EBITDA and AFFO of 13, 15 and 15 percent respectively, is impressive.
MRR: Notably, 95 percent of revenues are monthly recurring revenues, and 80 percent of growth is organic, from existing customers – both highly predictable, and easy to forecast.
Low Leverage: Schwartz also pointed out that Equinix has only 2.9x net-debt to EBITDA, a very low leverage metric compared to most REITs.
Dividend Policy: Equinix plans to pay out 100 percent of its qualified REIT income as dividends. Schwartz felt that the $6.75 per share annual dividend leaves plenty of free cash flow to fund normal growth.
5. TelecityGroup Update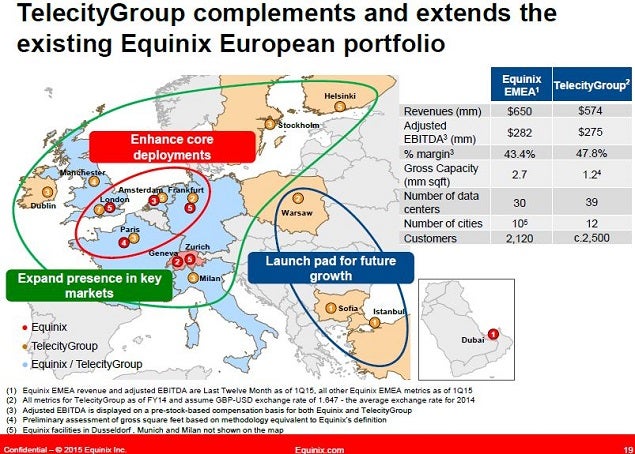 The TelecityGroup acquisition reinforces existing markets such as Frankfurt, Amsterdam and London, while providing Equinix with access to emerging markets in Europe and the Middle East.
6. Equinix Strategic Focus
Schwartz believes that Equinix is the best alternative for customers seeking to implement a "multi-cloud strategy."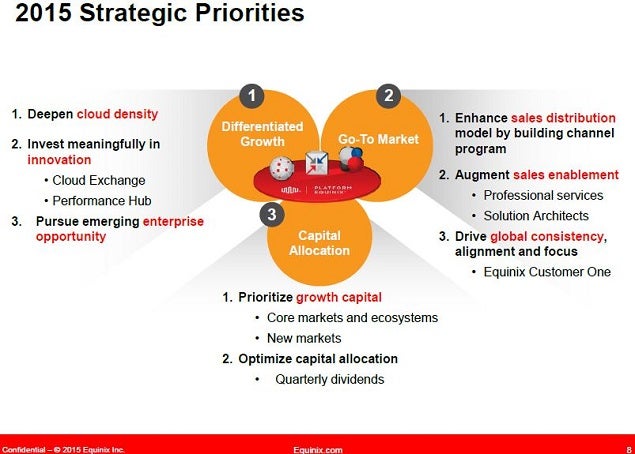 Equinix is making substantial "Go-To-Market" investments during 2015 to expand its channel partner focus, augment network and cloud infrastructure "sales enablement," leverage its recent Nimbo acquisition to provide professional services, as well as fund a multi-year program to drive "global consistency."
Related Link: RMS Builds Intelligent Data Center With Zenoss
Investor Takeaway
The clear message put forth by Schwartz was that the Platform Equinix global footprint, customer ecosystem and legion of trained support personnel in all areas of the business, would be difficult, if not impossible, for a competitor to replicate.
However, investors should keep in mind:
1. Equinix is exposed to foreign exchange headwinds.
2. Schwartz noted that EQIX is growing on a larger base, alluding to the "law of large numbers" which will impact growth rates.
That said, he foresees robust "double digit growth opportunities for some time."
Image Credit: Public Domain
Posted-In: data centers Eric SchwartzLong Ideas REIT Dividends Tech Trading Ideas Real Estate Best of Benzinga
View Comments and Join the Discussion!