How TMZ...Yes, TMZ Can Help You Find Winning Stocks Like Disney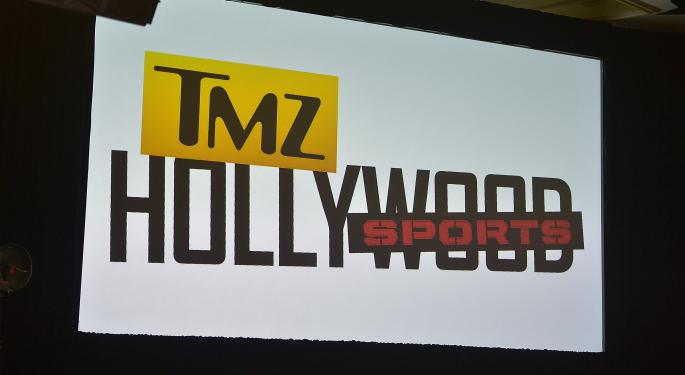 Twitter is a powerful tool for investors, because it gives us a "main street" view of Wall St companies. That's why it pays to monitor company mentions by finance bloggers, consumers, and… TMZ?
Sure, TMZ is obsessed with celebrity gossip, scandals, hot bodies, and other tabloid-style stories – it's just what they do. But while they're discussing Bieb's underwear, the folks over at TMZ are also keeping a very watchful eye on the trends that are driving consumer behavior. The nature of their work means that they most often refer to companies in the entertainment space, including Walt Disney, Netflix, and others.
In fact, TMZ has the ability to spot rising stars and important players in the business of entertainment, all without even trying. This makes them as good at picking winners as most professional fund managers!
Check out this breakdown of the ten companies that TMZ has mentioned most on Twitter:
The TMZ Top-10 Companies:
TMZ's big ten are Walt Disney Co (NYSE: DIS), Twitter Inc (NYSE: TWTR), Facebook Inc (NASDAQ: FB), Sony Corp (ADR) (NYSE: SNE), Viacom, Inc. (NASDAQ: VIAB), Netflix, Inc. (NASDAQ: NFLX), Time Warner Inc (NYSE: TWX), Google Inc (NASDAQ: GOOG), Groupon Inc (NASDAQ: GRPN), and Wal-Mart Stores, Inc. (NYSE: WMT). That's who's who of businesses with strong social metrics. It's not surprising that this basket of companies did very well on the market this year.
These ten earned a 24.32 percent return over the past 12 months – beating the S&P 500, which returned a relatively paltry 12.12 percent.
TMZ's success proves that you don't have to be a finance guru to make smart decisions about your portfolio. By tracking social data like Twitter mentions and social sentiment, you can see which companies are earning the respect of consumers.
Take a look at the social sentiment rating for Disney, TMZ's most-tweeted company:
(Social signals data can be found among the tools available at TD Ameritrade)
That's a pretty high mark, and it shows that consumers aren't just talking about the company – they're praising it!
And when consumers love the brands and products that a company puts out, the cash register rings…and rings…and rings. And the the stock rallies, and rallies, and rallies. Just like Disney has done over the past year.
Just like how social data helped us predict Disney's earnings' beat last quarter and bank nice profits.
THAT is why we pay attention to social signals. Because it's Main Streets way of telling us what Wall Street will be noticing a few months from now. And accounts like TMZ's are some of the best around for keeping in touch with the trends behind the brands and products that will make up tomorrow's winning investments.
–Andy Swan is the founder of LikeFolio, which searches all of Twitter for important shifts in consumer behavior around the brands owned by publicly-traded companies.
The preceding article is from one of our external contributors. It does not represent the opinion of Benzinga and has not been edited.
Posted-In: LikeFolio TMZ TMZ PortfolioLong Ideas Trading Ideas Best of Benzinga
View Comments and Join the Discussion!