Attention Investors: This Little-Known Asset Class Just Hit 52-Week Highs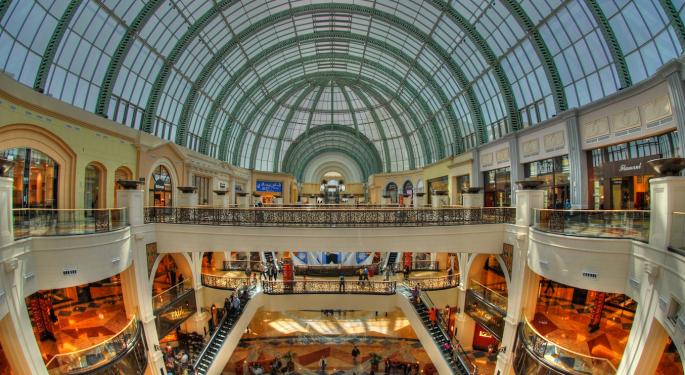 Well located Class-A malls with strong demographics are winning.
One mall landlord hitting a 52-week high could mean it has a unique or "magic formula" for success; perhaps the sheer scale of $64 billion cap Simon Property Group Inc (NYSE: SPG). Two more Class-A mall REITs hitting 52-week highs, such as General Growth Properties Inc (NYSE: GGP) and Macerich Co (NYSE: MAC), could be mere coincidence.
However, it appears to be far more akin to an emerging trend when the smallest landlord by market cap, $5.3 billion Taubman Centers, Inc. (NYSE: TCO) hits a new high as well.
Coincidence Or Not?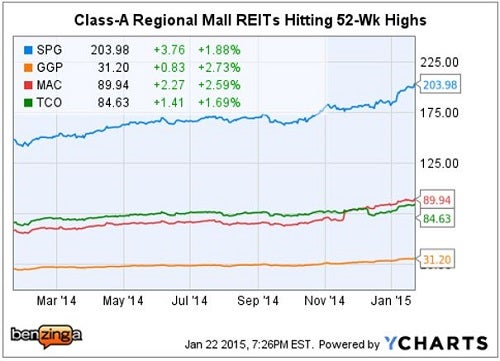 On the other hand, it just might be possible that consumers still like to shop at upscale malls, with a great merchandise mix, conveniently located near their affluent neighborhoods.
Tale Of The Tape
Amazon.com, Inc. (NASDAQ: AMZN) clocked in with strong gains on January 22, as well.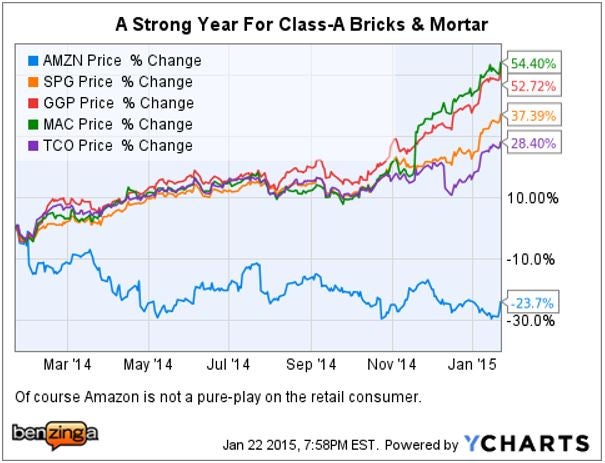 A look back at the last year shows that pure-play Internet retailing giant Amazon has not been a "death ray" for Class-A malls; however, it has put a sizeable dent into shareholders' wallets.
Its shares were up over 13 points, or 4.43 percent.
However, the next chart helps to put that into perspective.
Related Link: Why The Shopping Mall May Rise From The Dead
Amazon Is Building For The Future
Amazon is spending billions of dollars to build a network of fulfillment centers near major U.S. metropolitan markets.
This will help Amazon to provide same-day or next day service to a growing percentage of U.S. households. A phenomenal concept.
Mall Retailers Already Have That Option
The very nature of Class-A malls is that they are located near densely populated areas with high household incomes that are easily accessible by ground transportation and mass transit.
In fact, urban planners often strive to locate mass transit stations and hubs at or near regional malls.
Specialized same day delivery services such as Deliv are being nurtured by mall owners. There are also growing networks of for hire drivers such as Uber and Lyft that can provide that service.
Another Big Player
Google Inc (NASDAQ: GOOG)(NASDAQ: GOOGL) has a dog in this fight too. It is called Google Express. Customers can get same-day or overnight delivery from local stores and popular retailers in major metro areas. It ties in with Google Wallet.
Current delivery areas include:
San Francisco
Peninsula & San Jose
West Los Angeles
Manhattan
Chicago
Boston
Washington, D.C.
Participation can vary by city, but includes: Costco Wholesale Corporation, Walgreens, PetSmart, Inc., Staples, Inc., Whole Foods Market, Inc., Target Corporation, Ulta Salon, Cosmetics & Fragrance, Inc., Kohl's Corporation and a host of other national, regional and local retailers.
Google also has a large investment in self-driving car technology, another perfect fit for same-day or overnight delivery in the future.
Related Link: What Do Macy's Latest Moves Mean For Retail REIT Investors?
Omnichannel Retail
Ideally, it is the seamless integration of a retail or store brand where the customer has a wide range of choices regarding how to research, purchase, pick-up, receive or return merchandise.
This is where the future on retailing is headed according to Macy's, Inc. (NYSE: M), one of the most successful bricks and mortar retailers in the U.S.
Macy's is closing stores in unsuccessful malls, while expanding its presence in successful malls where its ROIC is justified.
Bottom Line
The foundation of omnichannel retail is the consumer having a bricks and mortar alternative.
It appears Mr. Market is betting that successful Class-A malls will continue to provide that alternative for the foreseeable future.
Image Credit: Peter Gronemann, Wikimedia
Posted-In: Deliv Lyft Macy's Inc.Long Ideas REIT Trading Ideas General Real Estate Best of Benzinga
View Comments and Join the Discussion!