Is This High-Yield Green Energy Stock Flying Under The Radar?
In the face of falling oil prices, many investors in the energy sector may be scrambling to look for high-yield investment alternatives.
Here are four different ideas for investors to consider, including innovative green alternative Hannon Armstrong Sustainable Infrastructure, Inc. (NYSE: HASI).
This company may be flying underneath most energy sector investment radar screens due to its REIT status.
In addition to taking a closer look at how Hannon Armstrong is structured and operates, here are three other energy companies which are dividend payers — and all somewhat protected or "hedged" against the price of oil creating havoc with their bottom line.
3 Top Dividend Picks To Consider
On December 10, three respected Motley Fool analysts selected their favorite energy stocks for dividend income. In no particular order they were: Phillips 66 (NYSE: PSX), Kinder Morgan Inc. (NYSE: KMI) and Enterprise Products Partners (NYSE: EPD). Each pick is focused on a very different part of the energy spectrum.
Phillips 66: is a major oil refiner and petrochemical giant. The company has increased its dividend by 28 percent during the past year. The petrochemical products business should actually benefit from low petroleum feedstock prices.
Kinder Morgan: is primarily a pipeline company which has recently consolidated all of its former subsidiaries. Notably 82 percent of revenue is currently predictable fee based income. Additionally, the company has a five year project backlog that is for the most part agnostic to the price of oil.
Enterprise Products Partners: primary focus is on domestic natural gas and liquid products such as propane, butane and ethane. These liquid products can be transported to domestic hubs and shipped internationally to take advantage of wherever prices are highest.
A High-Yield REIT Contender
Hannon Armstrong: is a relatively new small-cap publicly traded REIT that does not drill, refine or transport oil. The company makes debt and equity investments in profitable sustainable infrastructure projects that increase energy efficiency, provide cleaner energy, or make more efficient use of natural resources. On December 8, the company announced an 18 percent increase in its quarterly dividend.
Tale Of The Tape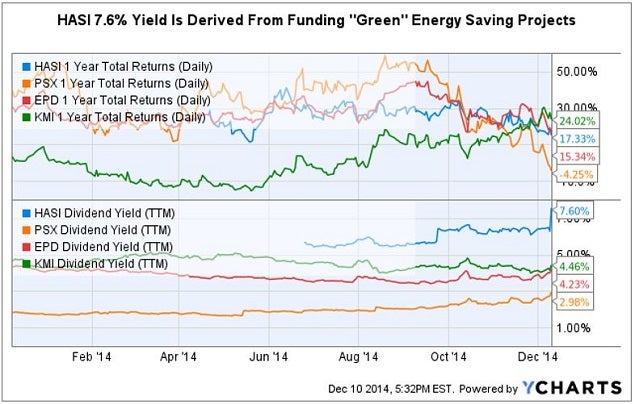 Hannon Armstrong – Deeper Dive
Hannon Armstrong provides and arranges debt and equity financing primarily for three types of sustainable infrastructure projects:
• Energy Efficiency Projects: projects, typically undertaken by energy services companies, or ESCOs, which reduce a building's or facility's energy usage or cost through the design and installation of improvements to various building components, including: HVAC systems, lighting, energy controls, roofs, windows and building shells.
• Clean Energy Projects: projects that deploy cleaner energy sources, such as solar, wind, geothermal and biomass as well as natural gas.
• Other Sustainable Infrastructure Projects: projects, such as water or communications infrastructure, that reduce energy consumption, positively impact the environment or make more efficient use of natural resources.
High-Yield Business Model
On December 10, Hannon Armstrong presented at the Wells Fargo Energy Symposium. Here is a closer look at a few presentation slides which help to explain its business model.
Why Distributed Assets?

Portfolio & Deal Pipeline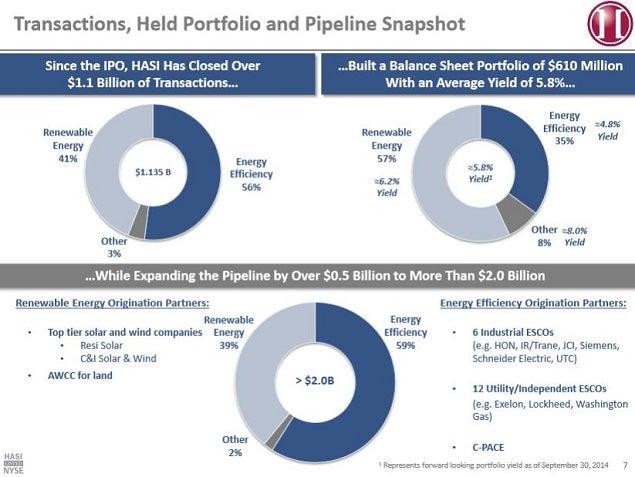 Financial Overview
Hannon Armstrong has a limited track record as a publicly traded REIT.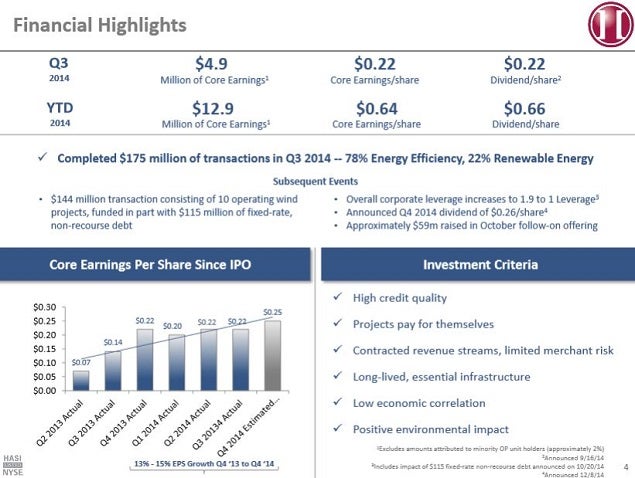 The HASI business model does depend upon the use of leverage to achieve its financial results. However, the assets and liabilities appear to be carefully matched to produce the targeted 13 to 15 percent growth in earnings per share.


One concern for investors to realize is that there is very little margin for error. In other words, this is a high dividend growth company, but it also has a very high dividend payout ratio.


However, by working with investment grade customers, Hannon Armstrong is able to aggregate and issue asset backed securities (ABS) to continue and grow its balance sheet.
A Green Bond Product
It is notable that the latest HASI $100 million issuance of ABS utilizes a proprietary metric to measure carbon dioxide emissions abated per $1,000 bond. Hannon Armstrong has designated these bonds as "Sustainable Yield Bonds," a term it has trademarked to differentiate them in the marketplace.
Investor Takeaway
Investors interested in allocating a percentage of their portfolio to the energy sector have many alternatives to investigate. However, investors looking for income derived from equity investments in sustainable energy, or "green bonds," have far fewer choices.
A key piece of the puzzle for investors interested in Hannon Armstrong REIT shares is to fully understand the calculus of how the new $0.26 quarterly dividend, currently yielding 7.6 percent, will be sustainable moving forward.
© 2020 Benzinga.com. Benzinga does not provide investment advice. All rights reserved.
---