Dan Nathan Discusses Risk Reversal, Herbalife And More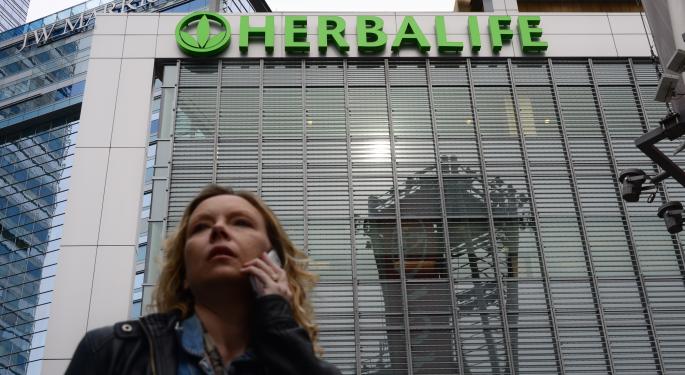 Dan Nathan, co-founder and editor of Risk Reversal, recently stopped by Benzinga's #PreMarket Prep. Nathan's career spans 17 years as a proprietary equity and options trader at hedge funds (SAC, Exis and Cheyne Capital) and within the equity derivatives group of Merrill Lynch.
Nathan touched on the work environment during his time at Merrill Lynch and on the day Lehman Brothers closed its doors.
"It was an amazing time from a market standpoint. Never worked with better people in my life," Nathan said. He noted that there were some "pretty nasty days" when describing the somber mood the day Lehman Brothers closed on September 16, 2008. He recalled seeing employees walking out with their possessions in boxes as the firm went under. He expected the same fate for his firm.
"Merrill was going to be next [...] Tens of thousands of people came to work that day expecting to walk out and be done," Nathan said, who invoked words of caution for those interested in going into the investment banking industry.
Related Link: So Who Were The Big Buyers In Alibaba?
Dan Nathan was asked about the ongoing battle between Carl Icahn and Bill Ackman taking place in shares of Herbalife Ltd. (NYSE: HLF). With both participants taking opposing positions, it has been interesting to observe the battle in the options and OTC market.
Nathan characterized Herbalife as a "scuzzy company" and is not a fan of the tactics the company is employing to put a squeeze on Ackman. Along these lines, suspending the dividend to buyback stock is a questionable strategy. He gave his take on Herbalife and tends to be siding with Ackman, although he has no positions on the issue at this time. He also pointed out the significance of the company missing on the earnings front in the last two quarters.
With respect to the events taking place in the options and OTC market in the shares of Herbalife, Nathan was firm on how investors should interpret the reports of trades being transacted.
"To trade off this information is irresponsible," investors should make their own trading decisions independent of this information and rely on their research, Nathan said.
Along with commenting on his time at Merrill Lynch and Herbalife, Nathan spoke to the importance of risk management and making full use of the options market to help protect hard-earned profits in the markets.
Check out the full interview below:
Posted-In: #PreMarket Prep Dan Nathan Investing Merrill Lynch Risk ReversalTop Stories Markets Interview Best of Benzinga
View Comments and Join the Discussion!