What's The Outlook For These 3 Major Aerospace And Defense Companies?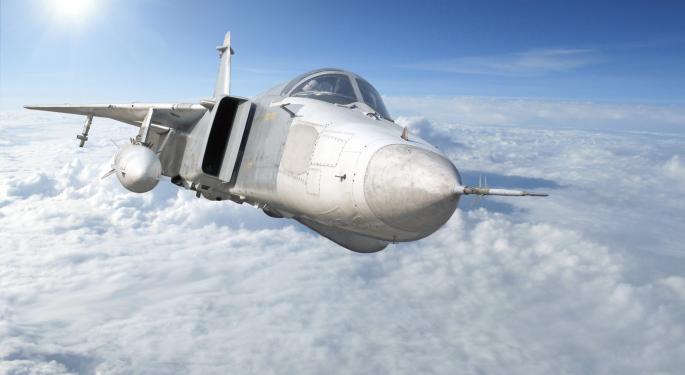 Boeing Co (NYSE: BA), United Technologies Corporation (NYSE: UTX) and Honeywell International Inc. (NYSE: HON) are three of the best-known names in the aerospace and defense industries.
Management has recently provided insight into prospects for each company and also for the industries going forward. Investors should pay attention to where these three giants are headed.
Boeing Is Flying High
The Chicago-based Boeing just announced impressive numbers in its latest 10-Q (quarterly) filing with the SEC: Revenue gained a tidy 7.5 percent ($23.784 billion versus $22.130 billion) and net earnings up 17.6 percent ($1.362 billion versus $1.158 billion). For the nine months ending September 30, 2014 revenue has increased 5.5 percent and profit by 19 percent compared to the same period last year.
The driver behind the growth has been sales of its widely popular commercial jetliners, such as the 737 and the 787 Dreamliner, which comprise about two thirds of revenue and the bulk of earnings at the company. According to Boeing, this will continue for the foreseeable future.
The company recently announced that it will cede the military jet fighter market to rival Lockheed Martin Corporation (NYSE: LMT) and focus mainly on commercial aircraft, the market Boeing believes will be worth more than $5 trillion over the next two decades. Boeing's defense business will have to play second fiddle.
Related Link: The Boeing Company Faces A Future Without Its Fighter Jets: So What?.
United Technologies Doing Well, Too
United Technologies is flying right up there with Boeing. The company announced gains in revenue (net sales) up 4.5 percent ($16.168 billion versus $15.462 billion) and operating profit up 16 percent ($2.746 billion versus $2.366 billion) in its latest SEC filing.
As commercial aviation soars, the two main aerospace segments of the company, Pratt & Whitney and UT Aerospace should be able to grow right along with the big airframers such as Boeing. UT Aerospace is a prime supplier for the Dreamliner program, providing many of the major susbsystems for the aircraft. Pratt's new family of PurePower engines, which are more fuel-efficient and quieter, are well positioned in the marketplace.
Currently, those two segments together generate around 40 percent of United Technologies' overall revenue and earnings.
UTC defense business is highly dependent on Pratt's F135 engine, which was chosen as the sole powerplant for Lockheed's F-35 Lightning II fighter. Production of that aircraft will ramp up over the next few years. The company will stop production of the F100 engine, used on Boeing's F-15 and General Dynamics' F-16 fighters, in 2016.
Honeywell Predicts More Jet Business
Over the next 10 years Honeywell is forecasting a market of $280 billion for business jets, for which it provides engines and advanced avionics. This piece of the industry was hit hard by the 2008-2009 recession and won't fully recover until 2017, according to the company, so any benefit would be in the long term. Investors might have to be a little patient.
Bottom Line
As the commercial, business and military jet market heats up over the next couple of decades, major aerospace and defense companies Honeywell, Boeing and United Technologies are poised to capture some of the expected growth.
Posted-In: aviation industry Boeing corporate jets military jetsLong Ideas Travel Trading Ideas General Best of Benzinga
View Comments and Join the Discussion!