Exclusive: Russell Rhoads On Volatility, VIX Options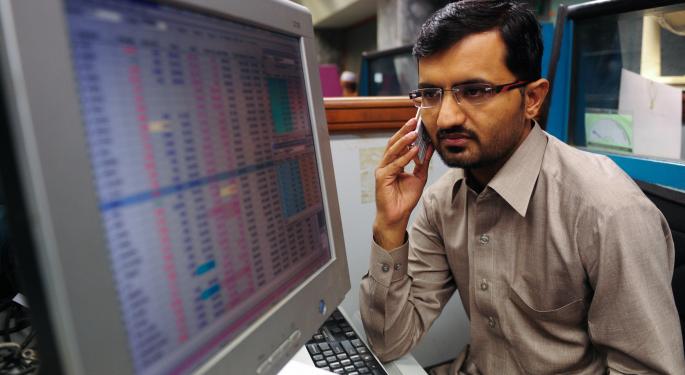 Traders are bound to make mistakes, but are fears of market fluctuations enhancing the problem?
Russell Rhoads, a senior instructor with the Options Institute at the Chicago Board Options Exchange, recently told Benzinga's #PreMarket Prep that it seems like traders are "almost conditioned to either get short volatility or if they've got long exposure, take it off fairly quickly."
Related Link: 9 Things Every Prop Trader Should Know
"Because, you know, your first trade has been your best trade as far as getting either short volatility or getting out of the long position," he said. "I think doing something where you -- and we see this from the big traders who are usually hedging some sort of equity portfolio -- take advantage of that pop with maybe a quarter, a third or a half of the position. And then leave the rest of the hedge on in case we get that second leg higher, which will happen eventually. It doesn't seem like it, but it will happen eventually."
Rhoads is one of four CBOE instructors that travels the world and teaches different levels of options traders.
"If you gave each of us a specialty, mine would be VIX," he said, adding that he got excited when volatility spiked quickly in mid-July.
Employing The Best Strategy
During the interview, #PreMarket Prep's Joel Elconin asked Rhoads why VIX options are a good way for traders to hedge their portfolios.
Elconin noted that his partner, Dennis Dick, does not trade them overnight.
"Dennis will say, 'Don't trade these things overnight,'" Elconin said. "'They just have built-in decay. They do reverse splits. They go back to zero. They need to do a reverse split. There hasn't been much volatility in the market here.'"
Rhoads said that when Dennis is referring to instruments that are zero, "Those are the exchange-traded products like VXX, which I think is probably the most well-known -- and I know it does the most volume -- of the exchange-traded products that are based on a VIX strategy.
"With respect to futures and with options, his statement can be partially true," Rhoads explained. "I think the best way to try and get -- and it always depends on the environment -- long exposure to market volatility is through the options that trade that are based on the VIX index. The method that I see used most often involves some sort of spread trade where you are selling an option or two but you got some sort of long exposure related to a potential market pop."
If You Have To Buy An Expensive Option…
Borrowing a line from colleague Marty Kearney, Rhoads said that if you have to buy an expensive option, sell an expensive option.
"He would use that in reference to a vertical spread," Rhoads said. "I think that holds true for VIX options as well. As far as volatility exposure not holding things overnight, everybody knows that you can always sell first and buy later. And whenever we get some sort of spike in volatility, a lot of people that pay attention to the VIX markets from day to day are looking for a way to get short. VXX, some sort of spread trade that will benefit from a drop in VXX, is usually my first thought. VXX is good. I just like to use VXX or options on VXX on the short side."
Disclosure: At the time of this writing, Louis Bedigian had no position in the equities mentioned in this report.
View Comments and Join the Discussion!
Posted-In: Benzinga #PreMarket PrepLong Ideas News Short Ideas Personal Finance Trading Ideas Interview General Best of Benzinga