New Traders Should Focus On Risk, Not Reward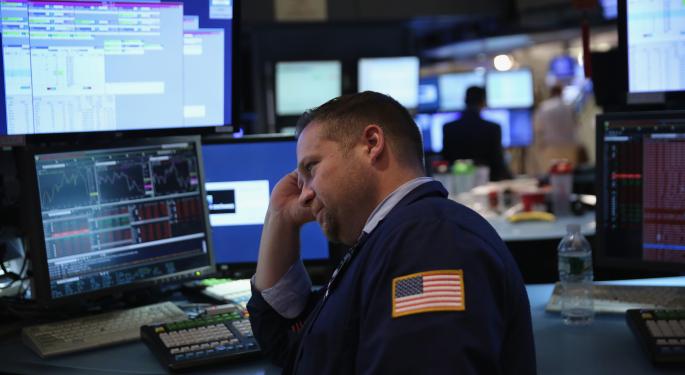 New traders are bound to make mistakes. Some could be avoided, however, if newcomers would heed the advice of other, more experienced traders.
Greg Michalowski, president of GregMikeFX.com, recently discussed this challenge on Benzinga's #PreMarket Prep.
"Now, what is the biggest mistake that traders do? They focus too much on the reward," Michalowski said. "And that sounds weird to say, but I hear so many traders say, 'I am going to short the Euro, and I think it's going to 1.28.' That is just unrealistic, because there's 1.33 to get through, and there's 1.3226 to get through, and there's other levels that you need to get through before you get to that."
Related Link: 9 Things Every Prop Trader Should Know
The Most Important Thing
Michalowski said that the actual risk is the most important thing to focus on. He does so by focusing on three elements:
Define risk
Limit risk
Accept risk
"Define risk and limit risk tells you what you are going to potentially lose, and if you don't lose it, you have the reward," Michalowski said. "How do you define risk and limit risk? Using those tools that I talked about. Those are your borderline levels. Those are the levels that tell you to get out because the market isn't doing what you thought it should do."
Who's Really In Control?
Like it or not, Michalowski said that the market is in control -- not the trader.
"You are not in control as the retail trader," he said. "You cannot move the market. The market moves itself. If you can't move the market, you're at the mercy of the market. So you have to have that humility and understand … where the market perceives risk. If you concentrate on risk, I think [you] will be okay as a trader. Most traders don't do that. I want to move them that way."
Knowing How Much To Risk
A lot of traders get caught up in the amount of money that they plan to risk, but Michalowski said that the focus should be on risk itself.
"As far as the account size goes, if it's $500, $5,000 or $500,000, the focus should be on the risk," he said. "What is important is understanding that you can't just treat it as a 'bet red' or 'bet black,' and 'I hope I make $1,000.' You have to treat it as, 'I want to risk 1 to 2 percent or 3 percent at the max, on any single trade,' and treat it as if you're really managing that money."
Michalowski said that traders shouldn't expect to double their investments.
"It's a marathon," he added. "The name of the game is to stay in the game, and that is what you have to do in your trading.
See Michalowski's full interview here:
Disclosure: At the time of this writing, Louis Bedigian had no position in the equities mentioned in this report.
Posted-In: BenzingaLong Ideas News Short Ideas Personal Finance Trading Ideas Interview General Best of Benzinga
View Comments and Join the Discussion!