Why Indirect Marijuana Play Full Circle Capital Is Likely Overpriced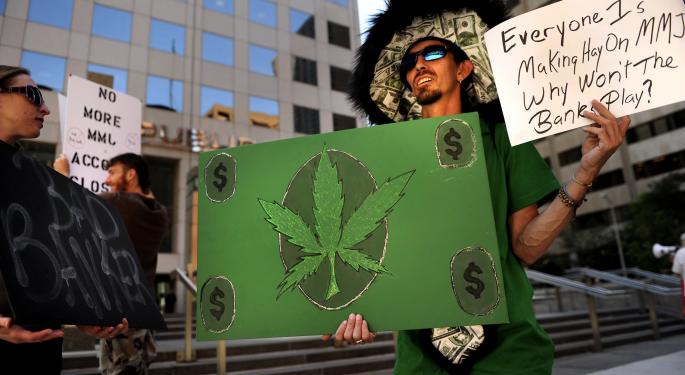 On January 22, a day after Advanced Cannabis Solutions (OTC: CANN) announced a funding deal with Full Circle Capital (NASDAQ: FULL), the 420 Investor recommended that subscribers consider buying Full Circle Capital as a backdoor marijuana play.
That recommendation no longer looks smart, as the Security and Exchange Commission's suspension of trading in Advanced Cannabis Solutions changed the math.
Unfortunately, others aren't doing the math properly, and are hyping their own versions of 420 Investor's original take. Now Full Circle currently looks overpriced, quite possibly as a result of the incorrect hype.
The Changing Math
Advanced Cannabis Solutions was added to the "Flying High" model portfolio at $7.13 initially and was held until March 27, when Advanced Cannabis Solutions was unexpectedly suspended by the SEC for reasons related to a third-party.
Related Link: FINRA And The SEC Deflate Marijuana Stocks, For Now
The suspension had a big impact on appeal of Full Circle Capital. The hidden upside in Full Circle Capital was the warrants it had to buy one million shares of Advanced Cannabis Solutions at $5.50, and its potential to acquire another 1.5 million shares at $5 (contingent upon funding a loan).
Thus the suspension of Advanced Cannabis Solutions should have hurt the price of Full Circle Capital, but it didn't.
Although Advanced Cannabis Solutions has dropped about 40 percent since the initial Buy recommendation of Full Circle Capital in January, Full Circle has rallied about 14 percent, closing most recently at 8.07: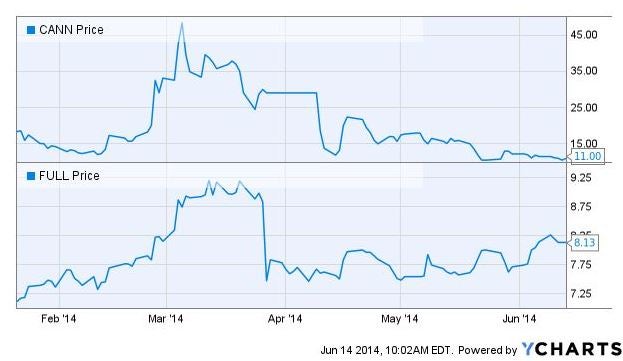 That increase is all the more baffling given that since the initial buy recommendation, not only has the price of Advanced Cannabis Solutions declined, but Full Circle has seen some deterioration in its Net Asset Value.
In Full Circle Capital's most recent quarter its NAV was reported (Q3, as of 3/31/14) at $7.20. While this was up from Q1 (7.09), it appears to be inflated because it included the value of the warrants, as detailed in the 10-Q:

This is a complicated calculation, but simply put, it shows Advanced Cannabis Solutions' value at 12.37. Had Full Circle not included the warrants' $6.3 million paper gain, its NAV would have likely declined to about 6.58. The NAV is important, as business development corporations like Full Circle tend to closely track this metric.
So, the excitement over Full Circle must be tempered, as the price of Advanced Cannabis Solutions has declined and the likelihood of Full Circle funding a deal (and getting its sweetheart convertible notes) seems to be diminishing. During a conference call in May, the company responded to a question about the potential with a very lukewarm response:
"As it relates to the funding of the notes, I think that is still, again, a -- something that we continue to evaluate. As you know, during the quarter, there was a new piece of information as it relates to the suspension of the stock, which is unfortunate. And that's something, of course, that we continue to work through with the company to see how to move forward. And we're evaluating that on a case-by-case basis."
Related Link: Florida Becomes The 23rd State With Medical Marijuana
Another month has passed, and there is no funding. Perhaps Full Circle is concerned that Advanced Cannabis Solutions won't be able to escape the Grey Sheets status.
While Full Circle has filed a Form 211 after having found a market-maker to sponsor them, it has been awaiting approval from FINRA. The process, which is described here, doesn't seem to require FINRA to make a timely response unfortunately:
"After a Form 211 is filed, how long until the security can begin quotation on the OTCBB?"
"There is no standard time to process a 211 and clear the market maker to begin quoting a security on the OTCBB. The time it takes to review a 211 may vary significantly depending on many factors including whether or not FINRA has to request additional information from the market maker that submitted the form and upon how long it takes the market maker to respond to requests for additional information."
Of course, if Advanced Cannabis Solutions resumes trading with quotation, there is no guarantee that Full Circle will fund it, but it would be a positive sign. So, with everything seeming less positive, why has Full Circle been acting so well lately?
The Pitch
In mid-May, several 420 Investor subscribers wanted to know the identity of the secret stock described in this email solicitation. The video runs about 30 minutes, narrated by Frank Curzio, who is trying to entice listeners to subscribe to his "Phase 1" research service: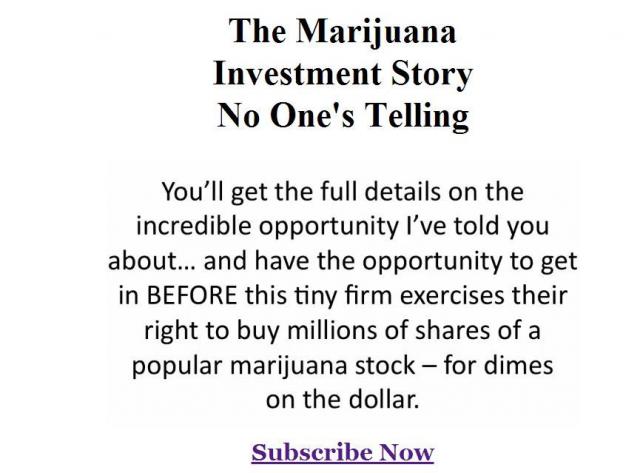 Phase 1, which was being offered for $3500 (normally $5000 per year) is one of several letters published by Stansberry & Associates Investment Research, which based in Baltimore and majority-owned by publisher Agora Inc. The company boasts of a daily readership that exceeds one million.
The pitch is very persuasive, but it became factually incorrect after Advanced Cannabis Solutions' suspension. Curzio suggests that a 50 percent rise in the marijuana stock (Advanced Cannabis Solutions) would yield a 100 percent rise in the backdoor play (Full Circle). Their disclosure indicates that this analysis was based upon work provided by analyst Andrew Kerai that was published on March 20th (see note 30).
That means the analysis was done before CANN's suspension. As detailed below, current math shows the impact on Full Circle Capital of an even more bullish view of CANN to be less than the 1:2 rise pitched by Curzio. The current math shows an increase of 100 percent in CANN would likely push up Full Circle Capital only by a third.
In addition to the email promotion for Phase 1 that teased Full Circle, Stansberry & Associates offers a free daily email called 'Growth Stock Wire'. Editor Jeff Clark also teased Full Circle in March, just days before Advanced Cannabis Solutions was halted:
"Another recommendation is in the fastest-growing natural-resource business in the world right now – marijuana. Ever since Colorado and Washington legalized the use of marijuana, the "pot" stocks have been going nuts. Most of the stocks are trading at ridiculous valuations – similar to the dot-com bubble of 2000.
"But I found one stock that has been largely overlooked by the investment community. It's an indirect play on the marijuana boom that trades at about 45 percent of book value and pays a 10 percent dividend.
"The final stock is going to remain a secret until the conference. Its upside potential is even better than the other two recommendations. But you'll have to join me in Dallas to hear about it…"
The Dallas conference was held on May 31st, but it's not clear if Full Circle was mentioned.
Full Circle Capital Appears "Full"
As it stands now, Full Circle owns one million warrants to buy Advanced Cannabis Solutions at $5.50. There are many factors that impact the value of those warrants, as the stock that Full Circle would receive would be restricted. Presently, it's not clear if Full Circle would be able to actually sell the stock while Advanced Cannabis Solutions remains unlisted. Assuming that it can, and looking at potential returns to the company based on successful disposition of Full Circle, the following table highlights the possible outcomes for just the warrants:
| | |
| --- | --- |
| Price of CANN | Value to Full Circle Capital |
| <$5.50 | $0 |
| $11 | $5.5M |
| $16.50 | $11M |
| $22 | $16.5M |
| $33 | $27.5M |
Full Circle is carrying the warrants at $6.87 million currently and has about 10.1 million shares outstanding.
Calculating Risk and Reward
To calculate the impact of changes in the price of Advanced Cannabis Solutions on the price of Full Circle, the excess value is determined by subtracting the current carrying cost included in the $7.20 NAV ($6.87 million) and then dividing by the number of shares.
For instance, if Advanced Cannabis Solutions were to double (from 11 currently to 22), then Full Circle's NAV would increase by $16.5mm less $6.87mm, or $9.63mm. This would boost the NAV by $0.95.
This math suggests that Full Circle, trading at 8.13, is potentially incorporating a sharp rise in Advanced Cannabis Solutions, as it trades at $0.93 above the most recently published NAV. This analysis, though, excludes any potential windfall from funding a loan to Advanced Cannabis Solutions.
While the odds of doing so appear to have declined, this convertible note, which would give it the ability to buy 1.5 million shares at $5, could be even more lucrative. In the same scenario of Advanced Cannabis Solutions doubling to 22, the 1.5mm shares, if converted and sold successfully, would yield $25.5mm additional gains for Full Circle. This would work out to $2.52 per share.
In other words, if Advanced Cannabis Solutions goes up 100 percent, combining the value of the warrants and the not-yet-issued notes, the NAV of Full Circle (excluding any other changes within their portfolio), would increase to $10.67. If Full Circle were to trade at NAV, the stock would rally by 31 percent.
This is a very bullish case: Advanced Cannabis Solutions doubles, Full Circle funds the loan and Full Circle is able successfully sell all of the stock it acquires through conversions and exercises. It also depends most likely on Advanced Cannabis Solutions successfully re-listing.
On the other hand, if Advanced Cannabis Solutions turns out to be a dud, investors could remove the current premium to the NAV that Full Circle commands. A decline to 7.20 would represent a loss of over 11 percent (more than a year of income).
Investors should be aware that the NAV has been declining over time and that many BDCs trade at a discount to the NAV. In other words, the risk isn't limited to an 11 percent loss.
The Bottom Line
Full Circle was a great story, exactly the way Frank Curzio describes it, but the story changed dramatically in late March, when Advanced Cannabis Solutions was suspended by the SEC. It is quite possible that the recent performance of Full Circle has been boosted by the Stansberry & Associates teaser promotion of its Phase 1 service.
At this point, Full Circle is priced at a premium to NAV that appears to be unwarranted. Until Advanced Cannabis Solutions' Form 211 application is approved by FINRA, Full Circle is unlikely to proceed with funding any potential deals.
Advanced Cannabis Solutions, and dozens of other industry leaders, will be presenting at the upcoming WeedStock Conference. Tickets for WeedStock are very limited-- investors in the cannabis industry should register as soon as possible. Benzinga readers can get $200 off a three-day pass with coupon code "BENZINGAWEEDSTOCK."
Posted in: Long Ideas News Short Ideas Rumors Small Cap Analysis Movers & Shakers Politics Trading Ideas Best of Benzinga