7 Stocks For Your Retirement Portfolio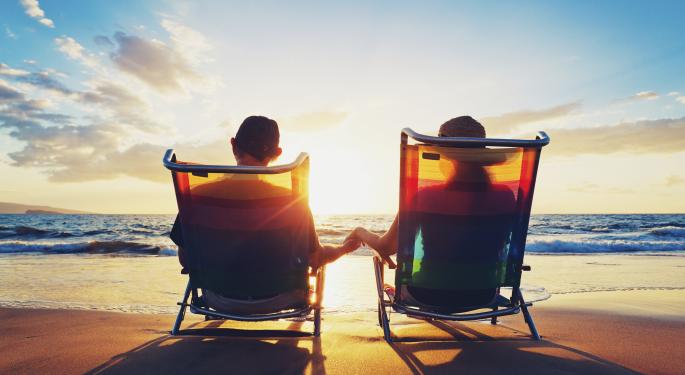 A lot has been written about retirement portfolios before you retire, but what about when you're either already retired or close to it? What should that portfolio look like? In most cases, the word would be, "safe."
You're past the days of taking big risks trying to accumulate wealth—now your wealth is going to pay you. With that in mind, we put together a list of stocks that might do well for wealth preservation.
It's time to think like Warren Buffett—we want safe companies that pay a dividend and don't swing wildly when the market gets a little iffy.
AstraZeneca (NYSE: AZN)
Sure, AstraZeneca is in the middle of some M&A drama, but let's assume that the company isn't acquired by Pfizer (NYSE: PFE). As long as people are still getting sick, healthcare will remain a good place to park your post-retirement dollars. The stock pays a 4.9 percent dividend and has a beta of 0.5.
Related: New Data Show College still The Best Path To Financial Stability
If the merger doesn't happen, the stock price will drop, so wait until a resolution to buy. If the acquisition takes place, Pfizer is worth your research time as well.
Anheuser-Busch InBev (NYSE: BUD)
Over the past five years, the stock is up more than 183 percent and pays a 3.6 percent dividend.
Duke Energy (NYSE: DUK)
Nothing says boring like a utility stock, but boring is perfect for a retirement portfolio. Duke Energy pays a 4.3 percent dividend and has an ultra low beta of 0.26. The stock is up about 78 percent in the past five years.
General Mills (NYSE: GIS)
Do you like cereal? So does everybody else.
General Mills is one of those names that receives next to no mention on the financial media networks but should: it pays a three percent dividend and has a beta of 0.13. It's up 100 percent in the past five years. Can't get much safer than that without going to fixed income.
AT&T (NYSE: T)
AT&T, along with its competitor Verizon, (NYSE: VZ) have been long-time favorites for retirement portfolios. AT&T pays a five percent dividend, and while recent chart action is no indication, over time, the stock has been quite stable. It's only up about 50 percent in the past five years but some would say that the lag could trigger a rally.
Of course, this list is only to get research started. There are many more names that fit this criteria. And while these are names for a post-retirement portfolio, they have value in other situations too. For example they're good to have in  mind for when the market turns sour.
Disclosure: At the time of this writing, Tim Parker had no position in the companies mentioned.
Posted-In: AstraZeneca AT&T duke energy General Mills PfizerLong Ideas Personal Finance Trading Ideas Best of Benzinga
View Comments and Join the Discussion!