What Is The Tell From The Coca-Cola Deal With Green Mountain?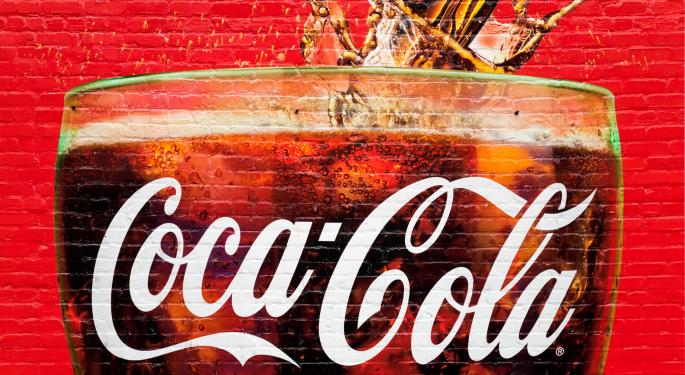 In poker, the "tell," according to Wikipedia, is, "...a change in a player's behavior or demeanor that is claimed by some to give clues to that player's assessment of their hand. A player gains an advantage if they observe and understand the meaning of another player's tell, particularly if the tell is unconscious and reliable."
The recent Coca-Cola (NYSE: KO) deal with Green Mountain Coffee Roasters (NASDAQ: GMCR) offers a huge tell into the beverage giant's future. Soda sales are falling. Coca-Cola needs to move into other lines, and that's where Green Mountain Coffee Roasters plays into the hand.
Soda sales have fallen for eight straight years.
Not only have soda sales fallen, but niche players are carving into the other lines of business. Coca-Cola has tea brands such as Fuze, Honest Tea, and Gold Peak. These are challenged by many others, ranging from publicly traded companies, like Unilever with Lipton, to local companies with devout followings, like Fonte Coffee and Tea in Seattle. It certainly does not help Coca-Cola that the consumption of tea is rising as soda sales are following. The premium teas from Fonte Coffee and Tea and others are offering health benefits to affluent consumers that Lipton and Fuze cannot hope to match.
It is the same story with energy drinks.
Related: Green Mountain Coffee Roasters Shows Value of Correlation Trading
As with tea, the sales of energy drinks are rising.
The sales growth rate for Monster Beverage (NASDAQ: MNST) for the last five years has been 17.90 percent. For Coca-Cola, it has been 10.70 percent. The projected sales growth for the future for each is pretty much the same story. In addition, the nature of the energy and sports drink market leads itself to small cap firms like High Performance Beverages (OTC: TBEV) carving out lucrative niches due to the evolving market. That is the tell from the Coca-Cola deal with Green Mountain Coffee Roasters.
Coca-Cola is teaming with Green Mountain Coffee Roasters and investing $1.2 billion to create the Keurig Cold at-home beverage system. Realizing that it is losing the battle at the stores and restaurants, Coca-Cola is hoping to win in the home brew market.
That is an interesting tell by Coca-Cola, as Americans are now spending one-third more of their food budget on eating out than the previous generation in a trend that is continuing. If more are eating out, it is difficult to see how an at-home beverage system is going to generate more in the way of long term sales growth for Coca-Cola.
Posted-In: FuzeLong Ideas Technicals Psychology Restaurants Economics Trading Ideas General Best of Benzinga
View Comments and Join the Discussion!