Is Apple the Next Microsoft?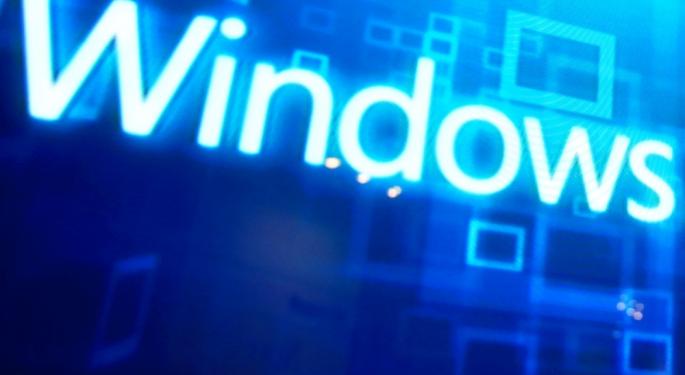 The history of the stock market has pretty convincingly proven that "what goes up, must come down."
When it comes to hyper-growth technology companies, this is particularly true. At the very least, most of these stocks hit an incredible peak before pulling back and consolidating for years. Some of these companies, such as IBM (NYSE: IBM), subsequently enter another growth phase where investors are once again rewarded by an appreciating stock price.
Most of the world's iconic companies, however, have been incapable of replicating their early staggering returns on a year-to-year basis. No matter how great the business, these stocks tend to go through an incredible period of appreciation during the company's growth phase and then settle into uneventful trading ranges as the company matures.
This scenario is most often reserved for the truly exceptional companies. Many other former high-fliers have seen their stock prices fall precipitously from once lofty perches.
Examples of this phenomenon in technology include Intel (NASDAQ: INTC) and Microsoft (NASDAQ: MSFT), which have settled into trading ranges, and Dell (NASDAQ: DELL) and Hewlett-Packard (NYSE: HPQ), which have seen their stock prices plunge. Today's technology high-fliers almost assuredly await a similar fate, although it is almost impossible to call a top and predict exactly when it will happen.
The chances of stocks such as Apple (NASDAQ: AAPL) and Amazon (NASDAQ: AMZN) going up in perpetuity, however, are slim.
The chart below plots the return history of Apple versus Microsoft. If nothing else, the current correlation between the two stocks is eerie (if you are long Apple). The chart begs the question, have we seen a top in Apple, and is the company the next Microsoft?
The question that investors should ask themselves in order to attempt to answer the preceding question is can Apple continue to innovate and create new markets? Microsoft's growth phase was driven by the rapid adoption of Windows and Office within the context of the exploding PC market. Similarly, Apple's growth has been driven by the rapid adoption of iPhone and iPad within the context of the exploding mobile market.
Today, Windows and Office continue to generate a massive revenue stream for Microsoft, but they don't produce growth. Furthermore, the company has missed numerous opportunities to re-invent itself and capitalize on new technology trends. Microsoft has been beaten to the punch in music, search, smartphones, tablets, and social networking to name a few markets. It would seem that Microsoft's overwhelming success seemingly came at the expense of further innovation.
Instead of creating new markets and leading from the front, the company has instead sat on its cash cow businesses and chosen conservatism over risk-taking and innovation. Apple may face a similar dilemma. Looking ahead, it is likely that the smartphone and tablet markets will be producing billions in sales years from now -- but that won't be enough to push the stock price higher in perpetuity.
In sum, Apple has to continue to be what it has been over the last few years. The culture cannot change and success cannot get in the way of aggressive innovation. Apple needs to continue to be Steve Jobs' company even though he is no longer with us.
While Apple has already proven that it can create and dominate new markets, investors need to believe that it can continue to do this into the future for the stock to rise. Even more importantly, the company needs to keep executing in this regard if it doesn't want to become another Microsoft.
While it is far too early to say with certainty that Apple's run is coming to an end, the company will have to continue to amaze consumers by creating new markets defined by groundbreaking products going forward.
(Chart source: @Ross_Bullock)
Stock chart: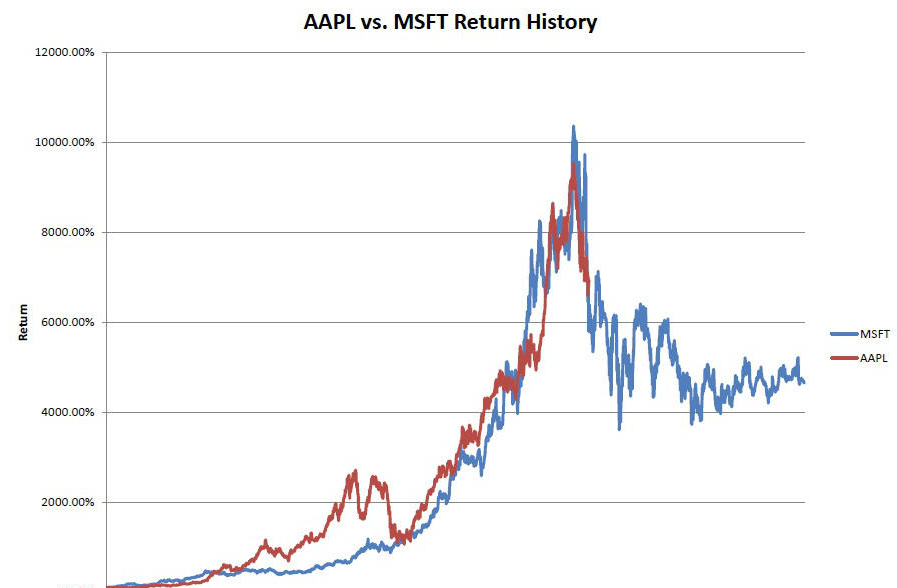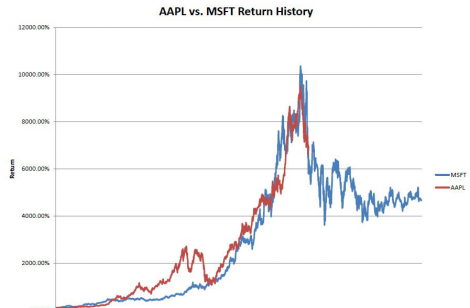 Posted-In: Long Ideas Short Ideas Technicals Psychology Topics Tech Trading Ideas General Best of Benzinga
View Comments and Join the Discussion!