Benzinga's M&A Chatter for Tuesday November 20, 2012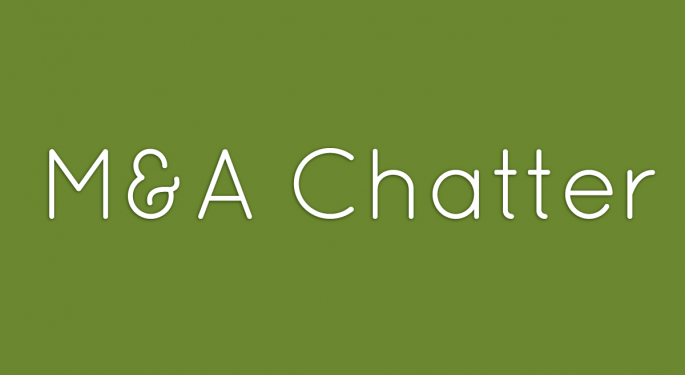 The following are the M&A deals, rumors and chatter circulating on Wall Street for Tuesday November 20, 2012:
Xstrata Shareholders Approve Glencore Deal
The Deal:
At shareholder meetings held Tuesday in Zug, Switzerland, Xstrata's (OTC: XSRAF) shareholders other than the Glencore Group (OTC: GLCNF) approved the proposed all-share merger of Xstrata plc and Glencore International plc, subject to the resolution to approve the Revised Management Incentive Arrangements to be put to the Further Xstrata General Meeting not being passed. This resolution was subsequently not passed. Consequently, the merger will proceed, subject to outstanding regulatory approvals and UK Court approval, but the Revised Management Incentive Arrangements will not be put in place to retain key Xstrata operational and functional management.
Xstrata closed at $15.64 Tuesday, a gain of 2.22% on average volume.
News Corp to Buy 49% of Yes Network
The Deal:
News Corporation (NASDAQ: NWS) (NASDAQ: NWSA) and Yankee Global Enterprises announced Tuesday an agreement that calls for News Corporation to acquire a 49 percent equity stake in the Yankees Entertainment and Sports Network. The YES Network delivers exclusive live local television coverage of New York Yankees baseball and Brooklyn Nets basketball, as well as other leading local and national sports-related programming. The YES Network also announced a media rights agreement that will keep Yankees baseball on the YES Network through 2042.
The deal reportedly values YES at $3 billion.
News Corp closed at $48.66 Tuesday, a gain of almost 8% on more than 3 times average volume.
MEMSIC Announces Receipt of Unsolicited $4/Share Non-Binding Proposal
The Offer:
MEMSIC (NASDAQ: MEMS) announced Tuesday that its Board of Directors has received an unsolicited, non-binding proposal from IDG-Accel China Growth Fund II L.P., for itself and on behalf of its affiliated funds and certain nominees (collectively, "IDG"), to acquire all outstanding shares of common stock of MEMSIC not currently owned by IDG or its affiliates for cash in the amount of $4.00 per share.
In response to the proposal, the Company's Board of Directors has established a Special Committee of the Board comprised of its three independent directors. The Special Committee has engaged RBC Capital Markets, LLC as its financial advisor to assist it in evaluating this proposal and all other strategic alternatives, and will consider the IDG proposal and related matters carefully in due course, consistent with the Board's fiduciary duties to act in the best interest of stockholders.
MEMSIC closed at $1.74 Tuesday and traded around $3 after-hours
MIPS Technologies Announces Receipt of Unsolicited $75M Proposal From CEVA
The Offer:
MIPS Technologies (NASDAQ: MIPS) announced Tuesday that it has received an unsolicited proposal from CEVA (NASDAQ: CEVA) to acquire all of the outstanding MIPS shares, following the consummation of the proposed patent sale transaction with Bridge Crossing, LLC and the proposed recapitalization, for $75 million (U.S.) in cash.
CEVA's proposal is subject to the approval of its board of directors and a brief period of confirmatory due diligence.
The MIPS Board of Directors continues to recommend the merger agreement with Imagination Technologies to its stockholders. The MIPS Board of Directors is not withdrawing its recommendation with respect to the merger agreement and the merger, or proposing to do so, and is not making any recommendation with respect to the CEVA proposal.
MIPS Technologies closed at $7.04 Tuesday and traded at $7.40 after-hours.
Energy Recovery Comments on Acquisition Rumors
The Rumor:
On November 19, 2012, Chief Executive Officer Tom Rooney provided an interview to a representative of Bloomberg News. A wire story published subsequent to the interview incorrectly reported that Energy Recovery, Inc. (NASDAQ: ERII) is the subject of takeover interest. While the Company, as a matter of policy, does not comment on rumors, it feels compelled to correct the facts as reflected in the Bloomberg story. During the course of a telephone interview about the desalination industry in Chile and the global demand for water, Mr. Rooney acknowledged the increasing attractiveness of the business in response to a specific question regarding the Company as a potential acquisition candidate. Mr. Rooney did not imply, or intend to imply, that the Company was in discussions with potential buyers. In fact, Mr. Rooney stated that the Company has no interest in entertaining the notion of a potential acquisition at this time. Importantly, the Company remains intensely focused on the tenacious execution of its long-term strategy, the successful implementation of which should provide the greater benefit to its shareholders.
Energy Recovery closed at $2.87 Tuesday, a gain of 10.81% on 3 times average volume.
Short-Seller Report Puts Tevana-Starbucks Deal in Jeopardy
The Short-Seller Report:
Teavana (NYSE: TEA) shares fell Tuesday following release of a report by short-seller Glaucus Research Group that said there was pesticide in the company's teas.
Glaucus is short Teavana and would benefit on any news that would hurt Teavana stock.
Teavana issued the following statement in response to the Glaucus report: "Teavana's teas undergo rigorous third-party testing on each batch of teas based on international food safety standards including European Union regulations, which are widely considered to be the most stringent in the world."
Starbucks (NASDAQ: SBUX), who agreed to acquire Teavana on November 14 for $620 million, said it was assessing the Glaucus report on Teavana for "accuracy or inaccuracy."
Teavana closed at $14.74 Tuesday, a loss of 4.47% on 30 times average volume.
Posted-In: Long Ideas M&A News Short Ideas Rumors Global After-Hours Center Movers
View Comments and Join the Discussion!