Benzinga's Microcap Movers for Monday September 24, 2012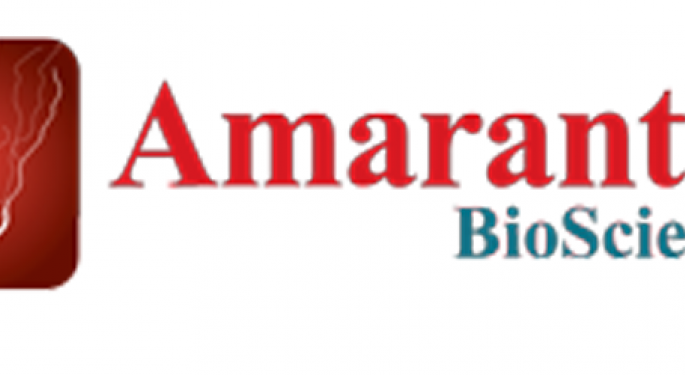 Below are highlights from Benzinga's daily coverage of small cap and microcap securities making big moves:
Amarantus BioSciences
Shares of Amarantus BioSciences (OTC: AMBS), the Sunnyvale, CA biotechnology company, rose 125% Monday on 8 million shares.
In an 8-K filing Friday, Amarantus stated: On August 23, 2012 we entered into a Convertible Promissory Note with PENSCO Trust Co. FBO Robert L. Harris. Mr. Harris is currently a member of our board of directors and has lent us the principal sum of $50,000 under the terms of the Note. The Note accrues interest at a rate of six percent per annum and is due and payable within 180 days unless extended by agreement of the parties. The Note may be prepaid without penalty.
The Note may be converted in whole or in part, at the election of the holder, into shares of our common stock at a price of $0.015 per share. The conversion price will be adjusted proportionately in the event of any split, reorganization, or reclassification of our common stock. In the event of our default, the Note will bear interest at the rate of twelve percent per annum.
Amarantus BioSciences closed at $0.0115 on Monday.
Longwei Petroleum
Shares of Longwei Petroleum (NYSE: LPH), the China-based energy company, rose 21.49% Monday on almost 9 times average volume.
Longwei Petroleum announced Monday that it will complete the purchase of the assets of Huajie Petroleum by the end of this month.
Longwei will acquire the assets of Huajie for a total purchase price of approximately $110.6 million. The Company has agreed with the seller that the final payment of approximately $23.7 million will be paid on or before September 30, 2012. The Company currently has paid RMB 550 million (approximately US $86.9 million) on deposit for the purchase.
Longwei Petroleum closed at $1.47 on Monday.
China Armco Metals
China Armco Metals (NYSE: CNAM), the San Mateo, CA importer and distributor of metal ore and non-ferrous metals, rose 19.40% Monday on 19 times average volume.
China Armco Metals announced Monday that Armco Renewable Metals, the Company's wholly owned subsidiary, has delivered a new order for scrap steel to a client in China. The order calls for the delivery of total 30,000 metric tons of various scrap steels with an aggregate contract value of approximately of $11.7 million. The order was delivered by September 21, 2012.
China Armco Metals closed at $0.41 on Monday.
The information in this article is taken from public sources, press releases, and websites that cannot always be verified. Please note that investing in microcap stocks is highly speculative. The companies mentioned here are for information purposes only. Benzinga makes no claim as to the suitability of these stocks as an investment. Neither Benzinga nor its staff recommend that you buy, sell, or hold any security. We do not offer investment advice, personalized or otherwise. Benzinga recommends that you conduct your own due diligence and consult a certified financial professional for personalized advice about your financial situation.
Posted-In: Long Ideas News Global After-Hours Center Movers Trading Ideas
View Comments and Join the Discussion!