Benzinga's Microcap Movers for Thursday September 20, 2012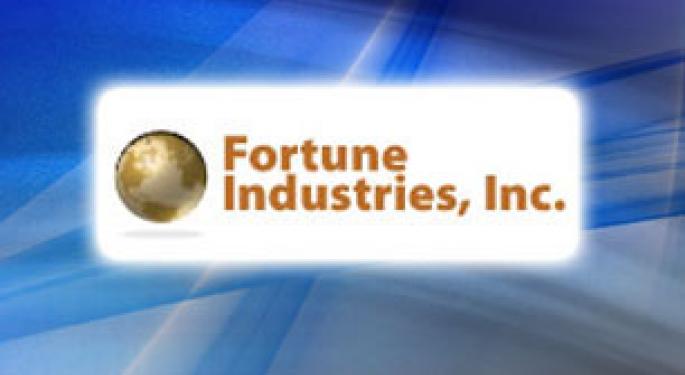 Below are highlights from Benzinga's daily coverage of small cap and microcap securities making big moves:
Fortune Industries
Shares of Fortune Industries (NYSE: FFI), the Indianapolis, IN human resources outsourcing services company, rose 50.59% Thursday on 34 times average volume.
On September 19, 2012, Fortune Industries entered into an Escrow Agreement with Ide Management Group, whereby the Company and Ide have agreed to pursue in good faith the negotiation of a definitive agreement between them relating to a proposed merger transaction in accordance with the material terms set forth in the Escrow Agreement. As a condition of the Company going forward with further negotiations with Ide, Ide deposited the sum of $300,000 into escrow with a third-party bank for the benefit of the Company. The funds will be used to pay for expenses in connection with the proposed merger transaction.
The current draft of the Amended Agreement provides that Ide will merge with a to-be formed subsidiary of the Company, and become a wholly-owned subsidiary of the Company. Mark Ide, the sole member of Ide, will receive sufficient shares of the Company in exchange for all full ownership of Ide. As a result, Mr. Ide will own a substantial majority of the Company shares.
Fortune Industries closed at $0.26 on Thursday.
Aeterna Zentaris
Shares of Aeterna Zentaris (NASDAQ: AEZS), the Canadian biopharmaceutical company, rose 23.07% Thursday on 5.5 times average volume.
Aeterna Zentaris was initiated by Roth Capital with a Buy on Thursday and $1.75 price target.
Aeterna Zentaris closed at $0.84 on Thursday.
Hemispherx Biopharma
Hemispherx Biopharma (NYSE: HEB), the Philadelphia, PA specialty pharmaceutical company, rose 11.95% Thursday on 3.5 times average volume.
Hemispherx Biopharma held its 2012 Annual Meeting of Stockholders on September 18, 2012. At the meeting, each of the five nominees for Director named in the Company's Proxy Statement was elected to a one-year term and the selection of McGladrey LLP as independent auditors for the fiscal year ending December 31, 2012 was ratified.
The Stockholders approved the proposal to permit the Board of Directors to allocate and utilize up to 75,000,000 shares of common stock for fundraising purposes to enhance financial flexibility.
Hemispherx Biopharma closed at $0.89 on Thursday.
The information in this article is taken from public sources, press releases, and websites that cannot always be verified. Please note that investing in microcap stocks is highly speculative. The companies mentioned here are for information purposes only. Benzinga makes no claim as to the suitability of these stocks as an investment. Neither Benzinga nor its staff recommend that you buy, sell, or hold any security. We do not offer investment advice, personalized or otherwise. Benzinga recommends that you conduct your own due diligence and consult a certified financial professional for personalized advice about your financial situation.
Posted-In: Long Ideas News Short Ideas Small Cap Global After-Hours Center Movers Trading Ideas
View Comments and Join the Discussion!