Stock Wars: Ford Vs. General Motors Vs. Tesla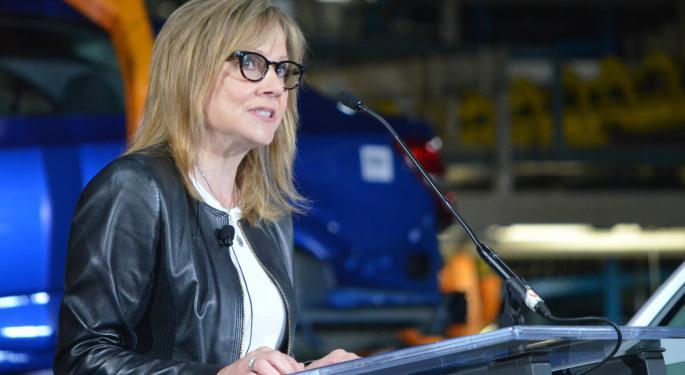 The latest edition of Stock Wars takes a look at two massive, historic American automakers and the relative newcomer nipping at their heels.
General Motors Company (NYSE: GM) and Ford Motor Company (NYSE: F) are two of the oldest automotive companies, dating to 1908 and 1903, respectively.
Tesla Inc's (NASDAQ: TSLA) history only goes back to 2003, but the electric vehicle manufacturer is worth more than the other two combined several times over.
Financials: Ford reported revenue of $155.9 billion in 2019. Revenue improved each year from 2015 to 2018 before 2019's decline. Net income was only $84 million in 2019, after four straight years of more than $3.5 billion annually.
General Motors reported revenue of $137.3 billion in 2019. Revenue was $135.7 billion in 2015 and rose to $147.1 billion in 2018. General Motors posted $6.7 billion in net income in 2019. General Motors reported net income of more than $8 billion in 2015, 2016 and 2018. Net income was only $330 million in 2017.
Tesla reported revenue of $24.6 billion in 2019. This figure has grown every year since 2015, when Tesla's net income totaled $4.1 billion.
Tesla has reported a loss every year, with an improved loss from operations of $69 million in 2019.
Car Sales: In 2019, Ford sold 5.4 million vehicles. This was a decline from the prior year's total of 5,982,000.
The majority of the sales were in North America, where 2.77 million Ford vehicles were sold in 2019. Ford had a U.S. market share of 13.8% in 2019, which has fallen from 14.1% and 14.7%, respectively, in the previous two years. Ford's global market share has dropped from 7% in 2017 to 6% in 2019.
General Motors sold 7.72 million vehicles in 2019. This represented global market share of 8.5%. General Motors had worldwide market share of 10.2% just two years ago.
In North America, General Motors sold 3.4 million cars in 2019, good for 15.9% market share. General Motor's North American market share was 16.6% in 2017.
Tesla produced 365,232 vehicles in 2019 and delivered a total of 367,656. The company is ramping up production to a target annual capacity of 500,000.
Other Revenue: Ford owns its Ford Credit vehicle financing division. This segment represented $5.7 billion in revenue for the first half of 2020.
General Motors became the model for automotive financing back in 1919, 40 years ahead of Ford. In 2006, General Motors sold a majority stake in GMAC to raise cash before eventually selling it completely in 2013.
This General Motors offspring went public in 2014 as Ally Financial (NYSE: ALLY).
After years of missing out on lending revenue, General Motors bought Americredit in 2010 and has turned it into GM Financial. GM Financial had revenue of $14.55 billion in 2019. The segment had 43% penetration in General Motor's 2019 retail sales.
Tesla saw automotive revenue of $20 billion in 2019. The rest of the company's total came from auto leasing ($869 million), services ($2.2 billion) and energy ($1.5 billion).
Tesla is growing its solar power and energy storage businesses — its other main sources of revenue aside from automotive.
Shift To Electric Vehicles: Ford said on its second-quarter earnings call it has committed $11.5 billion through 2022 toward electrification, with half of that already spent.
By the end of 2020, Ford customers will be able to choose from 15 electrified Ford vehicles. Ford expects electric vehicles to represent 10% of fourth-quarter wholesale volume.
General Motors said at the end of 2019: "we have committed to an all-electric future."
The company recently announced plans for five drive units and three motors as part of the "Ultium Drive" system that will fit into many different vehicles for the company.
This will help General Motors vertically integrate its production, a move similar to what Tesla has done over the years. The move is expected to lower costs and sizes, while increasing the efficiency of electric vehicles.
Stock Performance: Ford shares are down 52% over the last five years and over 40% in the last 10 years. Shares are down 25% in 2020. Ford has a market capitalization of $28 billion.
General Motors stock is trading flat over the last five years and down 7% over the last 10 years. Shares are down 13% in 2020. General Motors has a market capitalization of $44 billion.
Tesla shares are up 645% in the last five years and up 913% in the last ten. Shares are up 428% in 2020. Tesla has a market capitalization of $411 billion.
What's Next: Ford will be led by a new CEO soon as Jim Hackett, who has led Ford since 2017, will step down. Jim Farley, currently Ford's COO, will become the new CEO on Oct. 1.
The company's new Mustang Mach-E, F-150 and Bronco make for one of the company's strongest vehicle lineups going forward.
General Motors has committed to an all-electric future and its vertical integration moves are showing that commitment.
Tesla continues to increase its production capabilities to produce more vehicles a year. Future vehicles include the Cybertruck and Tesla Semi. Tesla is also working on making cheaper and more efficient batteries.
GM CEO Mary Barra. Benzinga file photo by Dustin Blitchok.
View Comments and Join the Discussion!
Posted-In: Cybertruck electric vehicles Ford Credit GM Financial Jim Farley Jim HackettTop Stories Trading Ideas Best of Benzinga