Undelivered Tesla Vehicles Lead To Customer Frustration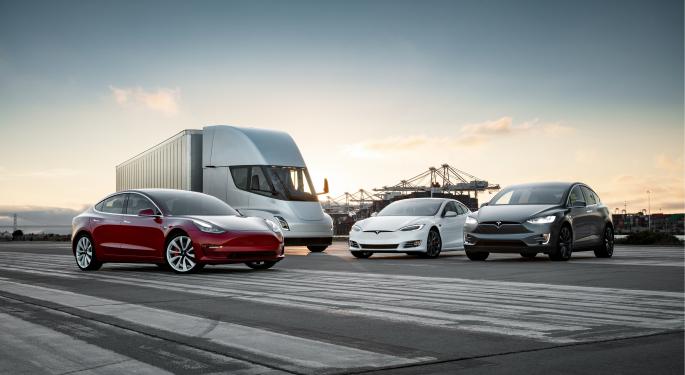 Reports of delays in Tesla Inc. (NASDAQ: TSLA) vehicle deliveries are appearing with increasing frequency.
Customer Feedback
In an Oct. 3 post titled "Tesla Gave My Car Away," Reddit user oldmanshiba explained their frustration over the delay of a Model 3P delivery.

TV anchor Scott Jones took to Twitter Inc. (NYSE: TWTR) last month to complain about the delay in delivery of his new Tesla.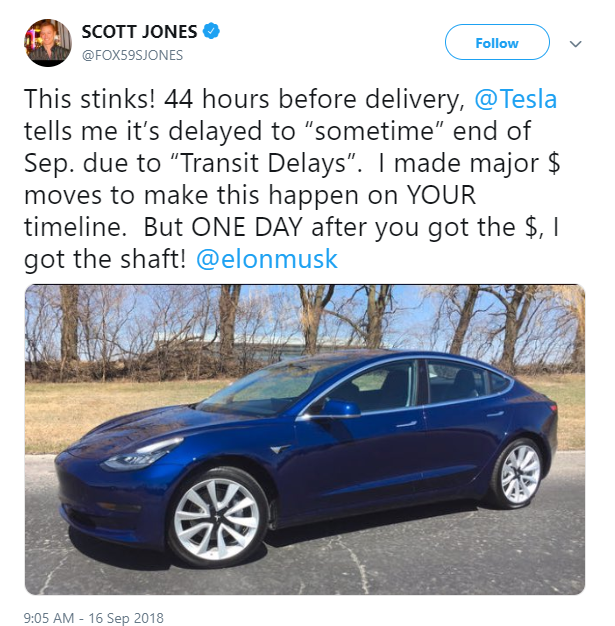 First-time Tesla customer Brian Benner of West Bloomfield Township, Michigan told Benzinga he experienced a frustrating set of delays but was ultimately satisfied once he received his vehicle last week.
Benner's estimated delivery time after ordering a Model 3 in late June was anytime from September to November.
The Tesla owner was contacted by a delivery representative Sept. 17 and scheduled for a Sept. 30 delivery, which was delayed on two days' notice, he said. A rep contacted Benner again Oct. 5 to schedule a delivery later in the month.
"It's a very smooth process once you actually get to their office. The cars themselves are great," he said.
Tesla described delivery and outbound vehicle logistics as its "main challenges' in its third-quarter delivery report.
"We made many improvements to these processes throughout the quarter, and plan to make further improvements in Q4 so that we can scale successfully," the company said. "As part of this effort, we plan to to continue to expand direct deliveries to customers at their home or office, a service we launched in Q3 to improve customer convenience."
An Analyst's Take
Vertical Group's Gordon Johnson said in a recent note that Tesla is "robbing Peter to pay Paul" by filling new orders and keeping old ones pushed out.
The company is "clearly not denying it," Johnson told Benzinga. "In fact, they likely double-dipped via ABL on cars that were fully paid," or represented a cash balance that reflects cash for the same car sold multiple times.
A Tesla spokeswoman pointed Benzinga to a statement in the company's 10-Q: "We recognize revenue on automotive sales upon delivery to the customer, which is when the control of a vehicle transfers."
Johnson said the automaker is gunning for more capitalization.
"They are trying to put up amazing numbers in [the third quarter] to do a large equity raise," he said.
What's Next
Tesla announced late Monday it moved up its Q3 earnings release a week early to Wednesday, Oct. 24.
"It's unclear if Tesla is actually going to post a profit, which would be the first time since 2013, but some investors are taking this rush to release the results as a good sign," wrote Electrek's Fred Lambert.
Tesla shares closed Monday at $260.95. The stock is down about 17.7 percent year-to-date.
Related Links
Berenberg: Tesla's Competition 'A Myth'
Photo courtesy of Tesla.
Posted-In: Elon Musk Gordon Johnson Model 3 RedditTop Stories Exclusives Tech Interview Best of Benzinga
View Comments and Join the Discussion!