The Big Shorts Dig Into Tesla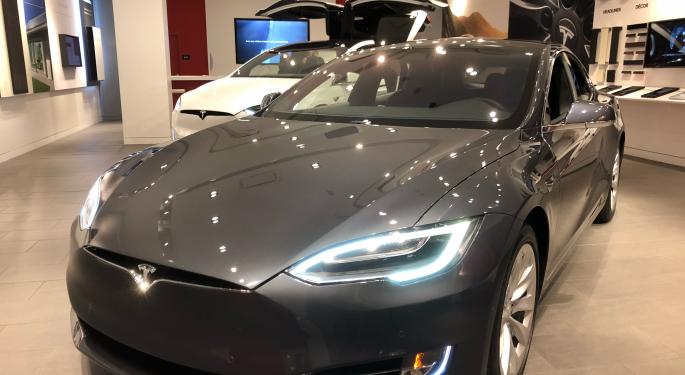 Tesla, Inc. (NASDAQ: TSLA) short sellers have been an obsession for CEO Elon Musk in 2018. Unfortunately for Musk, the short sellers have had the winning trade as of late, with Tesla stock down 28.9 percent in the past year and Musk being forced out of his chairman role as part of a tentative settlement with the SEC.
But rather than taking profits, short sellers seem to be digging in, betting that the worst is still to come for Tesla.
Top Short Idea
This week, FIS Astec Analytics named Tesla its top stock pick among short sellers. The firm said Musk lashing out at short sellers on social media is doing more harm than good for the stock. "Once again, the real value of the organization he has built is lost among the tweets and controversy," FIS Astec wrote.
The good news for Tesla investors is that the stock's utilization rate fell 18 percent last week to just 67 percent, but FIS Astec said short sellers closed out only 6 percent of their trades by volume.
According to financial technology and analytics firm S3 Partners, Musk's SEC fraud lawsuit has been a gift to Tesla short sellers. The day Musk was sued, S3 said short sellers netted a $1.2-billion profit. Since Musk agreed to step down from his chairman role as part of a settlement agreement, short sellers are up more than $1 billion, according to S3.
"Clearly short positions are building in the wake of strong selling by longs, as Musk demonstrates a refusal to keep away from controversy," S3 analyst Jack Willoughby said Oct. 5.
Tesla And Lehman
One of Tesla's largest and most respected short sellers is value investor Greenlight Capital's David Einhorn.
Einhorn said last week that a day of reckoning is coming for Tesla when the company reports fourth-quarter earnings in early 2019. Einhorn is predicting a "large revenue and earnings disappointment" in Q4 for Tesla.
He drew comparisons between Musk's actions and the actions of Lehman Brothers just prior to its bankruptcy.
"Lehman threatened short sellers, refused to raise capital (it even bought back stock) and management publicly suggested it would go private," Einhorn said. "Like Lehman, we think the deception is about to catch up to TSLA."
Musk famously sent Einhorn a box of short shorts after Tesla reported its largest quarterly loss in history in early August. Since Einhorn received his shorts on Aug. 10, Tesla stock is down 28.3 percent.
Fresh Faces
While Einhorn has been a longtime Tesla short, the company is also getting attention from some new short sellers as well. Safkhet Capital founder Fahmi Quadir shorted the top in Valeant Pharmaceuticals, which now trades as Bausch Health Companies Inc (NYSE: BHC), back in 2015. Now, Quadir is making a big bet against Tesla.
"It's becoming more and more apparent that Tesla is having difficulties paying their bills," Quadir said this week. "I saw a lot of the same with Valeant."
As of the end of September, Tesla was the most heavily shorted U.S. equity, with an outstanding short position of more than $10.1 billion, according to S3 data.
Related Links:
A Judge Wants Musk, SEC To Justify Fraud Settlement
Munster: 'Elon Musk's Desire To Win Every Battle May Cost Him The War'
Photo by Brett Hershman.
View Comments and Join the Discussion!
Posted-In: Fahmi QuadirAnalyst Color Short Sellers Short Ideas Top Stories SEC Analyst Ratings Trading Ideas Best of Benzinga