7 Things Occupying Elon Musk's Time Other Than Model 3s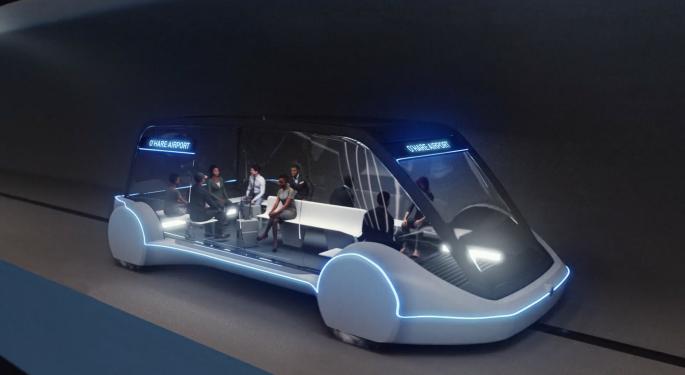 Elon Musk is sleeping at the office and erecting tent facilities to nurture his Model 3 baby.
He's so protective of the project he's begun to birth theories about sabotage and attack "boneheaded" skeptics.
Musk's so convinced of Tesla Inc (NASDAQ: TSLA)'s auto prospects that he's increasingly upped his bet on its success.
Yet the mass-produced electric car is just one of many projects Musk has on his plate. Here are seven other projects Musk is working on:
1. SpaceX
The electric autonomous car isn't ambitious enough. Musk founded SpaceX to enable the colonization of Mars and, in a recently expanded vision, international rocket travel.
Last year, he outlined an "aspirational" five-year timeline to establish a moon base and complete two cargo missions to Mars to drop off basic life-sustaining infrastructure and find water. Passengers would follow as soon as 2024.
2. The Boring Company
The transportation mogul wants to transform travel on ground, above ground and below ground. As CEO of The Boring Company, he's working to develop an extensive network of underground tunnels connecting major cities through his high-speed Hyperloop. In 2017, the firm received verbal approval to drill between New York and Washington, D.C. and earlier this month, it was tapped by Chicago to build a line to O'Hare International Airport.
3. Hyperloop
Musk revealed the blueprints for Hyperloop on the SpaceX website back in 2013. Hyperloop is a high-speed transportation system composed of pod-like vehicles propelled by electricity through near-vacuum tubes. In theory, these pods could transport passengers and freight at speeds higher than the typical commercial airplane.
4. OpenAI
Musk founded OpenAI in 2015 as a nonprofit research institution devoted to developing artificial intelligence technology. All of OpenAI's patents are open to the public. The goal of the organization is not to profit from its research but to ensure artificial intelligence technology is shared freely to help mitigate the potential threat AI poses to the human race.
5. SolarCity
Tesla's 2016 acquisition of SolarCity was a "no-brainer," Musk said at the time, but the alternative energy segment may be more work than it's worth.
Wall Street analysts detect diminishing demand in the international solar market, SolarCity itself is cutting a chunk of its installation centers and workforce, and Tesla shareholders were recently permitted to sue over the objected merger. On top of that, SolarCity debt is nearly due and is expected to weigh on Tesla's already strained finances.
6. Tesla Batteries
Tesla's energy unit has built a massive battery to power an entire region in Australia, and its Powerwalls and Powerpacks are delivering power to hundreds of spots in Puerto Rico. Baird analysts consider this peripheral project of Musk's to be largely underappreciated.
7. Posters And Flamethrowers
As a (fundraising) side hobby, Musk sells company merchandise, from Boring Company flamethrowers and hats to Tesla kiddie cars, driving gloves, totes and water bottles.
Related Links:
What Elon Musk, Jeff Bezos, Cornelius Vanderbilt And Others Have In Common
From X.com To SpaceX: Where The Most Interesting Man In The World Got His Start
Photo courtesy of The Boring Co.
Posted-In: Elon Musk Hyperloop Model 3 SpaceX The Boring CompanyTop Stories Tech General Best of Benzinga
View Comments and Join the Discussion!