'Top Gun,' Too? 6 Times Movies Got Sequels Long After The Original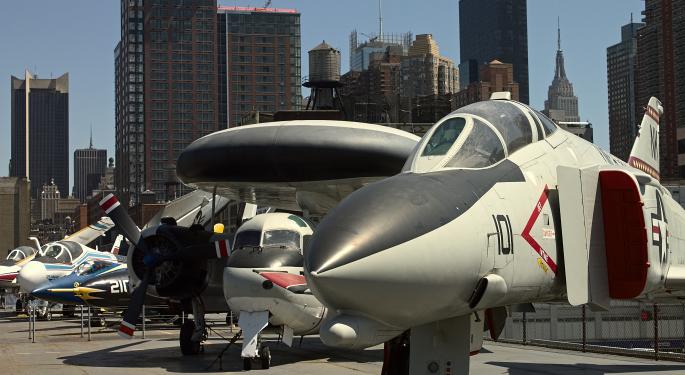 The news that Tom Cruise would star in a belated sequel to his breakout hit "Top Gun" was greeted with one of two reactions, depending on your taste: Who asked for this, and what took so long?
The actor confirmed rumors about a sequel to the 1986 action drama — about the lives and loves of U.S. Navy fighter pilots — during an appearance on the Australian talk show "Sunrise."
The 31-year-old movie also starred Kelly McGillis ("Witness") as Cruise's love interest, Val Kilmer ("The Doors") as his rival and Tom Skerritt ("Alien") as a cagey veteran pilot. The movie was a commercial hit and the song "Take My Breath Away," performed by the New Wave group Berlin, won an Academy Award for "Best Original Song."
No word if the sequel will feature the characters staging dogfights with drones, but it's not the first time a sequel took decades to materialize, for better or worse. Here, in no particular order, are some other long-gestating follow-ups to hit movies:
'Wall Street'/'Wall Street: Money Never Sleeps'
"Wall Street" found writer/director Oliver Stone capturing the "greed is good" zeitgeist of the materialistic era of President Ronald Reagan. Michael Douglas played corporate raider Gordon Gekko, who had some terrific lines — "money never sleeps, pal" — and Charlie Sheen was the young stockbroker Gekko corrupts. The 1987 movie about white-collar avarice was a commercial and critical hit.
Stone, taking a line from the first movie, returned to his subject matter 22 years later, when the world was still smoldering from the 2007–2008 market crash. Douglas reprised his role, but critical reviews were mixed and only 44 percent of filmgoers who saw it liked it, according to Rotten Tomatoes.
'The Hustler'/'The Color Of Money'
The classic "The Hustler," a piercing 1961 drama, starred Paul Newman as "Fast Eddie" Felson, a young pool shark. The cast included Jackie Gleason, George C. Scott and Piper Laurie and was directed by Robert Rossen. It was a major critical and commercial success.
Famed director Martin Scorsese caught up with Fast Eddie 25 years later, with Newman reprising his role and Cruise himself — the movie came out the same year as "Top Gun" — as a cocky young hustler who needs a lesson or two from Newman, who won an Oscar for a role that many believed he should have nailed in the earlier film.
Like "The Hustler," the latter movie was based on a novel of the same name by Walter Tevis.
'Mad Max: Beyond Thunderdome'/'Mad Max: Fury Road'
Australian director George Miller's landmark, post-apocalyptic trilogy — "Mad Max" and "The Road Warrior" — were the first two installments seemingly concluded with "Beyond Thunderdome," which leaves the main character, played by Mel Gibson, wandering around alone in the wasteland after having saved a group of children. Tina Turner gave a textured performance that bafflingly did not lead to more movie roles.
Miller, who had spent many years trying to reboot the franchise, made a spectacular comeback with the critically praised "Mad Max: Fury Road" in 2015, this time with Tom Hardy as the titular character, though the film was slyly centered more on the riveting heroine, the mechanical armed Imperator Furiosa, played by Charlize Theron.
'Psycho'/'Psycho II'
Alfred Hitchcock's classic study of, well, a psycho with mommy issues came out in 1960 and is considered one of the finest efforts of the legendary director's career. Anthony Perkins and Vera Miles reprised their roles nearly 23 years later in a movie that, though not as ground-breaking as its predecessor, was actually a decent slasher flick that gained a cult following and spawned another sequel.
Paul Verhoeven's searing and sexy 1992 original had to be edited to avoid an NC-17 rating. It's a curvy murder thriller that featured Michael Douglas as a cop seduced by a best-selling novelist who may or may not be a serial killer. The film featured a huge breakout performance by Sharon Stone, whose uncrossed legs during a police interrogation managed to escape the censor's scissors.
Stone's star power got the sequel made 14 years later, and it was savaged by critics and audiences alike. "Even the ice pick looks like it doesn't want to be there," wrote Toronto Star critic Peter Howell.
Related Links:
Former Disney Director Joss Whedon Jumps To Time-Warner's 'Justice League'
May The Fourth Be With You: 'Star Wars' Movies Have Grossed $3.7 Billion
_______
Image Credit: "20 aircraft stored on flight deck, including A-12 Blackbird, the Tomcat Tom Cruise flew in 'Top Gun' And a Super-Etendard." By Nicolas Vollmer from Munich [Allemagne] (Pont d'envol du porte-avions) [CC BY 2.0 (http://creativecommons.org/licenses/by/2.0)], via Wikimedia Commons
Posted-In: Alfred Hitchcock Anthony Perkins BZTV Charlie Sheen George C. ScottTop Stories Media General Best of Benzinga
View Comments and Join the Discussion!