Unravelling Adobe's 3D Printing Strategy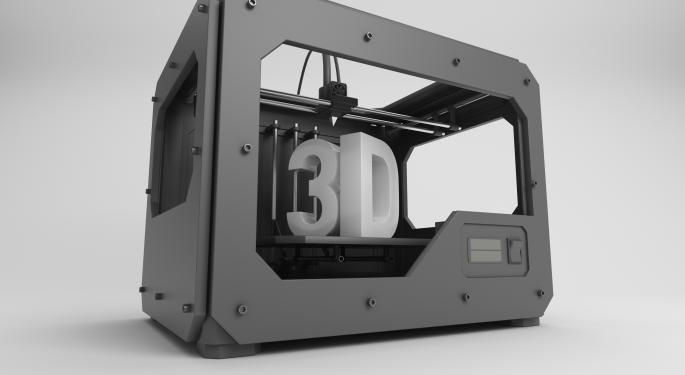 3D printing may have penetrated mainstream consciousness, but it only recently came to Adobe Systems Incorporated (NASDAQ: ADBE).
Early last year, the company announced new features integrating 3D printing into its flagship software, Adobe Photoshop. The new features enable users to convert 2D images into 3D models in Photoshop CC.
These images can then be shared online or printed through a network of Adobe partners. The company has already inked partnerships with Sculpteo, Materialise NV and Shapeways.
Related Link: A Conversation With Wilfried Vancrean, CEO Of Materialise
Andy Lauta, business strategist at Adobe, told Benzinga that Photoshop has had a 3D engine for several years. "Over the years, it has been refined," he said, adding that the growth of 3D modeling to represent reality more accurately provided the impetus for the new features.
The company followed its new features announcement with two more this year.
The first one is related to animation: Photoshop users can import and edit animations developed by Mixamo, an animation software company, in the company's COLLADA file format.
Secondly, users of Adobe's popular PDF readers can integrate 3D images into the software.
This means that users can add and configure settings, such as digital rights management, in much the same way that they can do for PDF documents.
Related Link: Morgan Stanley Sees Large Opportunities Ahead For Adobe
Piecemeal Steps In The 3D Printing Industry
Adobe is a design company that caters to creative professionals. Given its financial and intellectual resources, Adobe could have entered the 3D design space and developed a new paradigm for 3D design software. Instead, the integration seems indicative of tentative steps into the field.
"Most 3D design tools are expensive, complicated and focused on a niche market," explained Lauta. The result, according to him, is a fragmented market that is not big or substantial enough for Adobe.
Instead, the San Jose-based company has evolved a downstream strategy, where it integrates with various providers to enable consumerization of 3D printing. This approach contrasts with the vertical stack of offerings by Stratasys, Ltd. and 3D Systems Corporation, both major players in the 3D printing ecosystem.
The strategy is similar to the company's approach in 2D software, where the company's products enable users to import images from a variety of sources and modify them.
Two Trends To Drive Consumer Adoption
The company is banking on two current trends to drive future consumer adoption of 3D printing.
The first one is related to the proliferation of devices that enable 3D modeling. "We envision that scanning devices such as 3D scanners, cameras and tablets will become more pervasive over the years," explained Lauta.
The second is development of color 3D printers, such as mCor. Lauta likens the development of color 3D printers to the paradigm shift in television's fortunes, when color models of the device were introduced.
The resulting ecosystem will have a profusion of raw 3D images. Much as it has done with 2D images, where the company's software integrates with a variety of devices and enables users to create, modify and improve images, Adobe's software will help refine these images.
Related Link: AutoDesk Attempts To Spark A 3D Printing Revolution
Will The Strategy Be Successful?
So far, results using Photoshop CC's 3D printing feature have been mixed. Then, there is the question of user traction for the new features.
When asked about it, Lauta told Benzinga he did not have specific numbers of testimonials regarding the feature. Instead, he emphasized the award won by the company at the 3D print show last year.
These are technical challenges. The bigger problem is a business one.
Despite media hype, consumer adoption of 3D printers is still beset by technical and functional challenges. Adobe's software is aimed at creative professionals and "prosumers," a category of users that has not yet warmed up to the technology.
This is despite the fact that the number of 3D printers available at attractive price ranges has more than doubled. The market for 3D printers and 3D design software is largely an industrial one. The latter market is already dominated by Autodesk, Inc., which is already making aggressive moves in the 3D printing space.
Lauta said 3D design and printing represents the same technical challenges as 2D.
"It is a directly leveragable problem [for Adobe]," he said, referring to the company's legacy and technical understanding in solving similar problems in the 2D space.
Eventually, though, he is hopeful about 3D design's prospects.
"Ultimately, designers and creatives (Adobe's primary customers) are trying to capture reality and 2D models are constraining for that," he said. "3D models provide a richer canvas."
View Comments and Join the Discussion!
Posted-In: 3D Printing Andy Lauta comments PhotoshopTop Stories Tech General Best of Benzinga