Michael Jordan: The $1 Billion Man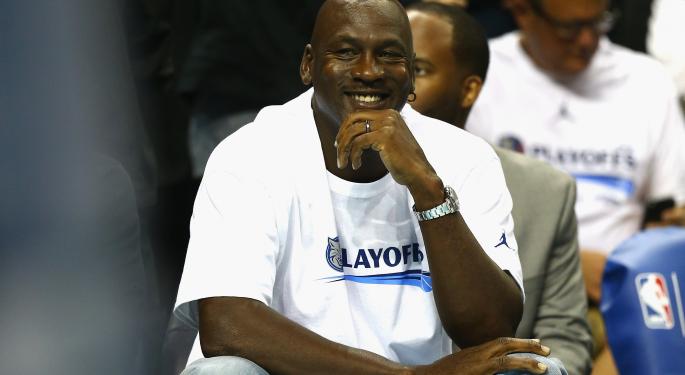 He's been retired for a decade now, but Michael Jordan is once again in the headlines.
According to Forbes, Jordan has become the first athlete in history to be worth at least $1 billion.
"Jordan is in a league of his own," Darren Heitner, founder of the Sports Agent Blog, told Benzinga. "He had the requisite patience and foresight to structure deals that certainly paid well at and around the time there were executed, but also contained provisions that ensured him money for years after retirement."
Jordan's annual earnings total about $90 million. and Forbes reports it was Jordan's increased stake in the Charlotte Hornets -- a franchise he has held at least a partial stake in since 2006 -- that put him over the edge. He became controlling owner in 2010.
Related: DDP - From Pro Wrestler To Yoga Entrepreneur
Forbes' Mike Ozanian said sources familiar with the Hornets told him Jordan has increased his stake in the basketball team from 80 percent to 89.5 percent over the past several months.
"Our net worth figure for Jordan uses the $600 million figure," wrote Ozanian. "The Hornets have $135 million of debt, which makes Jordan's equity in the team worth $416 million. After subtracting all the cash Jordan has invested in the team, we estimate his net worth outside of the Hornets to be $600 million."
Heitner said that increased stake is just one of multiple revenue sources for Jordan.
The Jordan Brand
The six-time NBA Champion earned a total of $94 million during his 15-year playing career. He was the first NBA player to earn $30 million in one season (1997-1998), his last with the Chicago Bulls. He also starred in a brief comeback attempt from 2001-2003, with the Washington Wizards.
Any basketball fan or television viewer can attest that Jordan's reach has gone far beyond the court. As Heitner said, "Jordan ensured that his brand was incorporated in many of his deals and continues to receive royalties based on same."
Since his arrival in the league in 1984, Jordan has become the prototype for marketing athletes. Nike's (NYSE: NKE) Air Jordan brand is perhaps the most popular shoe line of all time. The shoe broke barriers on the court and the bank: in 2006, while in retirement, the Air Jordan brand earned $500 million in sales and finished the year with record profits and sales.
Nike released the 28th shoe in the Jordan franchise in 2013, at a retail price of $250. The company continues to release retro versions of the franchise with an average selling price of $130 to $150.
Over the years, Jordan has been enormously successful pitchman for Gatorade, Ball Park Franks and McDonald's. More recently, Jordan can been seen with his long-time endorsement partner, Hanes.
Who Will Join Him?
LeBron James, who already has more on-court earnings than Jordan did, may be the next player to join the list. James reportedly earned $30 million "in cash and stock in the Beats sale after he had struck a deal to get a small stake in the company at its inception in 2008 in exchange for promoting its high-end headphones."
James earned over $19 million for the 2013-2014 season and is set to make at least $20 million the next two seasons.
"A comparison can be made to LeBron James," said Heitner. "Compensation elements in contracts are not just about 'pay me now' clauses, but can be even more rewarding if the athletes believe in the companies and take an equity interest in them."
Cristiano Ronaldo, Tiger Woods and Floyd Mayweather -- just named the highest-earning athlete in the world ($105 million) -- could also, one day, reach that billion-dollar plateau. However, the business successes of Jordan and Magic Johnson may also lead star players to start thinking about life after retirement sooner than later.
"I am positive that other former players will continue to seek an ownership interest in professional sports franchises," stated Heitner. "It can be a lucrative venture and keeps them attached to the games they love."
View Comments and Join the Discussion!
Posted-In: Charlotte Hornets Chicago Bulls Darren Heitner Forbes LeBron JamesEntrepreneurship Top Stories General Best of Benzinga