Bitcoin Weekly Recap: Threatening Traditional Payments, Entrepreneurs And Regulatory Actions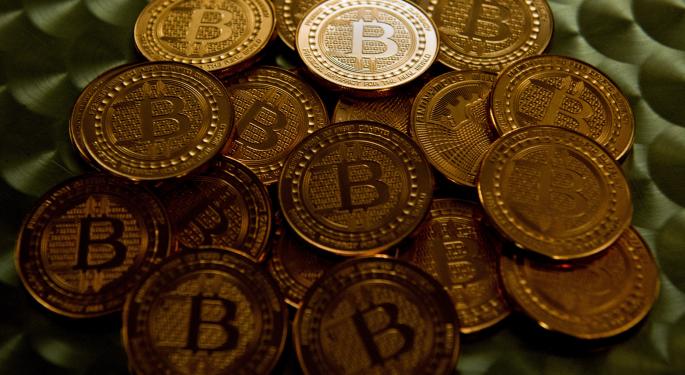 For the week ending June 6, news stories contained surprises like being able to pay for electricity with bitcoin, rapper 50 Cent accepting bitcoin and the IRS relaxing its FBAR requirement for bitcoin holders.
Citi Says Bitcoin Is A Threat To Credit Card Margins
In a 76-page report, Citi states "In the near term the sectors most at risk are credit/ debit card and payments services. If fraud/charge backs can be reduced or eliminated by digital currencies there is plenty of room for margins to be eroded."
The report provides a balanced perspective on bitcoin citing adoption issues, as well as bitcoin's addressable market size.
Related Story: Signs A Bitcoin Tidal Wave Is Forming To Disrupt Business
Bitcoin Company Blockchain Has No Bank Account
Blockchain CEO Nicolas Cary states, "My company is a 100 percent Bitcoin-based business. We don't even have a corporate bank account."
Blockchain employees, as well as vendors, are paid in 100 percent bitcoin. Cary continued, "we do everything we can to maintain a Bitcoin economy."
Pay For Electricity And Water In South Africa With Bitcoin
South African energy company Invirohub announced it lets customers pay their electricity and water bill with bitcoin. The smart meters have a 3G internet connection card to calculate the latest bitcoin price and credit the customer account when funds are received at the bitcoin address associated with the customer's meter.
$15,000 MIT Bitcoin Startup Competition This Summer
In advance of MIT's $100 bitcoin giveaway to all students this fall, the university is holding a startup competition this summer. The competition is designed to create apps for students to use this fall.
The May MIT Bitcoin Expo had over 400 students attend.
Rap Album Animal Ambition Can Be Purchased With Bitcoin
50 Cent's new album Animal Ambition and other items on his store can be purchased with bitcoin. 50 Cent's store uses Shopify, which has allowed its 70,000+ customers to accept bitcoin since November 2013.
On Reddit, the rapper wrote he accepts bitcoins because, "Technology is what's changing the business gotta get with it. I take money no matter if its coins or dollars."
IRS Won't Require FBAR Reporting This Year
The IRS has waived the reporting requirement of Americans with over $10,000 in foreign financial accounts to file a Report of Foreign Bank and Financial Accounts. This is good news for bitcoin holders as many of them may not have been unaware of this requirement.
Bitcoin makes it trivial to transfer money anywhere in the world. The lack of awareness and the simplicity of transfer could have made for ugly headlines if violators were prosecuted or fined.
Related Story: 3 Reasons The IRS Bitcoin Ruling Is Good For Bitcoin
Bitcoin Ransomware CryptoLocker Shut Down
The FBI worked with worldwide police to shut down the malicious software CryptoLocker on Saturday, May 31. The software would render victim's computers unusable unless they quickly paid a ransom of around $300 worth of bitcoin.
The FBI believes Evgeniy Mikhailovitch Bogachev is behind the malicious software, but have been unable to capture him.
Missouri Regulator Halts Bitcoin Mining Business
Missouri Secretary of State Jason Kandler ordered Virtual Mining Corporation (VMC) to cease operations. Kandler claimed investors weren't made aware of the risks and investors were told they would receive a 100 percent return from global profits of his company sales.
VMC had received over $200,000 in donations.
Bitcoin Entrepreneur Fined $50,000
Erik Voorhees was charged with publishing prospectuses and soliciting investors to purchase shares in SatoshiDice and FeedZeBirds without registering the offerings with the SEC.
Voorhees settled the charges of federal security law violations by paying a fine of just over $50,000.
Disclosure: At the time of this writing David Smith has a long bitcoin position.
Posted-In: 50 Cent Bitcoin Blockchain Citi Erik Voorhees FBIEconomics Tech Best of Benzinga
View Comments and Join the Discussion!