Hillshire Acquisition Outlook - Benzinga Readers Respond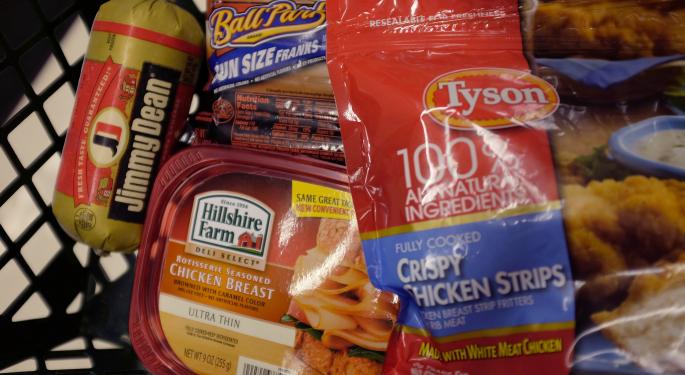 The results are in!
Tyson (NYSE: TSN) announced its intention to purchase Hillshire (NYSE: HSH) for $6.8 billion ($50 per share) Thursday morning, after Pilgrim's (NASDAQ: PPC) offered to buy Hillshire for $6.4 billion ($45 per share) Tuesday.
In addition to two unsolicited bids in one week, Hillshire had previously committed to acquiring Pinnacle Foods (NYSE: PF) for $6.6 billion cash, as well as stock.
If Tyson or Pilgrim's acquire Hillshire, a $163 million termination fee will have to be paid to Pinnacle; both suitors have implied willingness to pay the fee.
We asked Benzinga readers for their thoughts.
Related: Survey: Hillshire Bidding War; Who Will Come Out On Top?
Contrary to most Wall Street analysts, many of you think the probability of Hillshire not being acquired is greater than 75 percent (33 percent of respondents). As expected, most respondents think the probability of the firm not being acquired is less than 10 percent (48 percent of respondents).
Most readers think Tyson will end up taking over Hillshire.
Only seven percent voice that a third party (not Tyson or Pilgrim's) will take over Hillshire when all is said and done.
And most importantly, the final acquisition price. $60 and $55 are the most popular targets at 38 percent and 34 percent, respectively. The weighted average of votes gives a $57.80 acquisition price.
Note the results below. If you still haven't voted, the survey is at the bottom of the page.
Posted-In: Crowdsourcing Trading Ideas General Best of Benzinga
View Comments and Join the Discussion!