Colorado Legislature Approves Banking System For Marijuana Businesses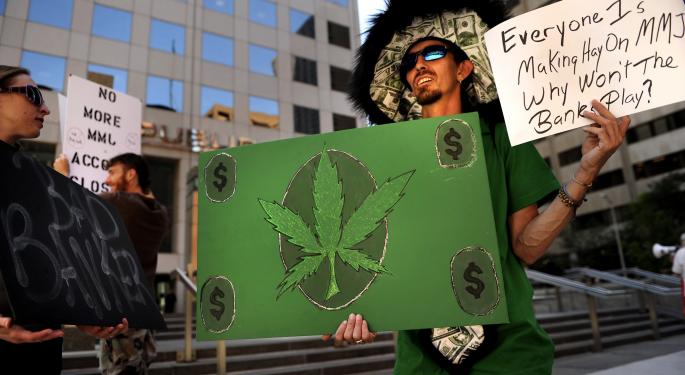 The Colorado legislature made history last week with the approval of the world's first marijuana banking system.
Though the feds announced guidance for banks on how to deal with marijuana-based businesses, this new cannabis focused credit co-op system would provide true access to financial services for the first time.
The bill is still pending approval from Colorado Governor John Hickenlooper, however officials from his office said that he will sign the bill.
After approval from Hickenlooper, the bill will require review by the Federal Reserve, which is where things might hit a snag.
The fed's guidance came without blanket legal immunity, so banks have remained hesitant to deal with marijuana companies, which has proven to be dangerous for business owners.
Attorney General Eric Holder said in January that "Huge amounts of cash, substantial amounts of cash, just kind of lying around with no place for it to appropriately deposited is something that would worry me from just a law enforcement perspective," so this new co-op program could ease tension for law enforcement.
As highlighted in a recent Vice documentary on HBO, the marijuana industry is required to use military grade security to transport their cash.
See also: Breaking Biotech - Gilead's Phase 2 Study Results
The new Colorado system could potentially be blocked by the Fed, because deposits will not be insured.  If approved, businesses could move away from cash-only ways and begin accepting credit cards and checks.
The Colorado legislature has provided an innovative solution for marijuana banking, but these business people could be done a disservice if the Fed were to deny the new system.
As a state regulated entity, the co-op system would provide a system that does not require federal regulation while providing a great service for an industry in need. Considering that the whole cannabis market is a totally new (and technically illegal) social and economic experiment, basic business services need to be offered in order for the industry to grow.
Along with helping marijuana companies safely store money, the new system will help Colorado authorities track marijuana sales and apply appropriate taxes.
If this policy is successful, look for similar legislation in Washington following further legalization this summer.
View Comments and Join the Discussion!
Posted-In: Eric Holder HBO John Hickenlooper marijuanaPolitics Top Stories General Best of Benzinga