Who Will Develop The Netflix Of The Auto Industry?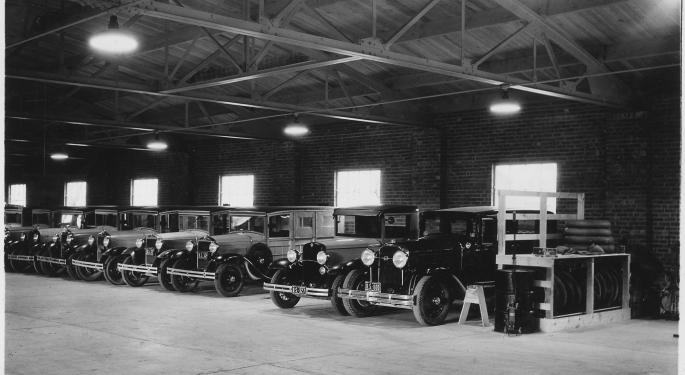 In addition to Google Inc (NASDAQ: GOOG) (NASDAQ: GOOGL), who is already developing new car technology, a number of tech giants are rumored or expected to enter the auto space.
Apple Inc. (NASDAQ: AAPL) is the most prominent, thanks to a plethora of reports claiming that the company is entering Tesla Motors Inc (NASDAQ: TSLA)'s territory.
Karl Brauer, a senior analyst at Kelley Blue Book, told Benzinga that Facebook Inc (NASDAQ: FB) is another company that could end up in the auto industry. "They've got a lot of money," he remarked.
Brauer said tech companies (even those that are highly capitalized and post great profits) think auto development could provide new sources of revenue. "The car industry still makes a lot of money on its own," he continued.
"If you're a tech company trying to figure out, 'Okay, as good as we're doing, how do we do even better? How do we make even more money?' That's why they're all having some level of dabbling in the industry right now.
"Because they all know if they want to bump revenue, that's the next step. It's the most obvious industry to jump into if they want to continue to grow their bottom line."
Related Link: Apple, Tesla Union Would Be 'Phenomenal'
The Netflix Of Car Companies
Brauer expects Facebook, a company that is inherently social, to do something along the lines of Zipcar. "Maybe even buy Zipcar," he theorized.
"[Facebook is] a very social-oriented company. I think they also like the idea of being wise and conservative with resources." Brauer expects Facebook to take the stance that, in the future, fewer cars will be produced and sold. At the same time, many cars will have to become more efficient by serving more drivers -- presumably through sharing.
"And they might not make their own car at all," Brauer added. "They might come up with the retailing system and/or the sharing system that makes existing cars more effectively utilized by a larger number of people without one of those people having to necessarily own or buy a car."
Instead, Brauer speculated that consumers would pay into a system where everyone pays a little each month to access a storage area where cars are stored.
"Like a timeshare, they all have access to them when they need them," he said. "But they don't have to have a garage that's full of them. They don't have to pay their own insurance and maintenance and all that."
In other words, it'd be the Netflix, Inc. (NASDAQ: NFLX) of the automobile industry.
"That'd be a good way to look at it," Brauer concluded.
"Instead of owning, maybe there's just access to them without having to invest in space and storage. [Cars wouldn't have to] sit around when you don't actually use them, which is what people did [with movies] before Netflix."
Disclosure: At the time of this writing, Louis Bedigian had no position in the equities mentioned in this report.
Image credit: Public Domain
Posted-In: Apple Apple Car Facebook Google iCar Karl Brauer Kelley Blue BookTech Best of Benzinga
View Comments and Join the Discussion!