Where Is Bitcoin Growing Faster Than The Internet?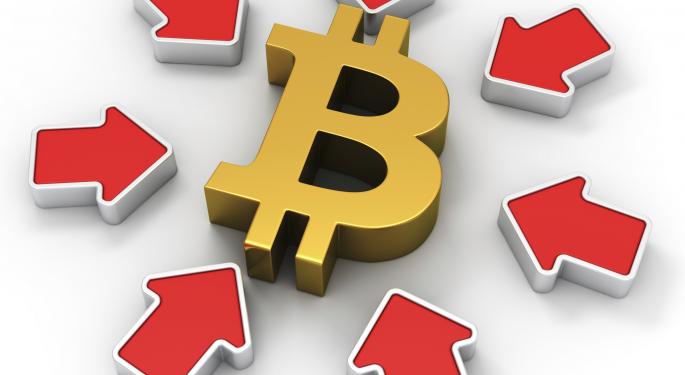 At only five years old, bitcoin is receiving more venture capital investment than early stage Internet companies were in 1995. Remember what the Internet was like in 1995?
The Internet In 1995
If you have 27 minutes to refresh your memory, YouTube has a Computer Chronicle video showing what the 1995 Internet looked like. If not, the piece discusses how hard it was to stream video, how there was no safe way to process credit cards, how ugly the websites looked and how slow the Internet was.
Related Link: Bitcoin's Mainstream Readiness To Be Tested At Workshop
Things seemed so grim. In 1995 Newsweek ran a piece: "Why the Internet will Fail."
Sound familiar? These are the same arguments against bitcoin: hardly anyone uses it, it isn't safe, and it is hard to use. However digital currencies are so much cheaper, more convenient and more powerful than their analog counterparts that, like the Internet, their widespread adoption seems assured.
Which digital currency will triumph? Hundreds or even thousands of competing digital currencies have entered the market. So far none has a clear shot at overtaking bitcoin. Bitcoin's network effect is growing at a fast rate, making its dominance even more likely.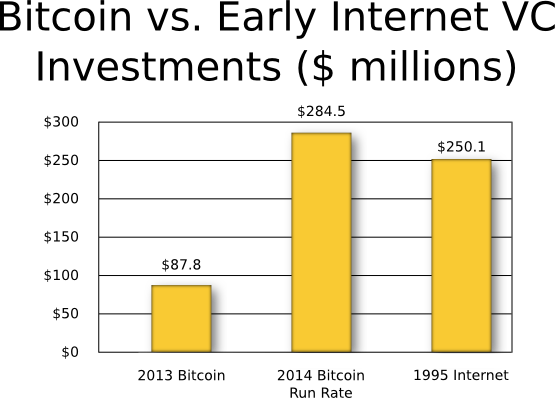 '
Chart and Chart Data Credit: CoinDesk State of Bitcoin Q2 2014
VC Investment Driving Entrepreneurs
Tens of thousands of very smart people are working on overcoming bitcoin's challenges: security, usability and practical use cases. They see every deficiency as a business opportunity.
Funding the entrepreneurs are venture capitalists. They see the writing on the wall and want to get in on the ground floor of an industry that is poised to be more disruptive than the Internet. Their investments fuel more bitcoin-entrepreneurs to quit their jobs, even at marquee companies like Amazon and Facebook.
The opportunity isn't limited to venture capitalists, however. A key difference between the Internet revolution and the bitcoin revolution is the accessibility to retail investors. Today anyone with as little as $1 in the bank can go to Coinbase.com and get exposure to bitcoin. That is like buying an index on the entire bitcoin ecosystem.
Related Link: Could Bitcoin Disrupt More Than Finance?
Until Internet stocks went public, there was no easy way for everyday investors to purchase those stocks. Access was restricted to large investors. There were no stories of 20 year olds striking it rich after investing less than a thousand dollars like we see with bitcoin.
Disclosure: At the time of this writing, David Smith has a long bitcoin position and owns So What's Bitcoin?
Posted-In: Bitcoin Coinbase Venture CapitalTech Best of Benzinga
View Comments and Join the Discussion!