REVIEW: Nexus 7 (2013 Edition) And Chromecast (GOOG)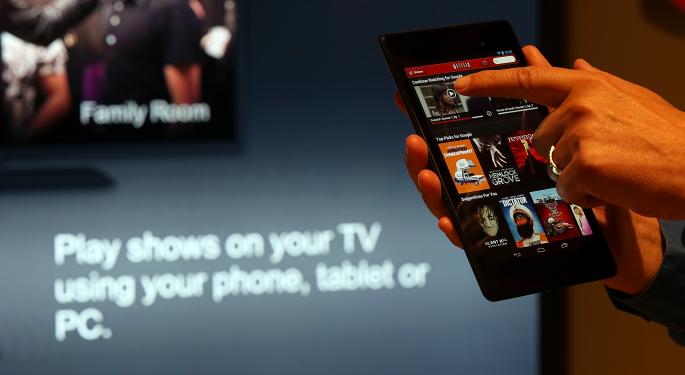 Google's (NASDAQ: GOOG) newest tablet and TV devices are in stores now. Are they worth your time and hard-earned cash?
Nexus 7 (2013 Edition)
Prior to the release of the next-generation Nexus 7, there were rumors claiming that Google would raise the price from $199 to $229. In doing so, the Nexus 7 would stand apart from tablets that retail for $200 or less.
That rumor turned out to be partially true: Google is charging $30 more for the second-generation Nexus 7, but the reason for the price increase has yet to be revealed.
It should be said, however, that Google did not need to raise the price in order to make the Nexus 7 stand out. This seven-inch tablet is one of the slickest and most comfortable Android tablets available. It is solid without being too heavy, and it is light without feeling cheap.
Performance
Whether playing a game, watching a video or surfing the Web, the Nexus 7 is one very fast tablet.
New Chrome tabs loaded as fast as they do on a PC (there is one caveat here -- keep reading). YouTube clips loaded quickly, and the overall game performance was very good.
That latter point was particularly apparent when playing a game like Tower Defense, which pummels the screen with dozens of characters. On a typical smartphone (or a weaker tablet), players will be forced to endure a fair amount of slowdown as the character count rises. On the Nexus 7, the game speed is much more consistent.
Benzinga's Managing Editor Joe Young tested the Nexus 7 first and was impressed by the tablet's speed, its shape (it's narrower than the Kindle Fire HD and the iPad Mini) and its size (it's thinner than the first-generation Kindle Fire).
Benzinga Newsdesk Analyst Brent Slava tested the Nexus 7 second, and he also appreciated the design and the tablet's easy-to-use interface. He liked the keyboard, which outperformed his HTC (OTC: HTCKF) Evo 4G LTE -- even though that phone has the same keyboard. He also took note of the touch screen, which he said was "very responsive," but felt that the camera was "a bit fuzzy."
Web Videos And Tabs Don't Mix
If there is any issue plaguing the Nexus 7's performance, it's the fact you cannot load multiple tabs and videos in Chrome without encountering some lag. During this period, it's as if the device is frozen in time as it struggled to catch up with all of the tabs. This was the opposite of what you would expect from a tablet that is lightning-quick in every other regard.
While this issue did not seem to occur with YouTube videos or the freebie clip-only version of Hulu.com, it did occur with video embeds on IGN.com, EW.com and numerous other sites.
This problem can be avoided by opening only one tab at a time when watching videos. But with a Qualcomm (NASDAQ: QCOM) Snapdragon S4 Pro under the hood, consumers might demand a flawless experience regardless.
Even with that issue, the Nexus 7 is still the best-performing Android tablet for under $300.
Related: Google's Second-Gen Nexus 7 May Be Limited To 3.5 Million Units
Display
One word could be used to describe the Nexus 7's display: gorgeous.
With a resolution of 1920 x 1200 pixels (versus 1024 x 768 for the iPad Mini, 1280 × 800 for last year's Kindle Fire HD and 1440 × 900 for the Nook HD), the Nexus 7 offers the highest resolution of any seven-inch tablet currently available.
These aren't just numbers on paper -- one look at the Nexus 7 and you will be convinced that this is the best handheld device for video viewing.
Disney (NYSE: DIS) and Pixar's La Luna, a Super Mario Galaxy-inspired short that debuted with Brave, looked absolutely stunning on the Nexus 7.
Even when the brightness is turned down, the Nexus 7 has a beautiful glow that is typically reserved for high-definition TV sets. The colors are sharp and accurate, so users don't have to worry about any obscure inaccuracies.
Design
It's hard not to love the Nexus 7. Compared to last year's Kindle Fire, Google's tablet feels light, thin and compact. It brings the screen as close to the edge as possible without making it difficult to hold.
Nexus 7 (2013 Edition) Final Verdict
The second-generation Nexus 7 may not be a perfect device, but it is still the best seven-inch tablet available for less than $300.
Chromecast (First Edition) Review
There has been a ridiculous amount of hype for Chromecast, and for good reason. The product is small (roughly the size of a USB thumb drive), cheap (it retails for $35) and allows users to play YouTube, Netflix (NASDAQ: NFLX) and other video apps on a television.
But while it is a very cool device, it was made for a very specific audience.
Setup was quick and easy, thanks to the Chromecast app. Android users must download the app to their phone or tablet before they can begin using Chromecast.
Once they do, the app will guide users through the quick setup processor. Since Android users already have a Google account, they won't have to fill out any new information or set up any new accounts. This differs from Microsoft's (NASDAQ: MSFT) Xbox 360 and Apple's (NASDAQ: AAPL) set-top box. Xbox 360 requires the user to sign in or set up an account before they can stream videos or play games online. Apple TV requires users to sign in or create an account before they can rent or purchase any videos from iTunes.
When Joe Young tested the Chromecast, he also found that the setup was easy (he used the Chromecast app with both the Nexus tablet and an LG Lucid). He loved the compact size but had no idea that it required a power source until he opened the box.
In order for Chromecast to work, users must plug the included USB cable into the back of a high-def television. If one isn't available, they can use the included AC adaptor.
Young thought that the video quality was excellent but was disappointed that the HBO Go app was not yet available. That could change very soon.
While Chromecast is available for all Android devices, it does not currently work with the Kindle Fire HD (which is essentially an Android device with its own operating system layered on top) or any of the Chromebooks, which use Chrome OS. Google has not indicated that it will bring Chromecast to either device.
Chromecast (First Edition) Review
The average Netflix user may not care if Chromecast can be set up faster than an Xbox 360 or an Apple TV, but Chromecast was not built for the average consumer. It is best suited for those who do not already own an Internet-enabled TV device. It is also a handy secondary item for those with multiple TVs and only one Internet-enabled device.
But since users must have an Android smartphone or tablet to use Chromecast, it is not for everyone.
Related: Chromecast's Biggest Competitor Is A Free App
Chromecast (First Edition) Final Verdict
Chromecast is not a replacement for a top-tier set-top box or an expensive game console. But it does provide a simple and inexpensive (albeit flawed) way to bring streaming video services to the big screen.
Disclosure: At the time of this writing, Louis Bedigian had no position in the equities mentioned in this report.
Louis Bedigian is the Senior Tech Analyst and Features Writer of Benzinga. You can reach him at louis(at)benzingapro(dot)com. Follow him @LouisBedigianBZ
View Comments and Join the Discussion!
Posted-In: Amazon Apple Brave Chromecast disney GoogleTech Reviews Best of Benzinga