Apple Falls Into Bear Market Territory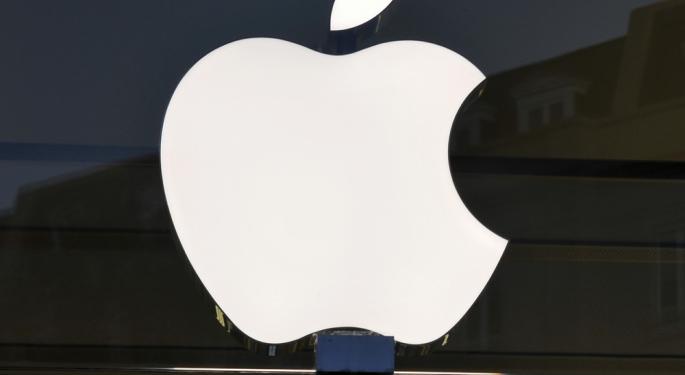 Consumers love Apple (NASDAQ: AAPL) products. Hours before the iPhone 5 was released, one eager consumer told Benzinga that she "wouldn't give a s*** if it didn't have nothing." In her opinion, new features and upgrades were not necessary.
"I would be in line anyway," she insisted. "I just love iPhones. I would never have any other phone but an iPhone for the rest of my life. So when they have iPhone 83, I will be in line."
If investors were that loyal, Apple shares would have crossed the $1,000 mark weeks ago; but Apple's value is not climbing.
On September 21, the company achieved an intraday high of $705.07. In the following weeks, the iPhone maker plummeted 20 percent.
Two days ago, Apple proudly announced that it had sold three million new iPads, beating some analyst estimates. The company combined sales of both the iPad Mini and the fourth-generation iPad, preventing investors from knowing how well either device performed. Nonetheless, this provided a huge bragging point for the company.
Investors were satisfied for literally a day. That is not an exaggeration; Apple shares rose on Monday to above their five-day low. One day later, Apple's value experienced another dip.
In spite of the positive iPad sales, investors must still be feeling the burn of the botched mapping application, managerial shakeup, disappointing iPhone 5 sales and the general lack of interest in new Apple products.
One hour before the iPad Mini was released, Benzinga was surprised to learn that only 15 people were waiting in line at one Metro Detroit Apple Store. According to Reuters, crowds were thin everywhere except New York.
This is the part that worries investors. Apple will not continue to grow if it cannot excite the masses.
Worldwide, the firm is still growing. iPad sales may be tanking in the United States (unlike smartphones, people do not need to buy new tablets every 12 to 24 months), but they seem to be doing quite well overseas. Without new markets, Apple would not have been able to sell three million tablets last weekend.
For more than a year, Apple has said that China and other emerging markets are an important part of the company's future. If Apple scores a widespread deal in China or sells a large number of iDevices in the nation, investors are likely to take notice.
For the time being, however, investors want the company to simply come out with products that are genuinely impressive. The iPhone 5 was too predictable to fulfill that expectation, and the iPad 3 and 4 were too similar to their predecessors.
Apple had an opportunity to impress investors when it unveiled the next-gen MacBook Pro. While the 15-inch model was very creative, the 13-inch model proved to be a dud.
Instead of focusing on the iPad Mini, investors should have paid attention to the new iMac, one of 2012's most inventive products released. Unfortunately, that device will not change the market. It may inspire Apple enthusiasts to upgrade or lure a few new customers, but its profit margins will be lower than the iPad Mini (which only costs $188 to manufacture), and it will sell far fewer units.
This is a big problem for Apple. Its biggest products (iDevices) are no longer attracting the level of attention that they did in 2011. Thus, the company's sales are not as large, the lines are not as long and investors are not as impressed.
Analysts have speculated that the company needs a new product -- namely a television set -- to reinvigorate the business. But even in the best-case scenario, this will not satisfy investor demand. It may excite Wall Street and raise Apple's value back to $700, but those gains will not last.
Televisions are expensive, long-lasting, low-margin devices. The companies that manufacture them do very well when consumers wish to upgrade, as witnessed by the high-def boom. Now that everyone has upgraded, domestic sales have slowed to a crawl.
The struggling economy has not helped this situation. Consumers are less likely to buy a 50-inch flat screen if they can't afford food or other necessities.
Sony (NYSE: SNE), Panasonic (NYSE: PC), Sharp and other Japanese companies made the mistake of placing too much emphasis on the TV business. Now all of these firms are suffering.
Analysts speculate that Apple could circumvent the challenges of the TV market and make billions by developing a pay-as-you-go alternative to cable. Realistically, the company does not need to go through the hassle of selling televisions to pull this off. It could theoretically acquire Comcast (NASDAQ: CMCSA) and launch a cable service today.
Aside from a buyout (which seems unlikely), Apple does not have many options in starting a pay-TV service. Analysts believe that Apple must secure a number of content deals first. Even if the firm is successful in this regard, Apple must think about infrastructure (how will the service be delivered?) and cost (how much can Apple charge per channel?).
Most analysts assume that Apple will stream the service online and charge a low fee for each channel. The former element comes with a number of challenges, including data caps (which are employed by almost every major broadband provider).
The latter is somewhat of an oxymoron. Apple is a manufacturer of premium products. It only charges a low price for music and apps because they were employed to sell iPods, iPhone and iPads. If the goal of its pay-TV service is to sell new televisions, Apple might do the same for cable. Otherwise the company will charge as much as possible -- and raise its rates slowly over time, just like the cable providers.
In the best-case scenario, free (over the airwaves) channels would sell for $1 to $2 per month. Basic cable channels would go for $2 to $5, while HBO and Showtime would likely maintain their existing pricing scheme. At those prices, frugal TV watchers could save some money.
Unfortunately, those prices are not likely to stay the same forever. Either content providers will raise their rates and force Apple to do the same, or Apple will do it to increase profits. Either way, the consumer loses. In time, subscribers could end up paying higher monthly fees for fewer channels than they currently receive with a traditional cable provider.
If Apple enters the pay-TV business, it will also have to deal with the headaches of greedy content providers that pull their channels to get higher fees.
As a manufacturer, Apple may still be interested in the sales potential that a pay-TV service can bring. It may very well be a profitable venture for the firm. But it will not create the iPhone- or iPad-sized revolution that analysts expect. Consequently, Apple shares may continue to fall, regardless of the products it releases in 2013.
Follow me @LouisBedigianBZ
Posted-In: Apple iPad Mini iPhone 5Tech Best of Benzinga
View Comments and Join the Discussion!