How To Watch 'Star Wars: The Force Awakens' For $1 On A Legitimate Netflix Competitor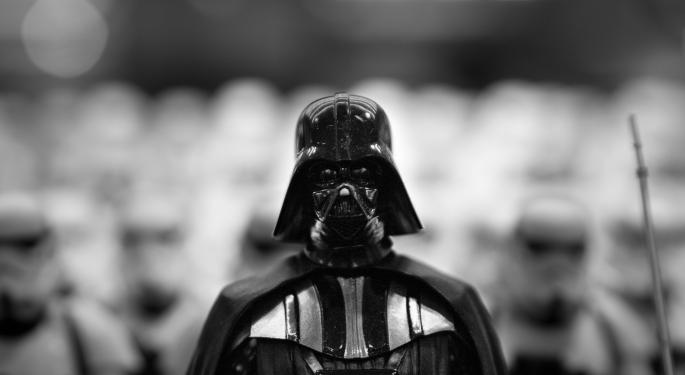 There's a streaming service available that may be unfamiliar to the masses. It's not reached the societal consciousness the way Netflix, Inc. (NASDAQ: NFLX), YouTube or Hulu have, but it deserves attention.
VidAngel has two significant elements to its service that make it unique and worthy of a second look. For one, the business model offers movies for streaming as low as $1 through its "buy and sell back" program. Secondly, VidAngel allows users to filter unwanted/offensive content.
As explained by co-founder Neal Harmon to Benzinga's Jim Probasco, "Our tagline is 'Watch movies and TV shows however the BLEEP you want.''
Related Link: 'Rogue One: A Star Wars Story' Trailer Is Here
Harmon elaborated, "That means you can watch any movie you own on any device you want to and customized the way you want to watch it. For example, if you don't want to see Jar Jar Binks in Star Wars, you can set a filter to cut out Jar Jar Binks. If you don't want to see nudity in Game of Thrones, you can cut that out. You have the power to watch the movie however you want."
'Star Wars: The Force Awakens' Now Available
The DVD and BluRay for Walt Disney Co (NYSE: DIS)'s newest Star Wars episode became available for public retail on Tuesday, with the general price tag of $19.99.
However, with VidAngel's buy and sell back program, viewers can watch the new release for as little as $1 per night.
Unlike RedBox, where customers rent a dvd and are charged per day (which can exceed the price of the DVD), VidAngel allows customers to buy the movie up front. Harmon summarized the process, "Actually, it's the opposite of Redbox. With Redbox you rent the movie and pay for it every day. If you forget to take it back, you end up paying for and owning it."
"With VidAngel you buy the movie up front for $20. That's because you have to own it for us to be able to filter your stream for you. After you watch it, you can keep it or you can sell it back. The sellback price is $19 for SD and $18 for HD. So it is essentially $1 per night for SD and $2 per night for HD with sellback," he explained to Probasco.
Posted-In: Jim Probasco Neal Harmon Star Wars Star Wars: The Force Awakens VidAngelSmall Business Tech General Best of Benzinga
View Comments and Join the Discussion!