Mark Cuban Talks Musk, Netflix, Amazon And More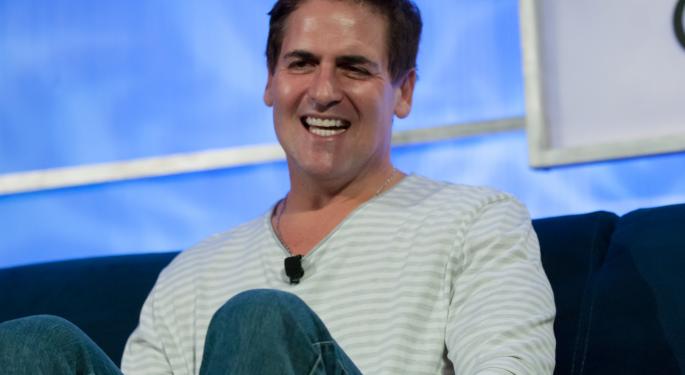 Billionaire investor, entrepreneur and "Shark Tank" personality Mark Cuban was a guest on CNBC's "Halftime Report" Monday to share his take on a handful of notable tech stocks.
On Elon Musk
Tesla Inc (NASDAQ: TSLA) CEO Elon Musk is among the handful of great entrepreneurs who run a great company, Cuban told CNBC's Scott Wapner. Musk does have a unique personality as evident by his public comments against short sellers. While this may cause some investors to be concerned Musk is so dedicated to his company, it's "hard not to return fire sometimes." A leader like Musk is "committed and dedicated" to the long-term company vision -- as opposed to an investor like Cuban who will "cash out" at an opportune time.
"When you invest in an entrepreneur, you get the personality," Cuban said. "And if that's not appropriate or you don't think it's right, buy another stock."
On Amazon
"I know Amazon and what they've done, and I've owned it off and on for a long time when it was single digits all the way up until I sold it I think at the $900s," Cuban told Wapner. "And then when it was back at the $700s, I went all in and just bought, you know, more than I probably should have at the time. And now I'm happy about it."
Cuban said Netflix, Inc. (NASDAQ: NFLX) and Amazon are his two biggest holdings.
On Wells' Retirement
Netflix CFO David Wells confirmed Monday he will be stepping down from the job he has held since 2010. Cuban said it's "never a good sign" when a CFO steps down, but at the same time it's "not necessarily a bad sign" either. Nevertheless, investors are left wondering if there's a particular event or circumstance which led to his departure.
"I really can't speculate," Cuban said. "I haven't sold my stock, if that means anything."
On Trillion-Dollar Apple: No Big Deal
The $1 trillion valuation milestone Apple Inc. (NASDAQ: AAPL) hit isn't a concern, Cuban said. Throughout the market's history, companies "bust through" barriers, such as the first $100 million valued company, then a $1 billion. Once a historic milestone takes place, Cuban said it then merely becomes the floor for other companies to achieve as well.
On Twitter And Cash
When asked if Cuban still owns shares of Twitter Inc (NYSE: TWTR), he answered no but "not for any particular reason." The billionaire said he's holding on to more cash than he normally does but is "ready, willing and able" to buy something new if an opportunity presents itself.
In the meantime, the stock market can trade above its all-time highs but Cuban says he doesn't have a complete level of confidence this will be seen soon. There are multiple concerns plaguing the market, including rising debt and expanding interest rates. But if GDP sustains at a 4 percent rate and the government works to lower its national debt, Cuban said he will "get back in."
Related Links:
Musk Tries To Clarify 'Funding Secured' In New Tesla Blog Post
Citron: Twitter Shares Could Hit '$52 Within 52 Weeks'
Photo credit: JD Lasica, Flickr
Posted-In: Citron Research CNBC Elon Musk Halftime Report Mark CubanShort Sellers Tech Media Best of Benzinga
View Comments and Join the Discussion!