A Group Of Investors Is On A Mission To Help Traders Give Back Through Charity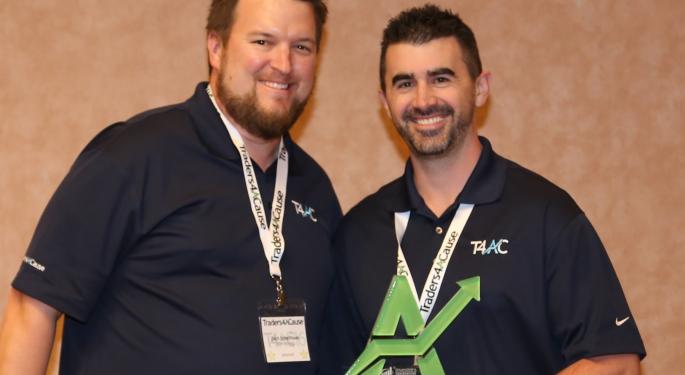 If you're a shareholder of Valeant Pharmaceuticals Intl Inc (NYSE: VRX), GoPro Inc (NASDAQ: GPRO) or Wayfair Inc (NYSE: W), the last thing you'd think to call Citron head and infamous short seller Andrew Left charitable.
But Left is headlining Traders4ACause's marquee event in Las Vegas this year, a conference designed to teach traders the importance of giving back and facilitate traders' journeys from Gordon Gekko types to public benefactors.
"Lots of traders brag about what they make, so we thought 'why not brag about what you donate instead of what you make?'" said Zach Schellhaas, the group's conference director.
Giving Back, Not Re-Investing
T4AC was started by a group of traders who "wanted to do something to give back," said Nathan Michaud, the organization's president. Michaud, an independent investor, runs an online trading chat room and wanted to get the traders in his network involved in charitable causes and also make charity more directly involved with their daily work.
About five years ago, Michaud approached his colleague Scott Herman with the idea of raising money for a charitable cause. Michaud suggested breast cancer research. Unbeknownst to Michaud at the time, Herman's wife was a breast cancer survivor and he was all in on the idea -agreeing to match all monies raised that year. Michaud said "my original idea was to raise money by challenging traders to either donate a day's worth of profits, or to double their commissions for a period of time. If a trader is paying 5 bucks a trade, why not make it 10 bucks for the month of October and donate the spread at the end of the month?"
The initial fund raising effort was such a success that Michaud and Herman decided to turn their efforts into a permanent fixture by starting a non-profit called Traders4ACause. The following year, with much help from the trading community, the Traders4ACause team was on its way to planning a networking event for traders in Las Vegas with all profits benefiting charity.
Building Momentum
The T4AC event is now in its fourth year, and has begun attracting what Schellhaas referred to as "CNBC-level names" as speakers and attendees, such as the aforementioned Left, "Fast Money" co-host Jon Najarian and retired MLB superstar Rod Carew.
Now that the event has some legs under it, Schellhaas and Michaud have seen it make a lasting impact on its attendees. Some return each year to donate larger and larger amounts, and the team expects over 200 attendees this year.
"The event is multifaceted," Schellhaas said. "The number one goal is to raise money for our beneficiaries. Goal number two is to give traders sense of philanthropy and purpose. Goal three is to make people better traders.
"If we teach people to fish, so to speak, they'll remember where they learned and they'll get that sense of wanting to give back."
This year's T4AC event benefits the Breast Cancer Research Foundation, The Life You Can Save, Pediatric Cancer Research Foundation, and Wings Over Wall Street.
Photo credit: Traders 4 A Cause
Posted-In: Andrew Left Citron Research Traders 4 A CauseShort Sellers Success Stories Interview General
View Comments and Join the Discussion!