When Will The Market Move On Its Own Accord?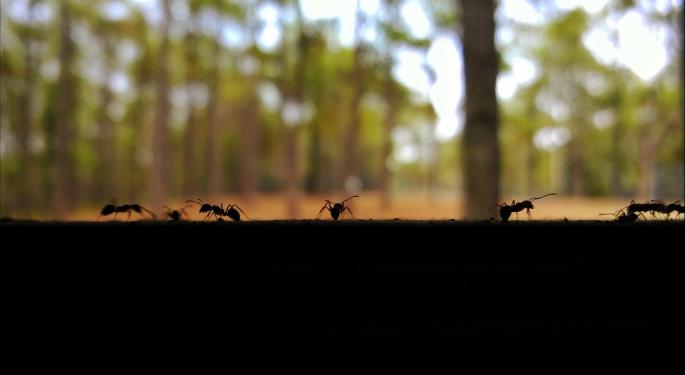 It's not uncommon for well-known investors to move small or large issues up or down. Over the last few days, investors have reacted positively and negatively to changes in their portfolios from their large funds' 13F disclosures.
Perhaps no reaction was greater than the Street's reaction to news that Warren Buffett took a $1 billion stake in shares of Apple Inc. (NASDAQ: AAPL). After ending Friday's session at $90.52, the issue leaped on Monday to close at $93.88. There has been follow-through to $94.70 in Tuesday's session before Apple reversed course.
The reaction in issues are not only to the long side. For example, when Andrew Left of Citron Research announces a new short stake in an issue, look out below. Even though the immediate reaction may not be sustainable in the long run, there is almost always violent short-term reaction to the downside.
Related Link: How Trump Could Cause A Recession, Even If He Loses The Election
Entire Market Movers
Along with moving individual issues, a few investors can move the entire market. On April 28, Carl Icahn sent the market into a tailspin with his "day of reckoning" comment, when he announced he had sold his remaining shares in Apple.
Although Buffett's intention was not to move the entire market, the disclosure of his stake in Apple — the S&P 500 indices' top component — couldn't help but boost the entire market.
The 'Jamie Dimon Low'
However, these two market moves have no comparison to the "Jamie Dimon low." As the market was staring in the abyss and attempting to breach a major long-term support level (1800), Dimon saved the market. The announcement of his $25 million purchase of shares in his own company, JPMorgan Chase & Co. (NYSE: JPM) after the close February 11, not only instigated a monster rally in the stock, but lighting a fire under the broad market, which has yet to be extinguished.
2 Bulls, 1 Bear
Now with two major bulls (Dimon and Buffett) and one major bear (Icahn) — who is 150 net short the market — who should investors put their faith in? Add to the mix, a schizophrenic earnings season, with a slew a big misses and big beats, along with a confused a Fed, slowing economies in China and Europe and a presidential election that is up for grabs, the proper path to choose is extremely difficult to determine.
Go To The Technicals
Therefore, when the fundamentals are so garbled and the markets react violently to influential investors statements and disclosures, one alternative is to examine the technicals of the S&P 500 index. And that portrays a clear picture.
The index is a long-term trading range. The bottom of the range is clearly defined and goes back to May 2014, when the index bottomed at the 1800 level. That support level has been tested in October 2014 (Ebola Crisis), stopped shy of that level in August and went right to it in January and February.
The top of the trading range is not far from where the index is trading right now. Although the index made an all-time high in May (2134.72), longer-term players have been focusing on the 2100 area as an exit point and have been rewarded on several occasions. In fact, the index hit 2111.05 last month and retreated as 2033 before its most recent rebound.
Since trading ranges can persist for years, investors should respect these all-important levels and adjust their portfolios to comply with their long- and short-term investing objectives.
View Comments and Join the Discussion!
Posted-In: Andrew LeftShort Sellers Futures Technicals Opinion Intraday Update Markets Trading Ideas Best of Benzinga