What Tesla And This Data Center REIT Have In Common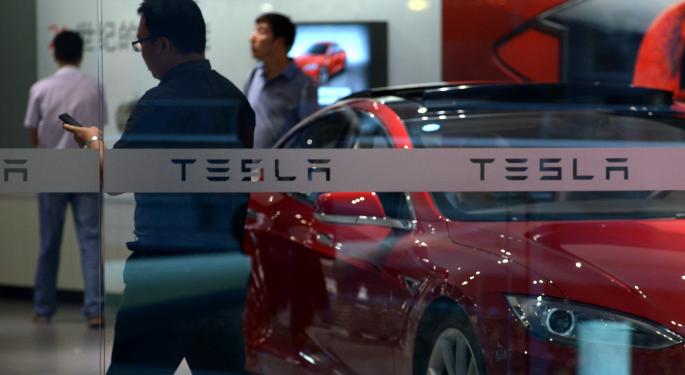 At first glance it may seem that Tesla Motors Inc (NASDAQ: TSLA) and data center landlord QTS Realty Trust Inc (NYSE: QTS) have very little in common.
After third quarter earnings calls, however, it appears that -- albeit for different reasons -- both companies are able to write more business than they can deliver next year.
"Demand is not our issue. Production is our issue." According to Elon Musk on Tesla's Q3 earnings call, "We have more demand that we can address."
Tesla competes with traditional automakers that have established dealer networks and a primary focus on legacy products. Due to high quality and specifications, Tesla has been able to sell its luxury electric Model S at a considerable premium.
Likewise, QTS Realty has more established competitors in the data center REIT universe, most notably the $9 billion Digital Realty Trust, Inc. (NYSE: DLR). Historically, Digital Realty has been focused on large, wholesale data center customers utilizing its Turnkey Flex and Powered Base Buildings. The company operates a worldwide network of over 140 data centers.
The good news for Digital: Customers tend to be sticky. The bad news: Lease rates in some markets have been under pressure.
Tesla Performance Vs. Data Centers
Tesla trades at a 72.5 price-to-earnings ratio based on 2015 estimates and sports a market cap of about $30 billion. As improbable as it may seem, the two top-performing data center REITs have actually been better investments than the automaker over the past 12 months: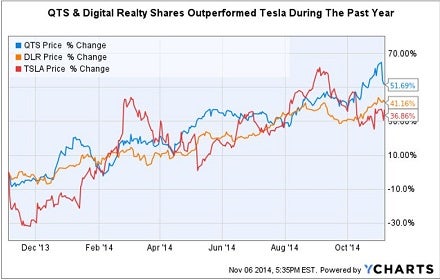 Is The Good News Already Priced In?
Investors, it seems, have bid up these companies in anticipation of outstanding future performance.
This appears to be why Morgan Stanley recently downgraded QTS Realty from Overweight to Equal-Weight. The investment firm also lowered its price target on the stock from $31 to $29 per share, a near-18 percent decrease from the stock's previous close of $35.51.
In a similar fashion, Cantor Fitzgerald downgraded Digital Realty from Hold to Sell with a $57.50 price target -- 16 percent below its previous close.
When it comes to Tesla, J.P. Morgan recently reaffirmed its Neutral stance and $190 price target -- about 21 percent below the stock's November 6 close near $241.
Why Has QTS Realty Performed So Well?
QTS Realty offers C2 (colocation and C3) cloud and managed services to go along with its C1 custom data center build outs. These service offerings resulted in the company leasing its C2 and C3 space for $1,033 per square foot in Q3 2014.
By comparison, that's more than four times the $236/square foot rate Digital Realty reported for leasing its colocation space in the U.S. for the same time period.
QTS Realty also continues to invest in additional service offerings including cloud-based disaster recovery as a service, QTS Enterprise Cloud, QTS Federal Cloud and critical facilities management.
This bundle of service offerings positions the company as an outsourcing solutions provider for its customers, in addition to its role as a landlord.
The QTS Realty Value Proposition
During the third quarter, QTS Realty closed on its acquisition of the 30-acre former Sun Times Press facility in downtown Chicago for $18 million. The current 317,000-square foot facility has a capacity for close to 133,000 square feet of raised floor and 24 megawatts (MW) of power.
Put simply, the company's business plan is predicated on purchasing large, infrastructure-rich "mega-data center" sites at a very low cost basis. This allows it to compete for larger C1 custom data center build outs while still maintaining its sector-leading 15 percent return on invested capital.
A Record Leasing Announcement
On its latest earnings call, QTS Realty announced two huge C1 deals: a 12 MW new sale in Richmond, VA and a 7 MW expansion by the same customer in its Atlanta-metro mega-data center. This contributed to a record (booked but not yet billed) backlog of about $63 million in sales.
These huge sales "wins" will require large capital expenditures during the next year, but the related income will be delayed into late 2015 and 2016.
Looking Ahead
The challenge of how to manage high levels of growth and product delivery is certainly a problem most businesses would love to have. Tesla bulls and bears will have to wait until after the new Nevada gigafactory is up and running to see who had the best crystal ball.
QTS, meanwhile, will need to fund its unprecedented 2014 sales success in a way that will satisfy Mr. Market, all while maintaining enough dry powder and flexibility to take advantage of additional profitable opportunities moving forward.
Posted-In: data centers Tesla analystsREIT Downgrades Price Target Analyst Ratings Real Estate Best of Benzinga
View Comments and Join the Discussion!