Tech Giants' Office Demands Driving 2 REITs To 52-Week Highs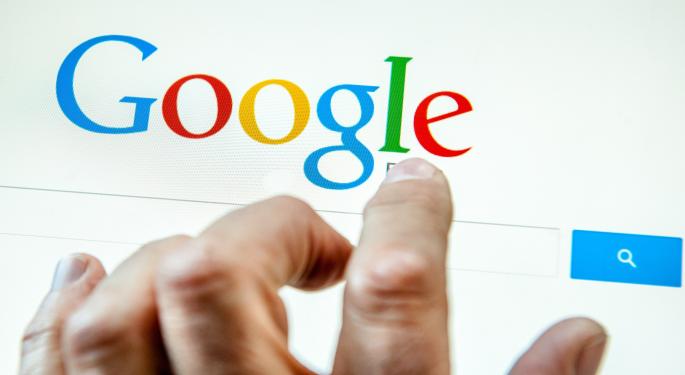 While Google Inc (NASDAQ: GOOG) (NASDAQ: GOOGL) continues to play the role of "Ms. Pac-Man" by gobbling up prime Silicon Valley office locations -- two publicly traded real estate players are methodically racking up high scores in the Northern California office development game.
Google's Gobbling
(Source: Wikipedia)
Related Link: A Look At Vivint Solar Post-IPO
Google's Northern California real estate feeding frenzy was recently documented by Bloomberg, which pointed out that the most recent beneficiaries were private equity giants The Blackstone Group L.P. (NYSE: BX) and Starwood Capital Group Global, L.L.C.
Google reportedly purchased six office buildings from Blackstone and Starwood entities within the 1,700,000 SF Pacific Shores Center in Redwood City, CA. With that $585 million purchase, Google picked up a total of 934,000 square feet of office space.
Google also announced that it had committed $1 billion to lease all of Moffet Place, a six tower development by Jay Paul Co. on 55 acres, in Sunnyvale, CA through 2028.
Boston Properties Recent Sale To Google
In late July 2014, Boston Properties, Inc. (NYSE: BXP) announced that it had sold Google eight office buildings totaling just under 200,000 SF. Google reportedly paid $464 per SF, or roughly $92 million, for this real estate located near its Mountain View, CA headquarters.
Boston Properties was reportedly able to book a 23 percent unleveraged internal rate of return (IRR), by selling the office buildings at a 5.6 percent cap rate. Boston Properties anticipates selling ~$1 billion of assets during 2014, taking advantage of favorable market conditions to book profits and recycle capital.
Why So Much Google Real Estate Activity?
In a nutshell, Google is hiring at an incredible rate. Embedded in Google's Q3 earnings report was this report on global hiring:
"Headcount - On a worldwide basis, we employed 55,030 full-time employees (51,564 in Google and 3,466 in Motorola Mobile) as of September 30, 2014, compared to 52,069 full-time employees (48,584 in Google and 3,485 in Motorola Mobile) as of June 30, 2014."
During the most recent 90-day period, Google hired an incredible 2,980 additional full-time employees. Modern collaborative office space which companies such as Google occupy typically are designed to accommodate 6 to 12 employees per 1,000 SF. This high employee density means that the actual rent per square foot can be higher for the landlord, while the tenant actually pays a lower cost per employee -- a win/win. This latest round of Google hires requires ~300,000 SF of space to accommodate the influx.
Two Office REITs Racking Up High Scores
While the supply of San Francisco Bay Area/Silicon Valley Class-A office space continues to be absorbed at a fast pace, it remains one of the most expensive areas in the country to lease space. Companies often pay annual rates which approach or exceed $100 per square foot to lease office space.
This combination helps to create a virtuous cycle for shareholders of office REITs such as $18.8 billion Boston Properties and $5.5 billion cap Los Angeles based Kilroy Realty Corp (NYSE: KRC). Both Boston Properties and Kilroy Realty have a significant presence in top tier Northern California office markets.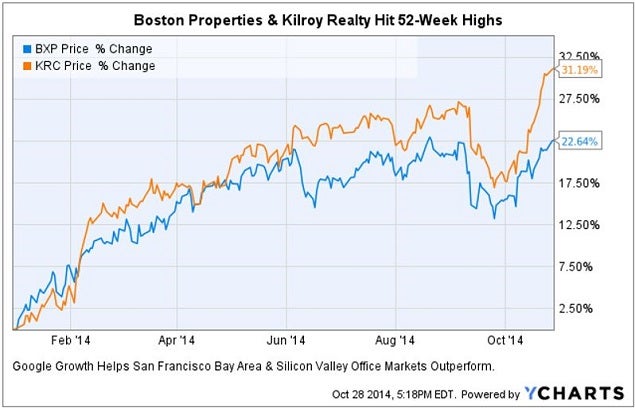 During trading on October 28, both Boston Properties and Kilroy Realty hit 52-week highs while handily outperforming the broader S&P 500 returns of ~7.25 percent YTD.
Northern California Development Activity Is Robust
Boston Properties is currently developing a 61-story, 1,400,000 SF office tower, which was named "Salesforce Tower" in April 2014 when it was announced that salesforce.com, inc. would be leasing 714,000 SF -- the largest lease in San Francisco history. Boston Properties and JV partner Hines expect to complete the $1.1 billion project in early 2017.
On September 17, 2014, Boston Properties completed and fully placed in-service 680 Folsom Street, a Class A office project with approximately 525,000 net rentable square feet located in San Francisco, CA. The property is 98 percent leased.
Kilroy Realty just delivered an office campus for another Silicon Valley tech giant. In the third quarter, Kilroy delivered and stabilized a $300 million, 587,429 square foot, three building project located in Sunnyvale, CA. The campus is 100 percent leased to the professional network giant LinkedIn Corp.
Kilroy also announced during the third quarter that it had executed a 12-year, 334,000 square-foot lease for 100 percent of the office development project at Crossing/900 in Redwood City, CA.
Investor Takeaway
Thanks to tech giants like Google, salesforce.com and LinkedIn rapidly expanding into new Class-A facilities, the office REITs who are focused on the Bay Area and Silicon Valley appear to be well positioned to outperform moving forward.
Both Boston Properties and Kilroy Realty have scheduled conference calls to discuss their third quarter earnings today, Wednesday October 29. The Boston Properties conference call is scheduled for 10:00 AM Eastern Daylight Time, while the Kilroy Realty conference call is scheduled for 10:00 AM Pacific Daylight Time.
View Comments and Join the Discussion!
Posted-In: Google Northern California Real Estate REITREIT Trading Ideas General Real Estate Best of Benzinga