Sears Shares Skyrocketed Again - 3 Charts Investors Should Study
Do the huge October 20, 2014 gains in Sears Holdings Corp (NASDAQ: SHLD) signal the beginning of a new trend, or is it just another "dead cat" bounce along the road to ruin? That is the key question for investors to ponder.
The fact that Sears has been suffering from declining same store sales and hemorrhaging cash for nine quarters in a row has been the bad news for its beleaguered shareholders.
Investors got good news on Monday. Sears is taking a page from General Growth Properties Inc (NYSE: GGP) CEO Sandeep Mathrani's retail playbook to generate both cash and traffic to its struggling retail locations. This approach may be a way Sears can use its massive real estate portfolio to save the day.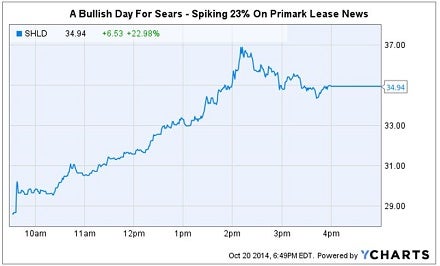 General Growth's ISI Conference Playbook
Recently, as a member of a contentious retail panel, mall landlord Mathrani explained that demand for quality mall space outstrips current supply to the point that he is actively seeking to buy out tenant leases. That way he can improve his company's merchandise mix (and lock in double-digit gains on the new leases).
Related Link: Bricks & Mortar Vs. Internet Sales: Retail Experts Recently Debated The Topic
Mathrani specifically mentioned that British fashion retailer Primark Stores Limited was looking to expand in the U.S. market. Primark was looking for 40,000 to 80,000 square foot anchor locations in his regional malls -- where there was effectively no vacant anchor space.
Sears Win/Win Move
On October 20, Bloomberg reported that Sears had entered into agreements with Primark, (which is owned by Associated British Foods Plc (OTC: ASBFY)), to lease seven store locations totaling more than 500,000 SF from Sears over a 12- to 18-month timeframe.
Sears will remain open at six of these locations, with Primark hopefully proving to be a significant traffic draw as well as providing Sears with badly needed cash from leases at current market rates. The other location had already been partially subleased to Dicks Sporting Goods Inc, and reportedly Sears will be closing this location entirely.
Sears Huge Real Estate Footprint
Sears has a huge real estate portfolio consisting of about 2,000 locations and totaling close to 240-million square feet. Sears Holdings, which also owns K-Mart, has closed hundreds of locations during the past few years in order to try to stem the flow of red ink.
In order to help put that into perspective, this is about the same amount of square footage as $53-billion market cap Simon Properties Group owned prior to spinning out its open air and smaller mall assets into Washington Prime Group Inc.
Related Link: Simon Property Group Inc And Recent WPG Spin: Billions Bet On Glimcher Mall Assets
Even after the recent huge surge in Sears Holdings shares, the company currently has a market cap of only $3.7 billion.
Sears Holdings Shares Skyrocket - Deja Vu All Over Again?
Sears CEO Eddie Lampert and the hedge fund that he controls own the largest interest in Sears Holdings. Value investor Bruce Berkowitz's Fairholme Capital Management hedge fund is another Wall Street player which has been bullish on Sears with significant skin in the game.
Back in the September 2013 hedge fund Baker Street Properties released a 139-page report on the valuation of Sears Holdings's real estate portfolio and caused quite a stir on Wall Street between the Sears bulls and the Sears bears.
The report asserted that just Sears Holdings top 350 owned and 50 leased real estate locations were worth more than its Sept. 13, 2013 equity market capitalization of $6.4 billion. Sears had announced several exciting real estate initiatives during 2013, but there had been few concrete results to report relative to the sheer scale of Sears's real estate holdings.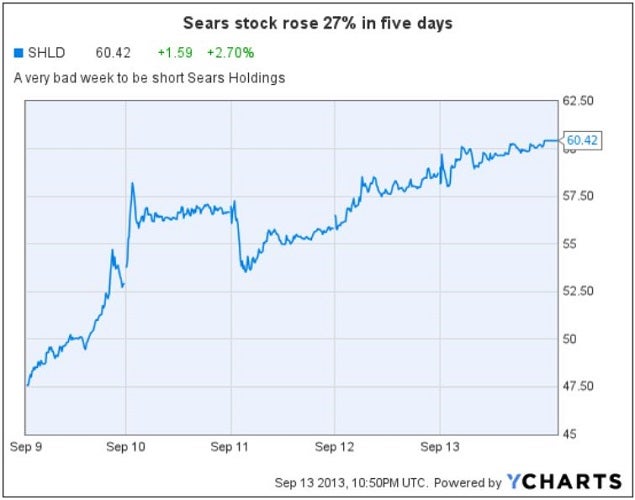 (Sears Holdings shares rose sharply after the bullish Baker Street report surfaced).
However, one consistently bearish voice regarding Sears has been Credit Suisse analyst Gary Balter, who had placed a $20-price target on SHLD shares back in September 2013 when the shares had bounced on the real estate valuation news. He also asserted that the sharp increase in Sears Holding shares was primarily due to a short squeeze.
Source: Yahoo Finance
A Familiar Looking Pattern
Sears Holdings has a large short interest and a relatively small float of shares. This controversial stock has a tendency to spike up sharply on positive news concerning its massive real estate portfolio.
The shares also have a history of sliding back downward after Mr. Market has processed the information; perhaps because the company has yet to demonstrate the ability to monetize the many less desirable locations that Sears owns and leases.
Given the huge scale of Sears's real estate, absent a significant announcement savvy investors should look beyond the headlines and focus on Sears Holdings operating trends, cash flow and balance sheet.
View Comments and Join the Discussion!
Posted-In: Baker Street Properties Bruce Berkowitz Credit SuisseREIT Top Stories Trading Ideas General Real Estate Best of Benzinga