Why Is American Realty Capital Properties Inc Sliding Lower?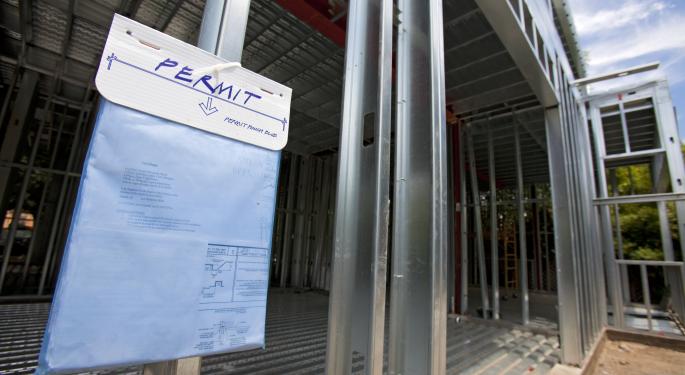 The new American Realty Capital Properties Inc (NASDAQ: ARCP) CEO, David S. Kay, is a straight shooter.
Since coming on board as president in December 2013, Kay has been under scrutiny while he explained the strategy and tactics used by his predecessor -- current Executive Chairman Nicholas Schorsch -- who was sometimes criticized for his "growth at any price" approach while American Realty Capital was externally managed.
The then-CEO Schorsch was the architect of a series of mergers, acquisitions and dispositions over the past two years that took American Realty Capital from a small IPO to the $11-billion giant in the single-tenant net-lease universe.
This was especially impressive because it meant American Realty Capital had leapfrogged over stalwarts like Realty Income Corp (NYSE: O), National Retail Properties, Inc. (NYSE: NNN) and W.P. Carey Inc (NYSE: WPC).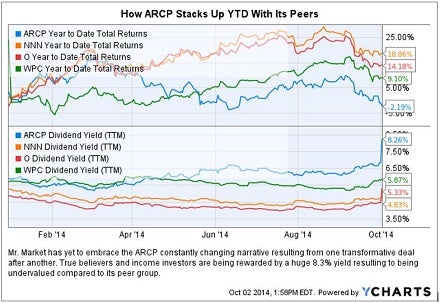 It is interesting to note that of its three peers, W.P. Carey is the most complex because of its non-traded REIT and private capital roots. W.P. Carey also sources properties around the world, often sophisticated build-to-suits and highly specialized mission critical "one of" corporate facilities.
W.P. Carey also trails its more "cookie-cutter" competitors National Retail and Realty Income, each having diverse portfolios comprised predominately of small freestanding retailers, drugstores, banks, restaurants, dollar stores and the like, located across the U.S.
Related Link: Morgan Stanley's Top 5 REIT Picks For Q4
In the net-lease world, Mr. Market seems to value simplicity and discounts complexity. "Pure-play" REITs generally trade at higher valuations than REITs that own assets in multiple sectors.
All three of these competitors have a long history of growing AFFO per share, which is used to pay and increase the dividends REIT shareholders crave. Since REITs are required by law to pay out at least 90 percent of taxable income as dividends to shareholders, this is a major attraction for many investors.
Recent ARCP Actions That Rattled Investors
Red Lobster: It is rare for one business deal to be perceived as so ill-conceived that shareholders on both sides of the transaction are upset. The May 16 Golden Gate Capital purchase of Red Lobster from Darden Restaurants happened to be one of those rare instances. This deal was primarily funded by a concurrent sale-leaseback transaction for 500 Red Lobster sites between ARCP and Golden Gate.
Sale vs. Spin-out: Also in May, American Realty Capital did not spin out its multi-tenant shopping portfolio to shareholders as had been previously announced, but turned around and quickly sold them to a joint venture between a Blackstone real estate fund and DDR Corp. The deal eliminated $600 million of secured debt and provided $1.4 billion of capital for acquisitions, basically funding the Red Lobster deal. Blackstone is well known for buying undervalued real estate assets.
Huge Equity Raise: The $1.6 billion American Realty Capital secondary offering was perceived as a betrayal by some existing shareholders because it seemed to contradict previous guidance. In a June 20 Stockholder Memorandum, which addressed all three controversial issues, Kay shared: "[We] decided to raise equity to bring leverage down and fortify our balance sheet for the long haul."
ARCP Investor Day
On September 17, Kay hosted an Investor Day. Approximately one hour of the presentation focused on how recently acquired Cole Capital's non-traded REIT and private capital management business adds value for shareholders.
The final question of the day -- simply, why a broker-dealer such as Cole is imbedded in a single-tenant triple-net REIT -- may have been the final straw. It certainly proved to be prescient.
A part of Kay's answer regarding Cole Capital was that "merits over time will be reviewed."
October 1 Cole Capital Sale To RCS Capital Announcement
There is no CEO in the REIT space who could have worked harder the past two weeks, especially one in anticipation of a huge Day 1 at the helm of the largest net-lease REIT in America.
It appeared that Kay listened to investors.
He negotiated with his executive chairman to create a deal with Schorsch-led RCS Capital Corp (NYSE: RCAP) to sell Cole Capital for $700 million plus a potential $130 million earn out. American Realty Capital would continue to acquire new net-lease assets and manage them for Cole Capital, splitting the fees 50/50.
The transaction will also result in a significant reduction in American Realty Capital G&A expenses beginning in 2015.
Cole Capital: A Great Fit For RCAP
This transaction is projected to contribute $0.51 per share to 2015 projected adjusted net income, according to the RCS Capital press release. Cole Capital appears to fit very well with the company's existing business lines of wholesale/retail advice, equity capital raising capabilities, and adds the Cole portfolio of managed non-traded REITs to the sales mix.
RCS Capital is the beneficiary of half of the Cole Capital-related acquisition and asset management fee income stream, which is 1 percent of acquisitions and approximately 35 basis points from asset management. This is on top of other fees generated by the RCS Capital broker-dealer network.
Over a five to seven year period, these fees were estimated by Kay on the American Realty Capital call to be near $800 million. This implies the Cole-related acquisition and asset management fees fund the acquisition for RCS, with the balance of Cole revenues and synergies falling to the bottom line.
Final Thoughts
New CEO David Kay had a dynamic first day at the helm of American Realty Capital, also announcing an agreement to source, underwrite and acquire U.S. net-lease properties for the Nicholas Schorsch-led American Realty Capital Global Trust II, for which ARCP will receive fee income.
However, after having listened to the conference call and reviewing guidance, it appears that the simplification of its REIT business model to a wholly net-lease focus will not immediately be accretive to shareholders.
Kay also shared that the $1.00 dividend is not expected to be raised in the near term, while also lamenting the fact that American Realty Capital is being valued at about 11 times FFO estimates, despite having the best portfolio of net-lease assets and the best management and acquisition team in the industry.
Kudos to Kay as a cheerleader and as a leader who strives to create a more transparent operation. However, was this really the best deal out there for American Realty Capital shareholders?
Since there were no competitive bids for Cole Capital, that question will never be answered.
Disclosure: At the time of this writing, the author had no position in the equities mentioned in this report.
View Comments and Join the Discussion!
Posted-In: ARCP Cole Capital RCS Capital Cole Capital REITREIT Trading Ideas Real Estate Best of Benzinga