High-Flying REIT Lodging Sector Crashes: Ebola Concerns Or Profit Taking?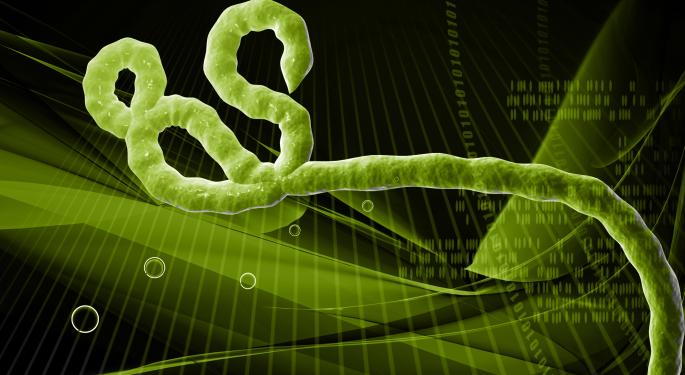 Hotel REIT shares dove into a veritable sea of red ink during trading on Wednesday October 1 — kicking off a weak Q4 for one of the strongest REIT sectors during 2014.
During the Great Recession hotel stocks languished as companies cut business travel expenses, while job losses and weakened consumer confidence devastated popular resort and vacation destinations. However, during 2013 and YTD, the lodging REIT sector came back from the Great Recession with a vengeance.
The performance set the stage for several hotel REIT IPOs, including Blackstone's huge Hilton Worldwide Holdings Inc.'s record-breaking debut.
Related Link: Blue Chip Companies Leading On Climate Change
So why did shares plunge on Wednesday?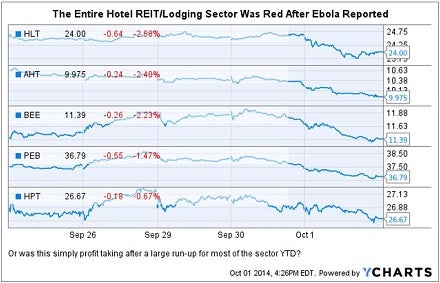 The decline followed reports of one confirmed ebola case in Texas. That case has started to make people nervous; additional reports of Ebola cases could create an environment where the travel and hospitality industries would once again see weaker performance.
Big Picture Has Been Positive
Three of the strongest performers in the lodging REIT sector YTD have been the Ashford Hospitality Trust, Inc. (NYSE: AHT), Strategic Hotels and Resorts Inc (NYSE: BEE) and Pebblebrook Hotel Trust (NYSE: PEB).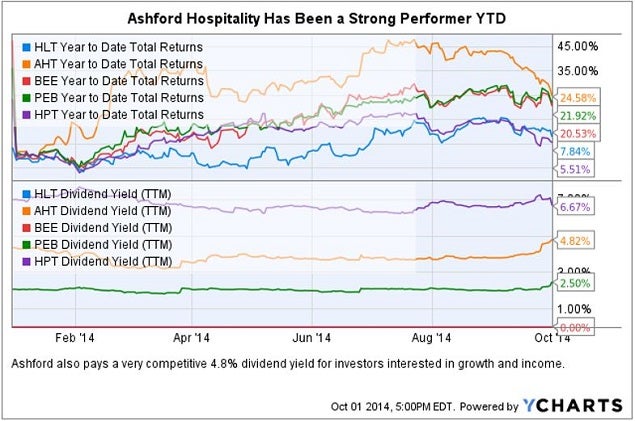 Hospitality Properties Trust (NYSE: HPT) has been one of the weakest performing lodging REITs YTD. The company is somewhat of a special situation because of being externally managed by controversial REIT Management and Research LLC (RMR).
Hospitality Properties has been caught up in the accounting woes of TravelCenters of America LLC (NYSE: TA). TravelCenters owns a nationwide network of truck stops on valuable land adjacent to interstate highway exits across the U.S. In an unusual twist for a lodging REIT, Hospitality is the landlord.
Mr. Market has not been kind this year to the Hospitality Properties asset mix of its truck stops, plus Marriott International Inc, InterContinental Hotels Group PLC, HPT SN Holding Inc (Sonesta), Wyndham Worldwide Corporation and Hyatt Hotels Corporation flagged hotels.
However, this underperformance has resulted in HPT paying out a dividend yield in the 7-percent range. The dividend should help limit the downside on a stock for investors willing to go along for the eccentric ride that often results from owning shares of a RMR-managed REIT.
Beyond Hospitality
In the event of a full-blown Ebola outbreak in the United States, investors will have to stem the bleeding across many sectors of the economy: transportation, lodging, restaurants, consumer goods and entertainment venues, as well as a host of other critical components of the economy.
Currently, a single case of Ebola confirmed in Texas may be on the minds of some traders.
However, accounting delays and external managers not having interests clearly aligned with common shareholders may be of greater concern to investors long after Ebola fades from the headlines.
Posted-In: Ebola hospitality REIT REIT REIT Management & Research LLCREIT Trading Ideas General Real Estate Best of Benzinga
View Comments and Join the Discussion!