NorthStar Realty Finance Corp. Continues To Grow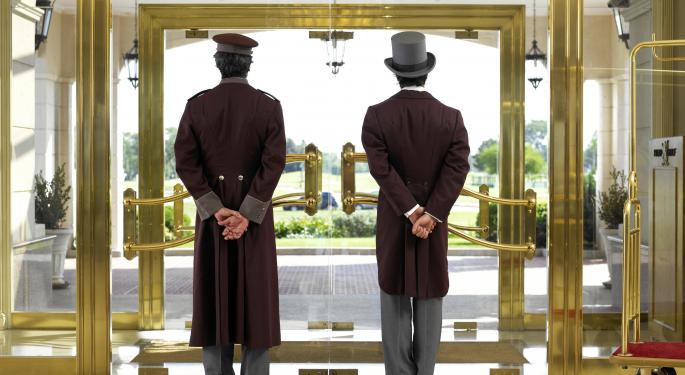 NorthStar Realty Finance Corp. (NYSE: NRF) has been growing from multiple acquisitions in 2014.
NorthStar Realty growth has historically been accretive. The company has rewarded shareholders with a 19 percent compounded annual return since its 2004 IPO, according to a recent August company presentation.
It should come as little surprise that on September 18, this extremely diverse and dynamic REIT announced a $1.1 billion 90/10 joint venture with Chatham Lodging Trust (NYSE: CLDT) to acquire 52 upscale extended stay and select-service hotels totaling about 7,000 rooms from non-traded Inland American Real Estate Trust.
Inland American is controlled by Chatham Chairman and CEO Jeffrey H. Fisher, as is Island Hospitality, the entity expected to manage the hotels in this portfolio. Chatham announced that it had entered into a non-binding letter of intent to acquire four hotels from the joint venture.
Related Link: The Blackstone Group - Vivint Solar IPO: A Potential Green Triple-Play?
After the joint venture deal closes, NorthStar Realty is slated to own interests in 159 hotel properties with about 20,000 room keys. The majority of these hotel properties will fly either the Marriott or Hilton flag.
Why This Is Not Such A Big Deal
This follows on the heels of a NorthStar Realty announcement on August 4 of a $4 billion deal to acquire non-traded Griffin-American Healthcare REIT II, Inc. The Griffin-American healthcare portfolio is primarily composed of medical office buildings (MOBs) and senior housing facilities, which are located in the United States and United Kingdom.
The Griffin-American asset portfolio has a weighted average lease term of 9.1 years and was acquired at an approximate 6.4 percent cap rate, which is expected to be neutral to NorthStar cash available for distribution (CAD).
NorthStar Publicly Traded External Manager
NorthStar Asset Management Group Inc. (NYSE: NSAM) was recently split off from NorthStar Realty Finance and earns a base asset management fee, as well as performance incentive fees from NorthStar Realty.
Even if a large NorthStar Realty acquisition such as Griffin-American is neutral to CAD, the external manager will earn additional fees. This is one reason why the market tends to value externally managed REITs lower than internally managed peers.
NorthStar Asset Management announced a $0.10 quarterly dividend per common share, or $0.40 annually, back on August 11. On September 19, MLV & Co. initiated coverage at Hold, with a $20.50 price target, representing an 8.5-percent upside based upon the previous day closing price of $18.90.
Dividend Confusion
Most major online financial portals such as Yahoo Finance and Finviz have yet to update the NorthStar Realty annual dividend to $1.60 per year, reflecting the $0.40 announced dividend moving forward for Q3 and Q4 2014. This results in an overstatement from an already high 9.5 percent yield to as much as more than 12 percent, another source of confusion regarding an already complicated NorthStar Realty story.
The Big Picture
NorthStar Realty Finance is a very complicated diversified REIT. It is currently operating in so many REIT sectors that it seemingly has no peers.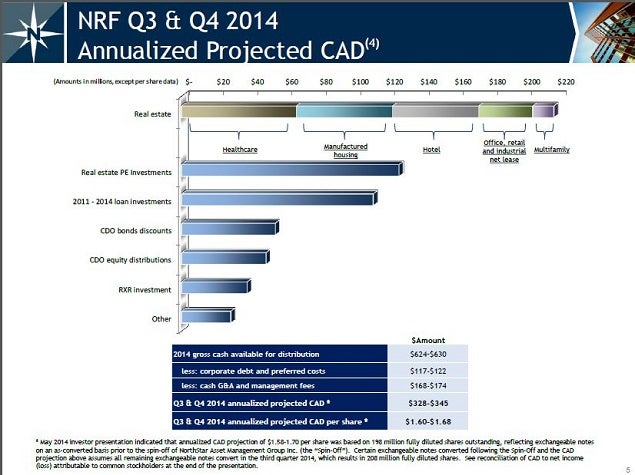 (August - NRF Investor Presentation)
The $4 billion Griffin-American Healthcare acquisition increased the NorthStar Realty real estate owned on the balance sheet to 75 percent. Recently announced acquisitions will increase real estate holdings even more versus NorthStar Realty Finance commercial real estate lending activities.
However, commercial lending aside, NorthStar Realty is still operating in five equity REIT sectors: health care, manufactured housing, lodging, triple-net industrial/office/retail and multi-family apartments.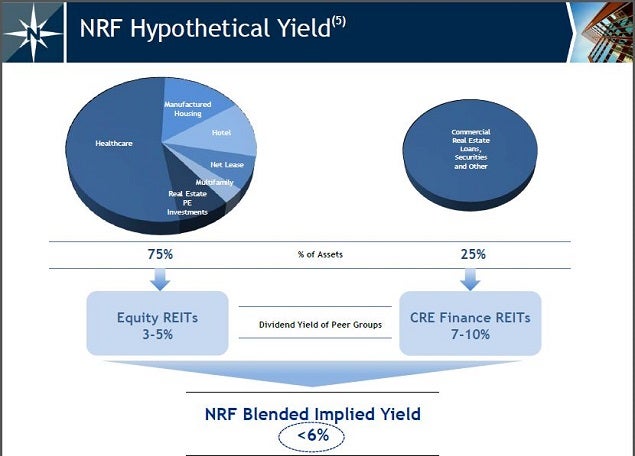 (August - NRF Presentation)
Special Situation - Show Me The Money
Here is the best argument why NorthStar Realty Finance might be considered a "Special Situation" REIT. NorthStar management is suggesting that the market will one day wake up and see that the company has transformed itself into an opportunistic equity REIT, which also makes a few carefully underwritten commercial real loans.
If NorthStar Realty were to trade more inline with equity REIT peers, it would result in a higher price-to-FFO multiple, much higher stock price and still pay a competitive 6 percent dividend yield. The potential upside would be huge if this were to come to pass, potentially in excess of 50 percent.
Investor Takeaway
NorthStar Realty Finance is a very complex REIT to try to model and understand. It is growing its balance sheet at an incredibly fast pace. REIT investors tend to reward pure-play REITs that are transparent and internally managed.
NorthStar Realty Finance is a hybrid REIT -- both mortgage and equity -- as well as a highly diversified REIT, operating in multiple industries and sectors. NorthStar is externally managed, paying large fees over time to NorthStar Asset Management.
It offers investors a high, albeit still misunderstood, 9.5 percent dividend yield to wait and see how the market will view its management, balance sheet and strategy moving forward.
Posted-In: Griffin-American Healthcare REIT II Inland American Real Estate Trust Island HospitalityREIT General Real Estate Best of Benzinga
View Comments and Join the Discussion!