4 Global Mega-Trends Driving Growth - Prologis Inc Presentation
On September 11, industrial REIT Prologis Inc (NYSE: PLD) presented at the Bank of America Merrill Lynch Global Real Estate conference in New York.
Prologis is the world's largest pure-play industrial/logistics enterprise with $51 billion of assets under management located in 21 countries spread over four continents.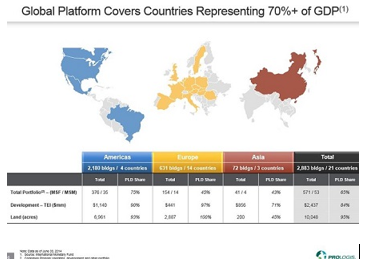 This enables Prologis to provide a unique and practical perspective based upon research and statistical data, as well as boots on the ground.
Related Link: U.S. REIT Investment Continues In Eastern Europe Despite Ukraine Conflict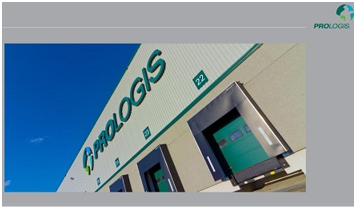 Key Global Logistics Drivers
1. Globalization: Trade continues to grow at a multiple of U.S. GDP, picking back up after having dropped off during the Great Recession. This is the key metric driving demand for industrial space.
2. Consumption: Affluence in emerging markets helps to drive consumer demand, which in turn requires more facilities.
3. Urbanization: According to United Nations statistics, customers within and adjacent to major population centers continues to grow at a steep rate. This trend results in existing well located urban distribution facilities becoming more valuable over time due to high barriers to entry and scarcity of land.
4. Shift in Retail Formats: E-commerce and omni-channel retail require sophisticated logistics and supply chains, thereby increasing the demand for well-located and modern facilities.
What Prologis Anticipates Moving Forward
Trends in supply and demand appear to be favorable across all major markets. Although, overall growth in Japan appears to lag the other markets, Larry Harmsen, COO, The Americas, Prologis, Inc. stated that so far, 2014 Japan has been a "terrific market" for the company.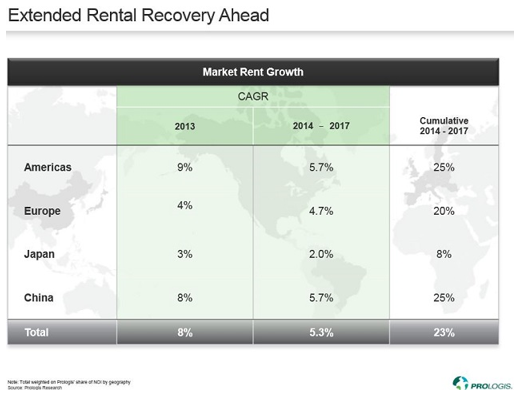 During 2013 there was three times the demand for industrial space as measured by net absorption. In 2014 absorption of U.S. industrial space continues to outpace new construction by a factor of two to one. However, the increase in supply of new Class-A facilities may result in certain markets being much closer to equilibrium.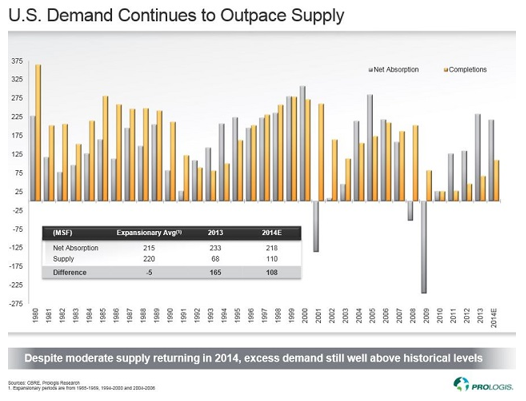 The almost total absence of commercial bank funding for speculative industrial buildings, combined with conservative underwriting by pension funds and public REITs with strong balance sheets, continues to moderate the supply of new industrial space.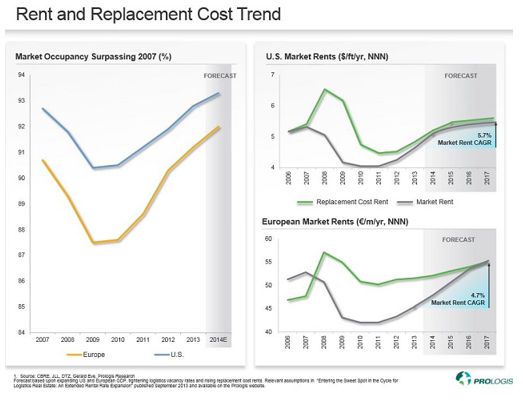 In many localities, market rents still remain below replacement cost rents. This is another major factor that is dampening the supply of new space.
Inefficient E-Commerce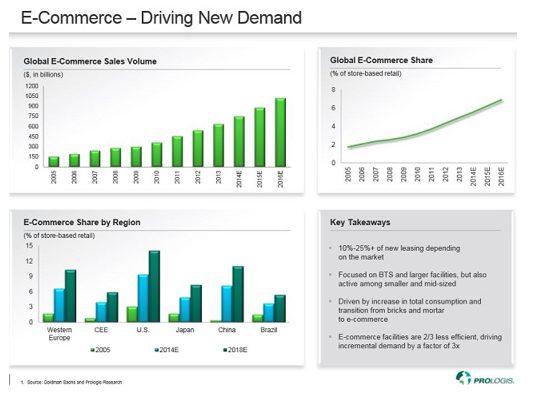 E-commerce facilities often use warehouse inventory that otherwise would be distributed to traditional bricks and mortar retail locations. The product mix runs the gamut from new, build-to-suit, million-square-foot Amazon.com, Inc.-style distribution centers, to much smaller and older infill locations located near "the last mile" of delivery in cities such as San Francisco and New York.
A key takeaway from the Prologis presentation is that E-commerce facilities are "less efficient" and therefore drive incremental demand as high as a factor of three times. The increase in E-commerce is a tremendous boon to owners and developers of entitled land suitable for build-to-suits, or located adjacent to urban areas.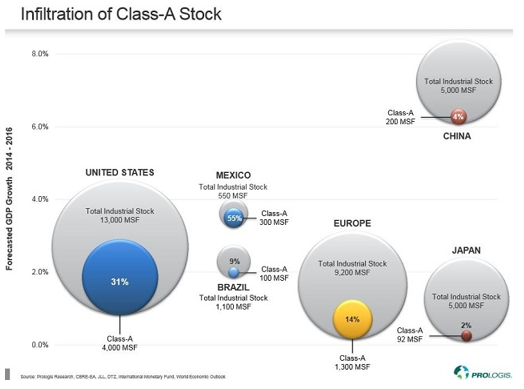 The graphic above may go a long way toward explaining why Prologis is experiencing a "fantastic" year in its Japanese operations. While the projected rate of growth for Japan is the lowest of any of the markets, so is the ratio of Class-A space to the total industrial stock. A mere 2 percent of the entire supply of industrial space is modern and flexible to help meet the needs of a growing omni-channel retail world.
Posted-In: e-commerce industrial space Japan prologis REITREIT Top Stories General Best of Benzinga
View Comments and Join the Discussion!